Workhorse 500 Series Rack
The Workhorse WR-8 is a trimmed down version of the TEC Award winning Workhorse power rack without the 8 channel summing mixer. This enables those that may not need a mixer to join in the fun while leaving the door open to upgrade in the future.

Photos
500 series power rack with room for 8 modules
Upgrades to full Workhorse with optional mixer
100% compatible with older API type racks
Over 20% more current than the original spec
Create unique channel strips
Like the Workhorse, the WR-8 features eight slots to accommodate both Radial modules and other API Lunchbox™ compatible modules. An innovative slide-in tray makes loading modules easy! Rear connections include XLR and ¼" TRS inputs and outputs plus parallel connections via D-Subs. Unlike older API type racks that need to be hard patched, the WR-8 features an innovative FEED switch that lets you connect modules in series by simply setting the switch to suit. This leaves the other connectors open for mult'ing, parallel processing and cross patching.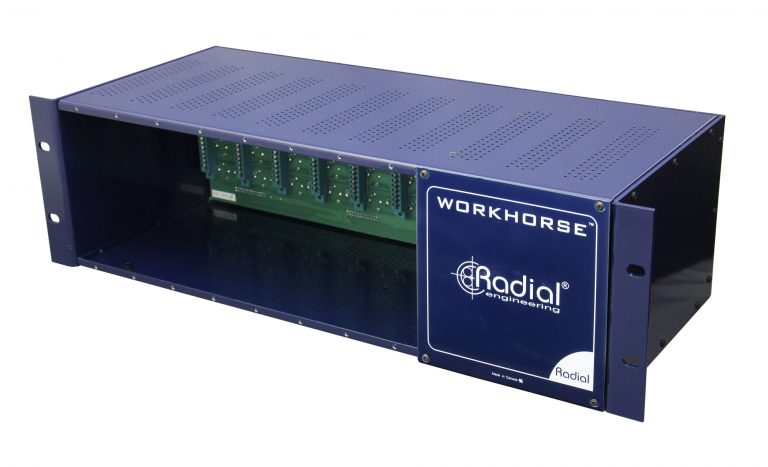 More power
The WR-8 provides extra power to the modules for more headroom with over 1600 milliamps of shared power for the 8 slots. This enables you to use power hungry devices like tube preamps with confidence. The external supply makes international travel easy with 100V to 240V compatibility and the use of a standard IEC connector. To keep modules safe, the WR-8 is equipped with protective circuitry to prevent mishap should improper connections be made.
WR-8

Applications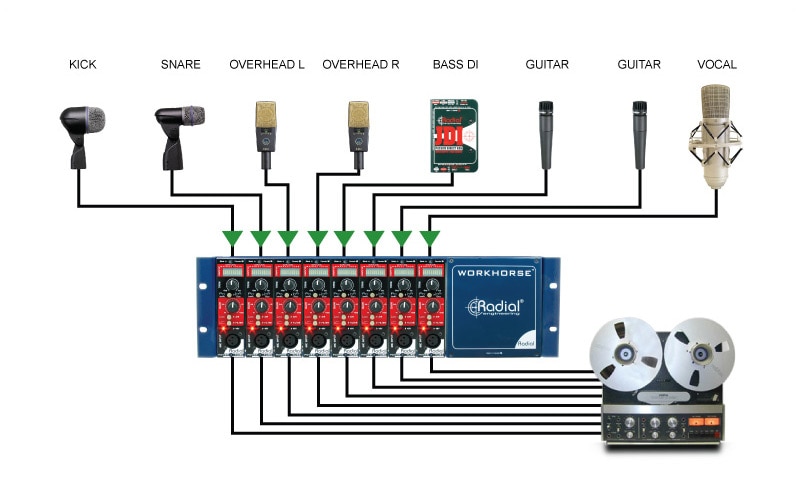 8 channel live recording
The WR-8 perfect for multi-channel recording. Simply load it up with 8 preamps and connect your favourite studio mics and DI boxes at will. Use the ¼" TRS direct outs on each channel to feed the recorder and the XLR outs to feed the PA system.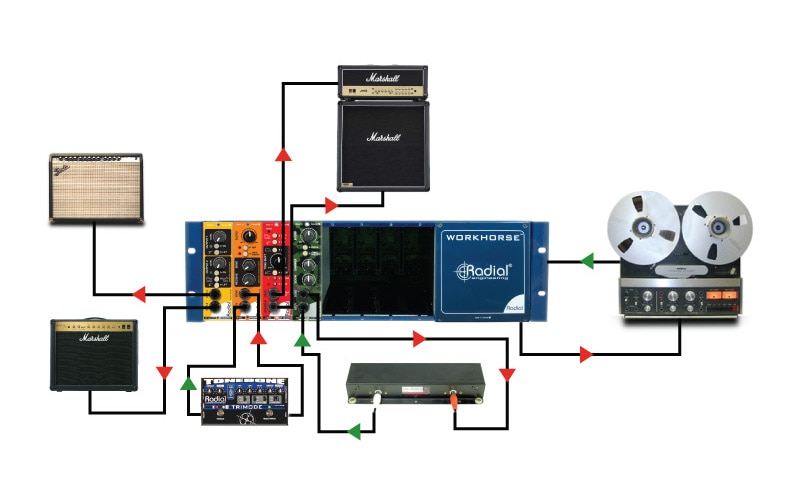 Ultimate stereo channel strip
Pair up two Powerpres with Q3 two coil EQs and two Komit compressors to create the ultimate stereo channel strip. For incredible imaging and depth, add in a PhazeQ to channel-2 in order to phase align the two mic channels.
Reamping & effects
Creativity unleashed! Rack up the X-Amp Reamper, the EXTC guitar effects router and then pass the signal back into the JDX to simulate a guitar amp. Run it all through the Tank Driver and a real spring reverb for more fun.
{{ postData.post_title }}
{{ postData.productSubTitle }}
Part no: {{ postData.partNo }}
Part no: View Product
{{ postData.post_excerpt }}
View Product