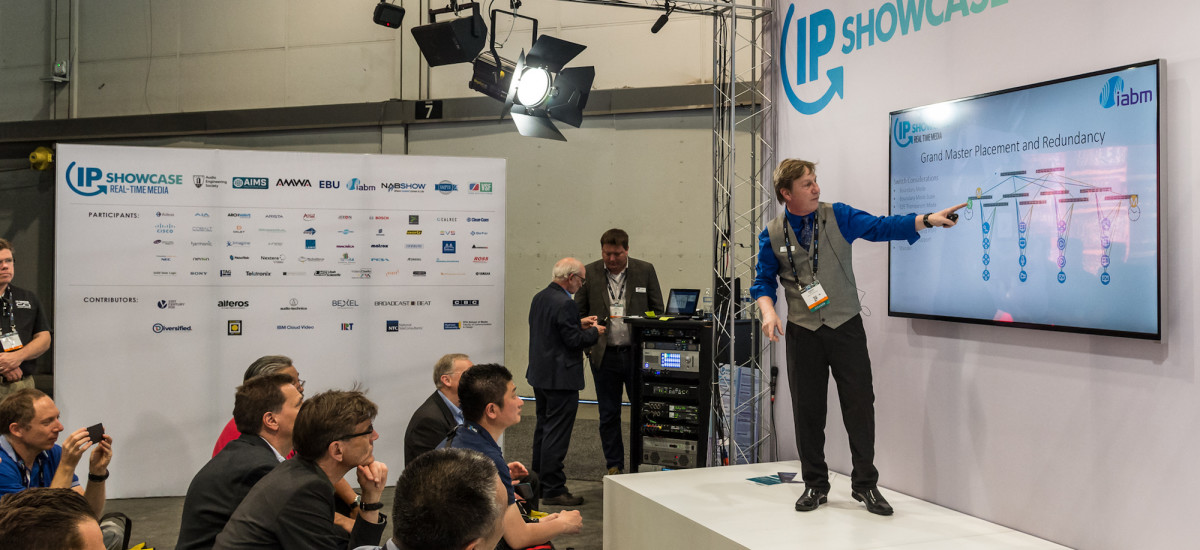 The following is an article by Clive Young, originally published in the May 2018 edition of Pro Sound News. 
Las Vegas, NV—Taking over all three halls of the Las Vegas Convention Center, the NAB Show is a massive undertaking for exhibitors and attendees alike, but while there is gear to check out as far as the eye can see, education plays a strong role in the show, too. Underlining that fact, the Alliance for IP Media Solutions (AIMS) used this year's NAB Show to host its IP Showcase on the exhibition floor in the Central Hall.
Designed as a one-stop destination where visitors could learn about unlocking the full potential of IP for real-time media, the booth's offerings including an all-IP production room built out of gear from participating AIMS members. Also, one of the busiest locations in the booth was the IP Showcase Theater. Over the course of the show's four days, the microvenue on the side of the booth, seating roughly 20 people, served up 45 presentations and panels, featuring 56 speakers in all. Each discussion, which ranged in length from 20 minutes to a full hour, dished on IP installations or IP technology based on and in support of the AIMS roadmap.
The theater was a crucial part of the AIMS booth, and not merely for the fact that it was educating professionals. As part of the larger booth, it also demonstrated networking ecosystems—open standards like AES67 and SMPTE 2110-30—working together.
"I'm doing a presentation tomorrow where I go through [the booth's systems] and say, you've got to use the right tool for the job," explained Patrick Killianey, network systems applications engineer for Yamaha Commercial Audio Systems, who designed the production system for the theater. "The whole booth is the AES67/SMPTE 2110 open standards area, and our feeling is that open standards are a good addition to the solutions we have."
As an inadvertent case-in-point, while the theater's production system used Dante, its results were sent via AES67 to the video broadcast team, as every presentation was livestreamed on Ustream as well as recorded for use on AIMS' social media and various online channels—a move all too appropriate for a broadcasting show, after all.
On hand at the IP Showcase Theater throughout the four days, Killianey not only designed the system for the theater but also was its production crew. That in itself was a challenge due to the hectic pace of the show schedule.
"One of the challenges here is that most of the time, we have presentations every 20 minutes, one person after another," said Killianey. "As someone's up there, you're miking up the next one and saying, 'What do you need? Where's your PowerPoint?' Oh, you need a sound connection— what do you have?' And we need to be able to do that in five minutes."
Being able to provide audio for presentations was no small task; with 56 presenters across four days, the variety of needs was endless. As part of the production system, the theater had an ASUS laptop that presenters could use for PowerPoint presentations, which, in turn, was connected to an Attero Tech unDUSB 2×2 Dante Networked Audio Interface. Nonetheless, many presenters eschewed the provided laptop, preferring their own gear. "What if someone walks up and they have a clip they want to use that's on their phone?" said Killianey. "These things just happen—someone brings up a smartphone, an iPad, another computer. What if they bring their own laptop and they don't have the USB connector size that we have?"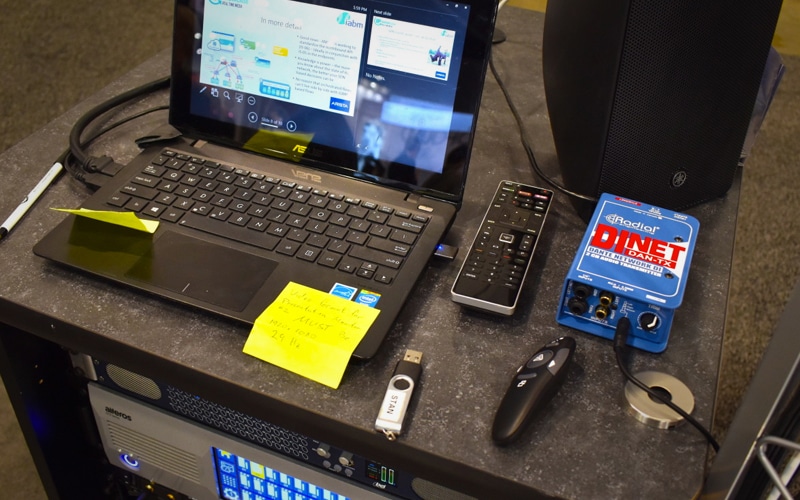 The answer was a Radial DiNet DAN-TX Dante Network DI/2-channel audio transmitter. "It's basically a problem-solver for how I react to people coming up with things," said Killianey. "People may have a different device or USB connector, but they usually still have a headphone jack—so we can get sound back into the system via the Radial box because it's PoE Dante, and then it has RCA and 3.5 mm inputs, so anything that someone walks up with, I can connect with it—I just plug into the Radial and all those levels are taken care of. I haven't been able to overload it, either. I've used them in other shows; I don't work for Radial, but their DI boxes sound amazing."
When the DAN-TX box wasn't acting as a consumer electronics-to-Dante Rosetta Stone, Killianey still was putting it to use between presentations: "I have used it just for background music—I'll bring my iPad and plug it in. When you do that, you have to put [the iPad] in airplane mode so it doesn't dip in to announce 'You've got an email!' and come back up," he laughed.
Because the theater required only one-way audio conversion ("It goes to Dante and then I just feed it to my mixer"), its counterpart DiNet DAN-RX Dante audio receiver was unnecessary, but being that the NAB Show is about broadcasting, the receiver was still a topic of discussion. "We don't have the output box here," said Killianey, "[but] with broadcast events, I've seen a lot of camera guys really want that, because the system they're on is Dante [using] Sound Devices or something like that for location recording. They say, 'I need to jack it into my camera so I can get the audio. Just give me a mix—I know you're going to multitrack it over there, but give me a mix over here.'— and they get that thing [the DAN-RX box], which has an XLR, and go right into the camera. If the camera's not Dante, now it's no big deal, and it's PoE so they don't have to run another power supply out there."
During the four days of the NAB Show, the IP Showcase was a bustling stand—a true accomplishment, given the number of exhibitors on hand and the fact that it was located at the very back of the Central Hall. Anyone who wanted to learn about AIMS or take in a lecture at the IP Showcase Theater had to make a concerted effort to get there—and they did, in droves.
"People are coming to see this," Killianey confirmed, gesturing at the theater, which was still full as he spoke, 20 minutes before the show closed for the day. "It's been busy! I took a photo at 10:30 during the first presentation—which is a little early for people to get all the way to the back of the hall—and it was full, and they jammed the aisle as well."
As a result, the overall message of the IP Showcase was heard, both figuratively and literally, loud and clear. "They need to learn about open standards," he said, "but also people are coming here to see [the IP Showcase and the presentations] because an open standard does not stand alone. There are other things that you have to integrate with, and this shows how to do that."
For more on the Alliance for IP Media Solutions (AIMS) 
For more on Radial Engineering