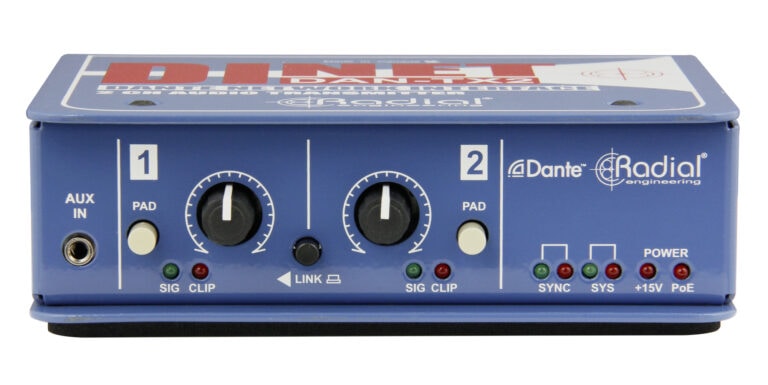 1
2
3
4
5
6
7
8
9
3.5mm Input
Stereo TRS input for use with Laptops, tablets and phones. Wired in parallel with the XLR inputs.
1
Pad
Engages a -18dB input pad for high output line level sources.
2
Trim
Adjustable trim control to set input levels, with unity gain at 12 o'clock. Provides -10dB of cut or +10db of gain at the min/max settings.
3
Stereo Link
When engaged, the Trim control on channel 1 becomes the master for stereo operation.
4
SIG/CLIP LEDs
Will illuminate when input signal is present or clipping is detected on each input channel.
5
SYNC LED
Red LED is illuminated when unit is powered. Green LED will illuminate once connected to an Ethernet network. Flashing green LED indicates that the DAN-TX2 is in master clock mode, solid green LED indicates that it is in slave mode.
6
SYS LED
Red LED illuminates when power is first applied. Switches to green LED once Dante processor becomes active.
7
+15V LED
Will illuminate when the DAN-TX2 is connected to the included DC power adapter. A cable lock is provided to prevent accidental power loss.
8
PoE LED
Will illuminate when the DAN-TX2 is receiving power over Ethernet (PoE).
9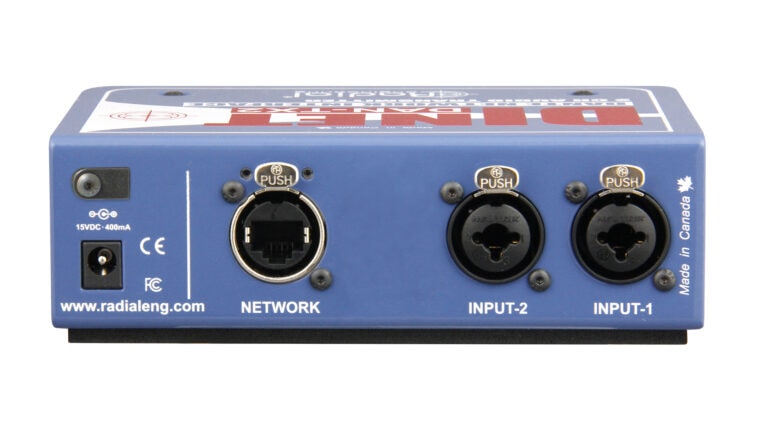 1
2
3
Power
15VDC connection for use with included Radial power adapter when PoE is not available.
1
EtherCON Compatible Connection
Connects to the Dante network via standard CAT5e or CAT6 Ethernet cable. This port delivers the digital audio signal to the network and powers the DAN-TX2 when Power over Ethernet (PoE) is available.
2
XLR/TRS Inputs
Balanced inputs for connection to professional audio playback sources.
3