Studio Microphone Selector and Switcher
The Gold Digger™ is a 4-input, 1-output switcher that allows you to seamlessly audition multiple microphones through a single preamp, improving studio efficiency and workflow without altering the tone of each microphone or requiring down time to re-patch any cables.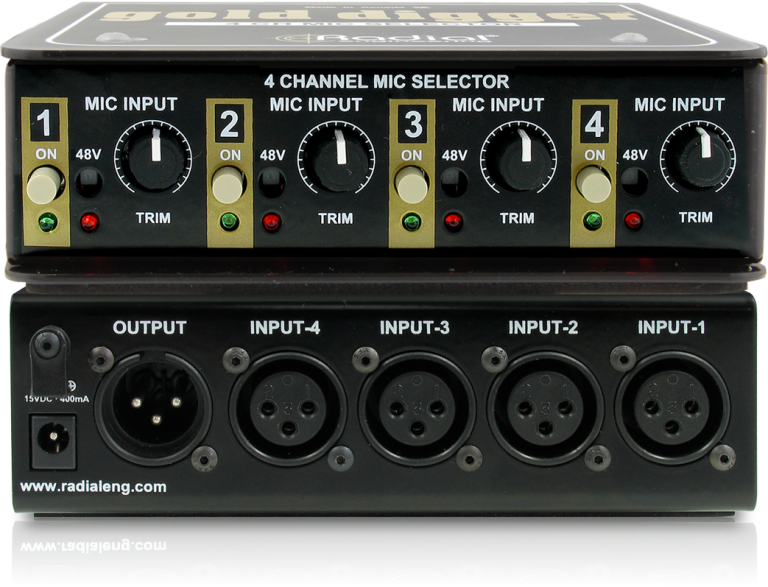 Photos
Audition different microphones with the press of a button
Four selectable inputs with trim controls
Straight-wire distortion-free signal path
Saves time and improves workflow in the studio
Choose the right mic every time
The Gold Digger allows you to record with confidence knowing that you've selected the right tool for the job each and every time you record. It provides the ability to instantly A/B between up to four microphones, without introducing any coloration, noise, or distortion. Individual set & forget trim controls let you adjust each mic level so that they produce the same relative output, and 48V phantom is available to power condenser microphones. The Gold Digger makes it easy to audition multiple options while maintaining studio efficiency and ensuring a smooth workflow. When paired with the Radial Cherry Picker™ you can choose between four microphones and four preamps in any combination, giving you the freedom to explore endless sonic possibilities.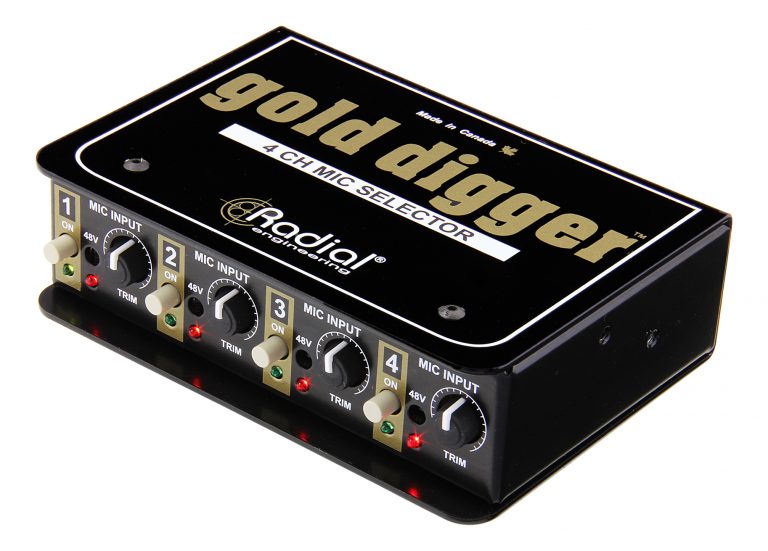 Gold Digger

Applications
Comparing Four Studio Condenser Mics
The Gold Digger lets you quickly compare the sound of four microphones and send the signal to the same preamp. This assures an 'honest' comparison as all mic signals employ the same audio path. Separate 48V on-off switches let you activate phantom as needed.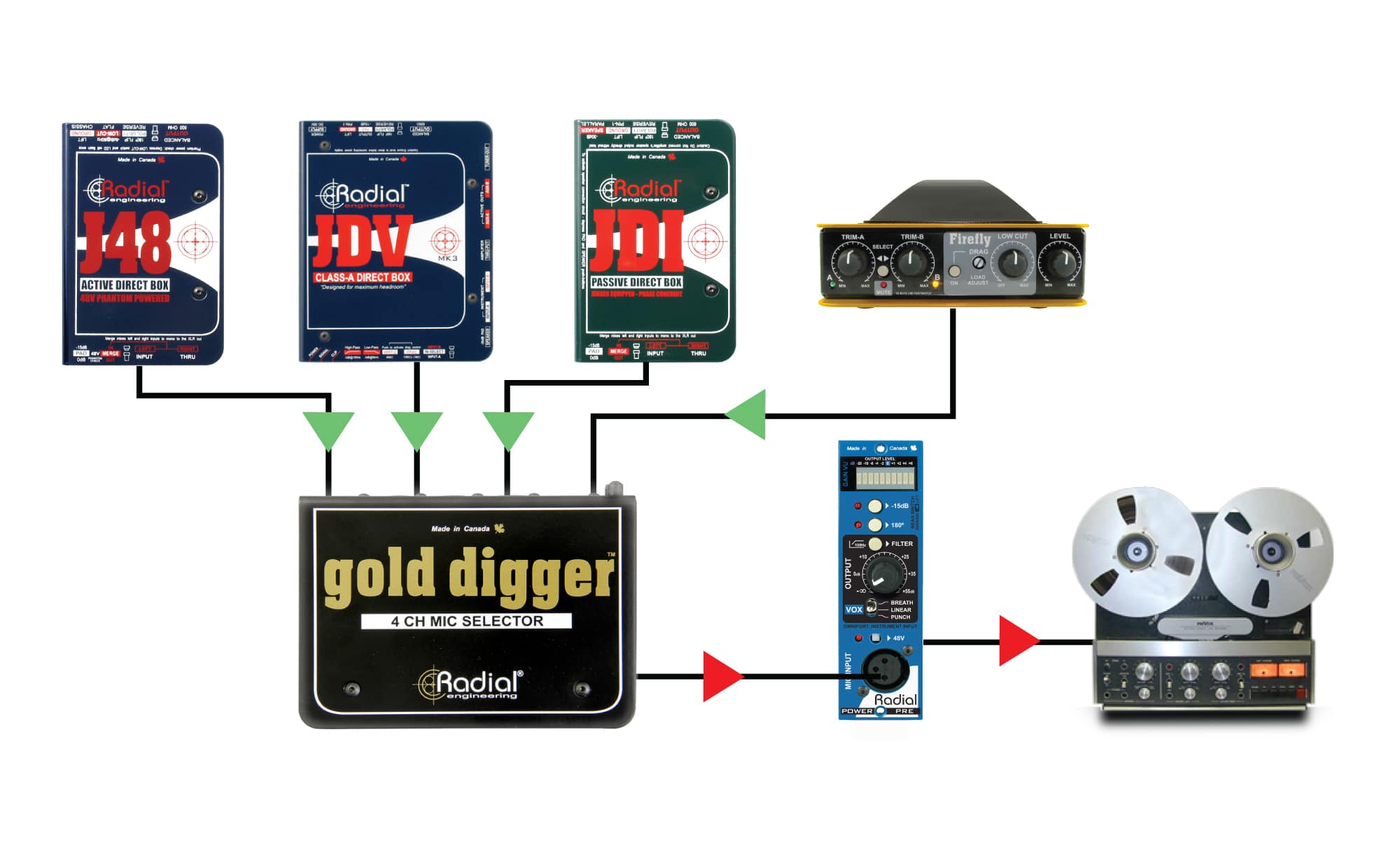 Comparing Various Direct Boxes
Comparing DI boxes can often lead to surprising results. Often, one will use an active DI like the J48 only to find that a passive one like the JDI could in some instances sound better. Plug in the four DIs just like you would a microphone and you are set to go.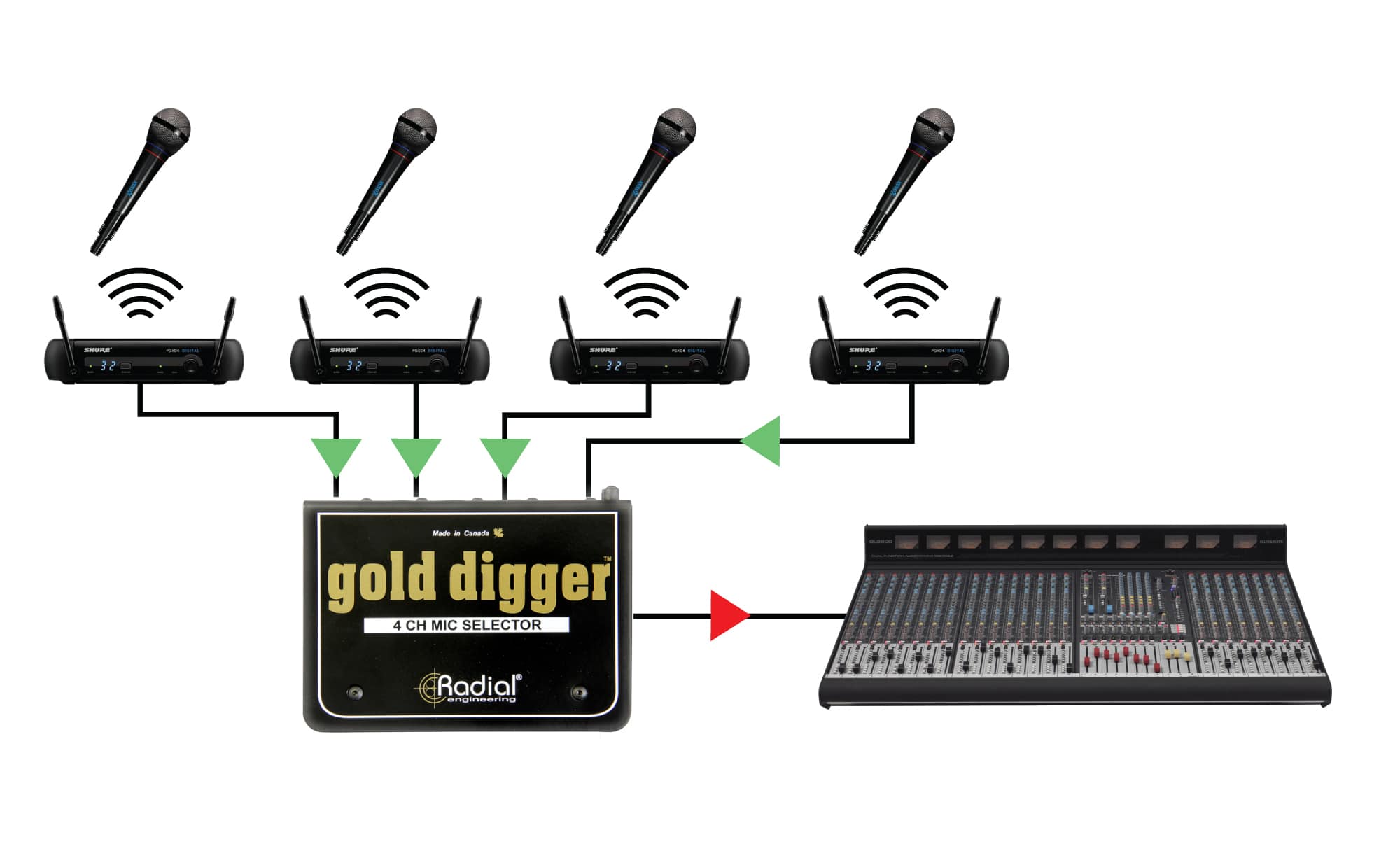 Selecting a wireless system
The Gold Digger can also be used in live touring where you may want to direct as many as four different wireless systems to a single audio input channel in the PA system. This could be 4 mics in a house of worship, 4 wireless guitars, or maybe a couple of mics in a town-hall meeting.
Artis

ts
Jack Douglas
Producer - Aerosmith, John Lennon, The Trews, Supertramp, Cheap Trick, Alice Cooper
"I love the Gold Digger! There is no need for re-patching or phantom power management when auditioning microphones. We can now change mics as fast as the artist can step up to the mic, all while retaining the same processing chain!"
George Seara
Rihanna, Drake, Holly Cole, Sting, and Herbie Hancock. 2012 Juno Award for Recording Engineer of the Year
"The Gold Digger is a must-have when I'm shooting out vocal mics. Not only does it allow quick and seamless level-matched A/Bing, but it's entirely invisible and does not alter the sound in any way."
Sebastien Lefebvre
Guitarist, Producer - Simple Plan
"The Gold Digger and Cherry Picker are 'real' toys for the studio. They let you try out every combination of microphone and preamp chain before settling on the one that best suits a particular vocal or instrument. No more having to plug and unplug your whole rig. Saves time, and really fun."
{{ postData.post_title }}
{{ postData.productSubTitle }}
Part no: {{ postData.partNo }}
Part no: View Product
{{ postData.post_excerpt }}
View Product