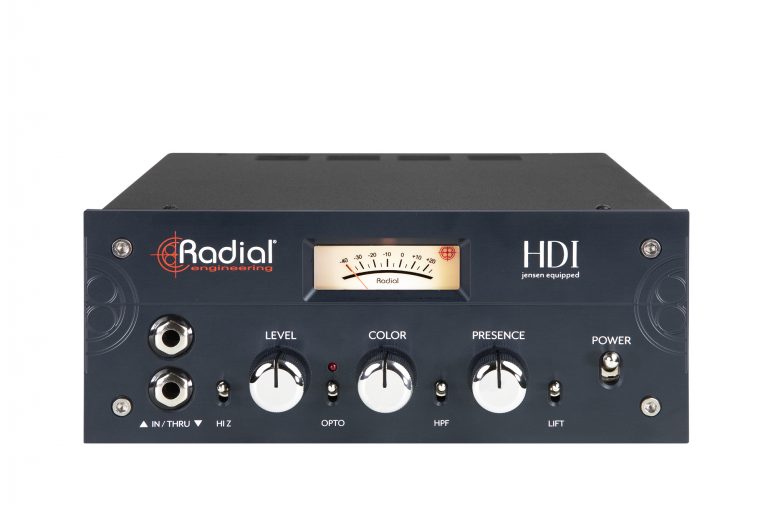 1
2
3
4
5
6
7
8
9
10
11
In
Standard ¼" TS input for mono instruments. When in use this input overrides the rear-panel ¼" Input.
1
Thru
¼" TS unbuffered pass-through to feed the input of a stage amplifier.
2
HI-Z
Adjusts the input impedance at the 1/4" inputs, similar to an older amplifier with HI and LO inputs. Lower position is 200k Ohms, higher position is 2Meg Ohms.
3
Level
Input level control which also allows you to drive the distortion channel of the Color control for greater saturation and coloration.
4
Opto
3-position switch controls an internal opto compressor circuit, providing smooth and natural dynamic control when the Color knob is set to the clean channel (7 o'clock to 12 o'clock range). Note that the Opto LED will only illuminate to indicate when gain reduction is being applied.
5
Color
Blends between an ultra-clean DI channel (when turned fully counter-clockwise) and a unique distortion channel that adds transformer saturation and amp-like distortion as this control is turned clockwise.
6
HPF
Three-position switch rolls off low frequencies to compensate for additional low end content when applying distortion via the Color control. Note that this switch only affects signal that has been processed through the distortion channel of the Color control, the HPF does not affect the clean side of the HDI.
7
Presence
Adds emphasis to the high and high-mid frequencies. Fully counter-clockwise is flat, turn this control clockwise for an increasingly brighter sound.
8
Lift
Disconnects the HDI audio ground from the chassis ground to eliminate hum and buzz caused by ground loops.
9
Power
On/off switch for the HDI, when powered on the Output Meter LED will illuminate.
10
Output Meter
Wide-range highly responsive peak meter corresponding to the signal present at the Line-Level XLR output.
11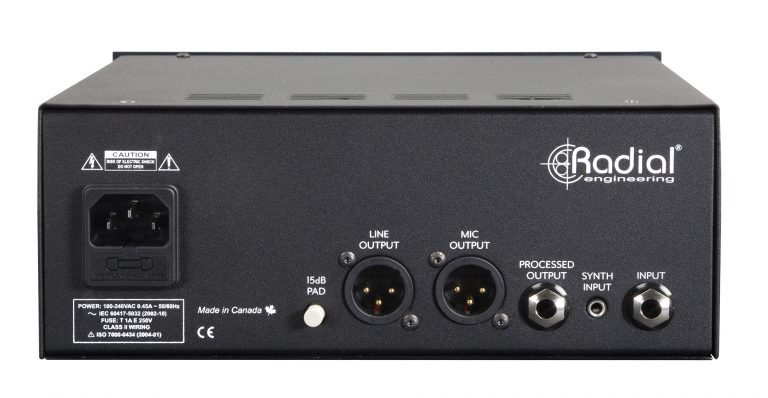 1
2
3
4
5
6
7
Power Input
Connection for IEC power supply cable (included). Ensure the front panel Power switch is in the off (down) position before connecting the HDI to power.
1
-15dB PAD
Reduces the signal level at the Line-Level XLR output to avoid clipping the input stages of recording interfaces which have lower maximum input settings.
2
Line-Level Output
Independently isolated Jensen transformer-equipped XLR output designed to connect directly to the line-level inputs of a recording console or audio interface, bypassing the need for a separate preamplifier in the signal chain.
3
Mic-Level Output
Typical direct box balanced low-level XLR output, for connection to stage snakes or the mic inputs of a recording console or audio interface. This output features an additional premium Jensen transformer for isolation and signal reduction to mic-level.
4
Processed Output
Unbalanced 1/4" TS output that follows the tone-shaping circuitry of the HDI, allowing you to easily feed an affected signal to a stage amplifier, amp modeling unit, or any device with instrument-level inputs.
5
Synth Input
Mono 3.5mm input for connection to modular synthesizers. This input features a lower sensitivity to accommodate the hotter levels that modular synths typically output. Connection to this input overrides both 1/4" instrument inputs.
6
Input
Standard 1/4" TS jack for connection to mono instruments, mirrored on front panel input jack.
7
HDI

Resources
Part no:
R800 2025 00