High Definition Studio Direct Box
The HDI is a studio-quality direct box designed to create exceptional recordings with any instrument, utilizing premium Jensen transformers and a unique Color control that provides an entirely new yet familiar-sounding sonic palette to experiment with.
Photos
Dial in an amazing tone within seconds
Blend from ultra-clean to amp-like distortion
Smooth Opto compressor for peak reduction
Mic and line-level outputs
Oversized custom-wound Jensen transformer
Instant Gratification
Despite the complex circuitry housed within the unit, the HDI has an elegant set of controls that allows the musician or engineer to dial up a record-ready sound with a minimal amount of tweaking required. The Level control drives the inputs of the HDI with instant visual feedback from the responsive front panel meter, while the Color knob provides seamless blending between an ultra-clean tone and amp-style distortion and saturation, so you can add just the right amount of character and grit to your instrument. A smooth Opto compressor can be engaged to control the peaks of the input signal, and a High-Pass Filter clears up any excessive low frequencies added by the Color control. Lastly, a Presence control accentuates the highs and high-mids, providing the ability to cut through the mix with results that are sure to impress.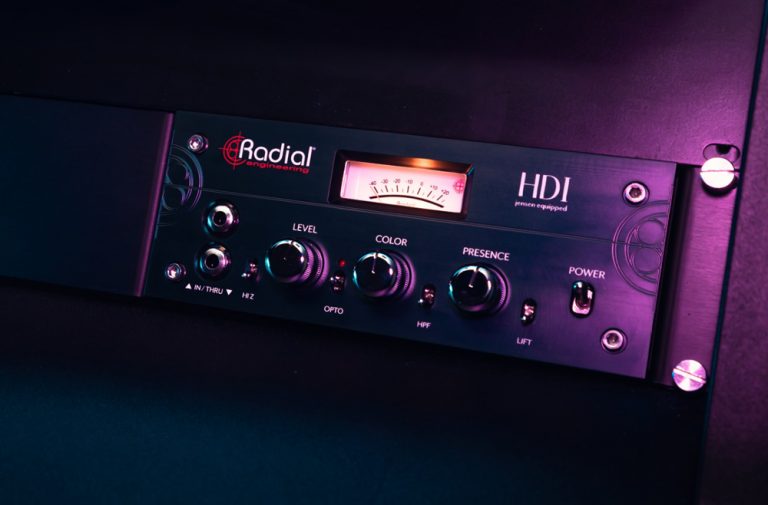 Looks and Personality
With its gunmetal anodized 1/4" thick milled front panel and distinctive styling reminiscent of classic outboard studio equipment, the HDI is sure to turn heads in any recording space. A custom output meter provides a level check at a glance, with oversized chrome knobs for precise adjustments and easy tweaking on-the-fly. The HDI is a stunning standalone unit, but it also comes complete with mounting hardware to install in standard 19" equipment racks. One or two HDI's can be installed side-by-side in a 2RU rack space, and like all Radial products, they are built with rugged components and designed to easily withstand the rigors of concert touring.
Behind the Design
While the HDI is incredibly easy to use - requiring only a few seconds to achieve great-sounding results - both the design philosophy and the under-the-hood processes at work are anything but simple. Click here to read an interview with the HDI's designer, W.C. "Hutch" Hutchison for an in-depth look at how the HDI came to be and what makes its circuitry so unique.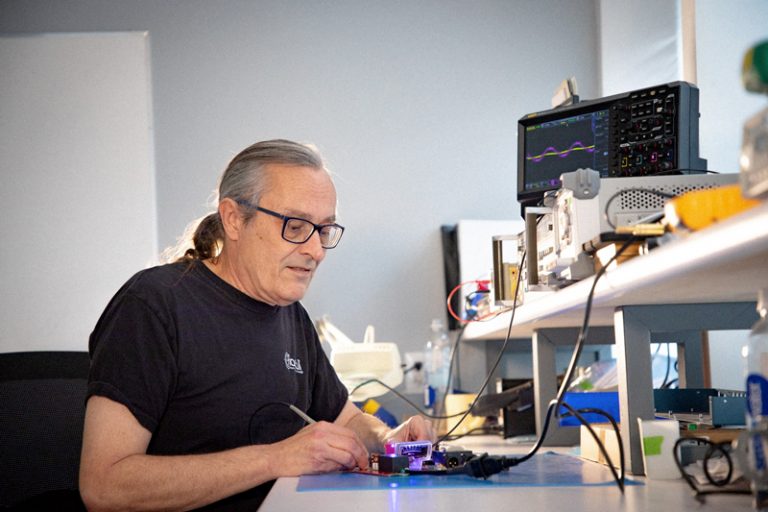 HDI

Applications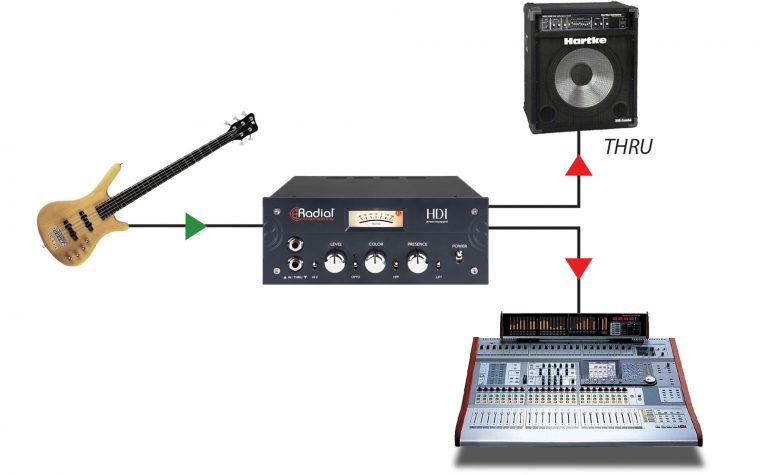 Using the HDI alongside an amplifier
Record bass directly from the HDI while also feeding the unbuffered Thru output to a mic'd up amplifier to blend the two signals together. The HDI sounds so good on its own you just might mute the amp track altogether.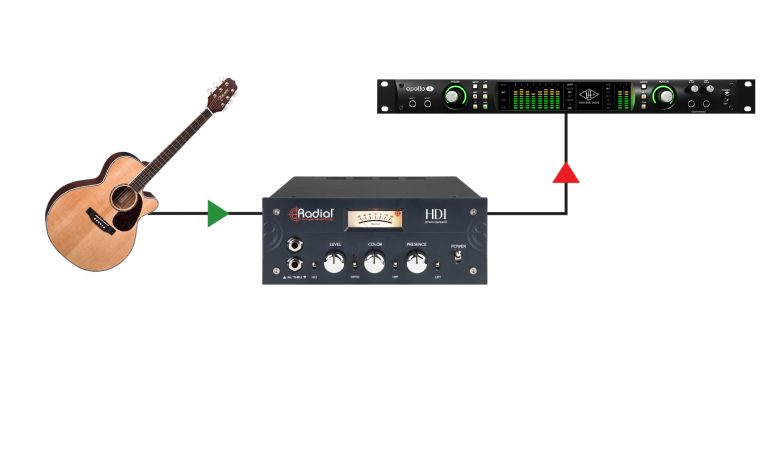 Using the HDI on acoustic guitar
The HDI pairs well with any instrument - with acoustic guitar it can add additional body and character that other direct boxes may lack. Take the line-level XLR output directly to your recording interface to bypass the need for any additional preamps in the signal path.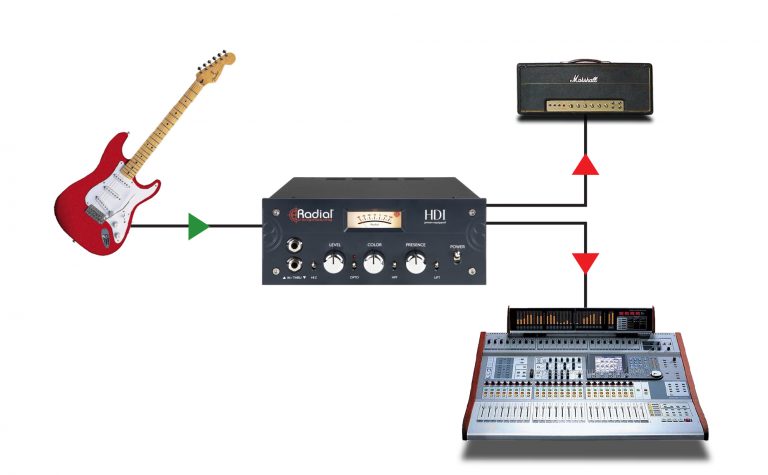 Using the HDI Processed Output
The HDI can be simultaneously used as a DI and as an instrument preamp, providing additional gain, saturation, and distortion before feeding the affected signal through to a clean amp or an amp modeling system.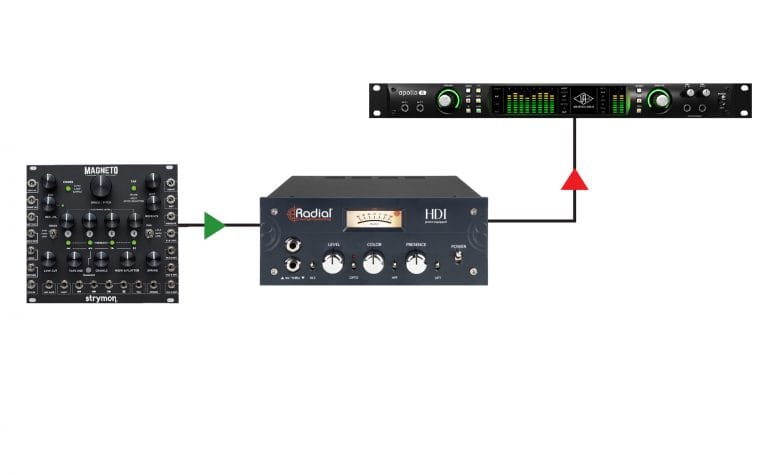 Using the HDI with modular synthesizers
A dedicated Synth Input has a lower sensitivity to accommodate the hot outputs of modular synths or even other studio outboard equipment, allowing you to use the HDI to process any instruments or tracks you can think of.
Videos
HDI - High Definition Studio Direct Box

Produce Like a Pro Tries out the HDI
Artis

ts
Tony Levin
Peter Gabriel, King Crimson, Mark Knopfler, John Lennon, Paul Simon
"I've already used the new HDI on my bass for a number of recordings, with great results. It's super clean, and has some dial in options that are wonderful to have on hand. Another home run for Radial"
Mark Egan
Pat Metheny, Sting, Bill Evans, Joan Osborne, Marianne Faithful
"Radial has done it again! The HDI surpasses all of my expectations for what I've been looking for in a Direct Box. It's so simple to go from ultra clean, with the enhanced Jensen transformer, to a warm and colored sound with everything in between. This is a serious tool for any musician's tool box."
John Rzeznik
Goo Goo Dolls
"Loving the HDI. The thing is built like a tank and sounds awesome. Love dialling in the saturation (color). Makes everything pretty juicy"
HDI

Resources
Part no:
R800 2025 00
{{ postData.post_title }}
{{ postData.productSubTitle }}
Part no: {{ postData.partNo }}
Part no: View Product
{{ postData.post_excerpt }}
View Product