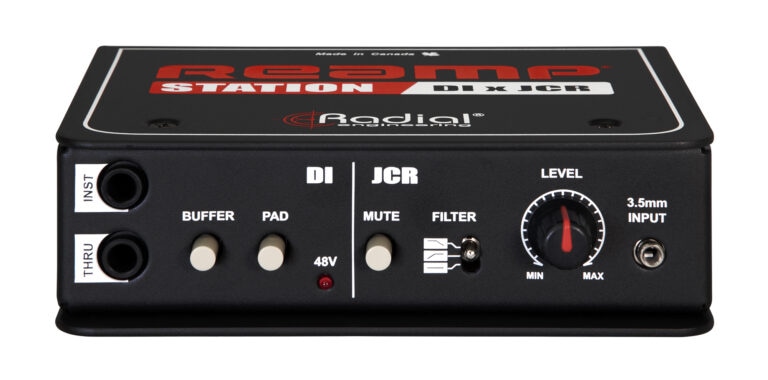 1
2
3
4
5
6
7
8
9
Inst
1/4" unbalanced instrument input to feed the DI side of the Reamp Station.
1
Thru
1/4" output passes the instrument signal through to feed an amplifier for recording or monitoring.
2
Buffer
Engages a unity gain buffer on the Thru output to avoid loading down passive pickups on your instrument.
3
Pad
-15dB pad reduces the input sensitivity for connection to high-output instruments like an active bass.
4
48V LED
Indicates that the Reamp Station is receiving 48V phantom power to operate the direct box features. Not needed for operation of the Reamp circuit.
5
Mute
Cuts signal to the 1/4" Amp Out when Reamping. Does not affect the direct output.
6
Filter
3-position switch applies a high-cut, low-cut, or flat frequency response to the 1/4" Amp Out and tailor the Reamped tone as needed.
7
Level
Controls the signal level to the 1/4" Amp Out for optimal gain-staging through amplifiers and effects pedals.
8
3.5mm Input
Allows mobile devices to feed the Reamp Station to play though amplifiers or pedals. Automatically sums left and right channels to mono.
9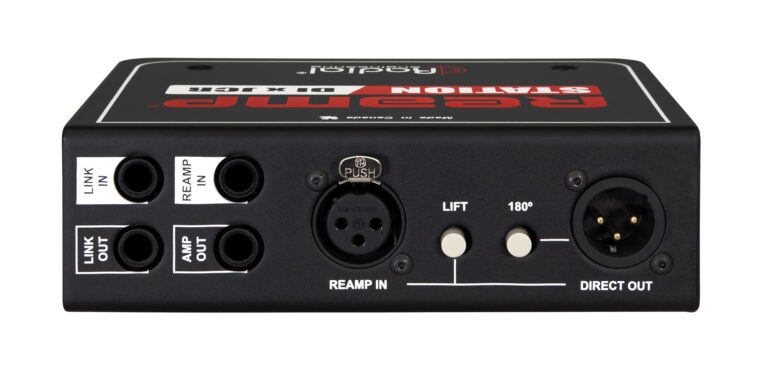 1
2
3
4
5
6
7
Link In / Out
Balanced 1/4" connections that allow the Reamp Station to daisy-chain to other Reamp devices to feed multiple amplifiers simultaneously.
1
Reamp In
1/4" TRS balanced input for connecting line-level outputs from audio interfaces to the Reamp Station.
2
Amp Out
1/4' TS unbalanced output for feeding Reamped signals to amplifiers and effects pedals.
3
Reamp In
XLR balanced input for connecting line-level outputs from mixers or pro audio playback devices to the Reamp Station.
4
Lift
Disconnects the ground pin at the Reamp inputs and the direct output to remove buzz and hum due to ground loops.
5
180°
Reverses the polarity at the direct output to compensate for amps or effects that reverse the phase of the signal.
6
Direct Out
Mic-level XLR output to feed a copy of your instrument signal to a mic preamp or audio interface for recording.
7