Passive Stereo Direct Box For Laptops & Mobile Devices
The Radial StageBug SB-5 is a compact & portable stereo direct box designed to accommodate laptop computers, tablets, and other consumer audio products when amplifying the signal through a PA system.
Photos
Stereo direct box for laptops, smartphones, and tablets
Cable with 3.5mm stereo plug to connect to mobile devices
Transformer isolation eliminates hum and buzz
Plug & play easy to use, no power required
Compact design fits in your laptop bag
The easy way to connect to the PA
The StageBug SB-5 provides an easy to use professional interface for connecting any mobile playback device to a mixer or PA system, with a built-in cable and 3.5mm stereo plug to connect directly to your laptop, smartphone, or tablet. Inside, a pair of custom wound transformers isolate the signals to prevent hum and buzz, and balance the audio to feed long cable runs without noise. Left and right 1/4" TRS outputs are provided for stereo operation, or a mono XLR output can be used to save channels on the PA system. The SB-5 works without any power required, and features additional ground lift and pad switches to eliminate ground loop noise and prevent distortion from high output audio sources.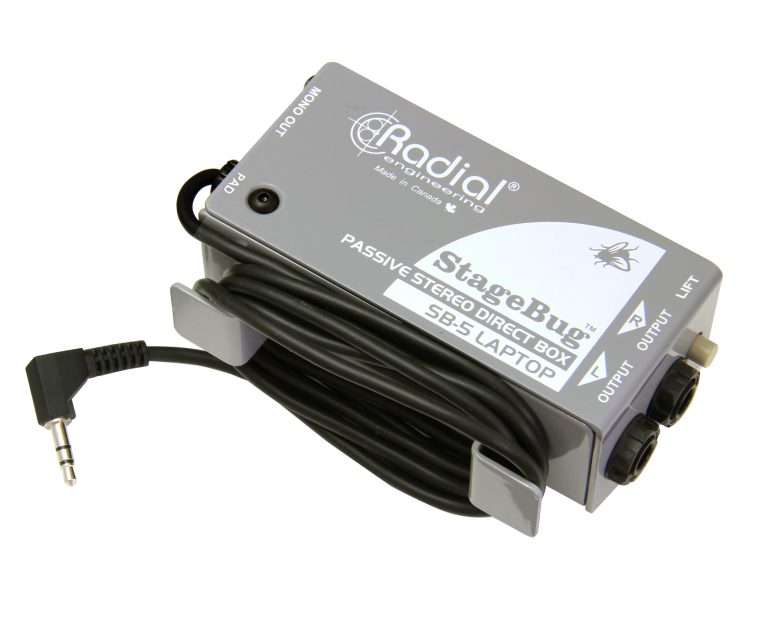 StageBug SB-5

Applications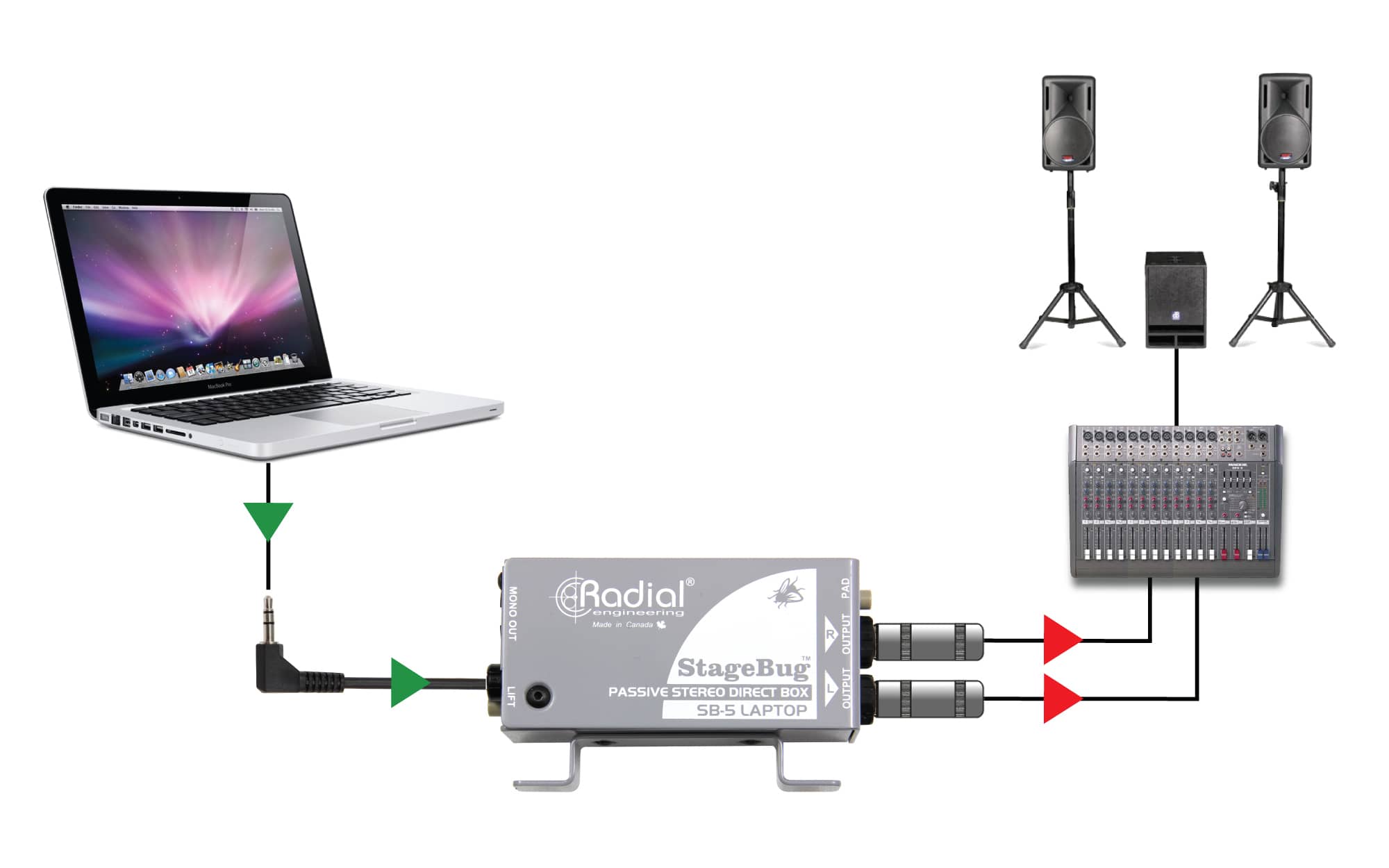 Using the SB-5 with a computer
Connect the headphone output from your computer directly into the StageBug SB-5 for quiet performance each time. The sidewinder cable cleat makes storage easy and you never lose the cable!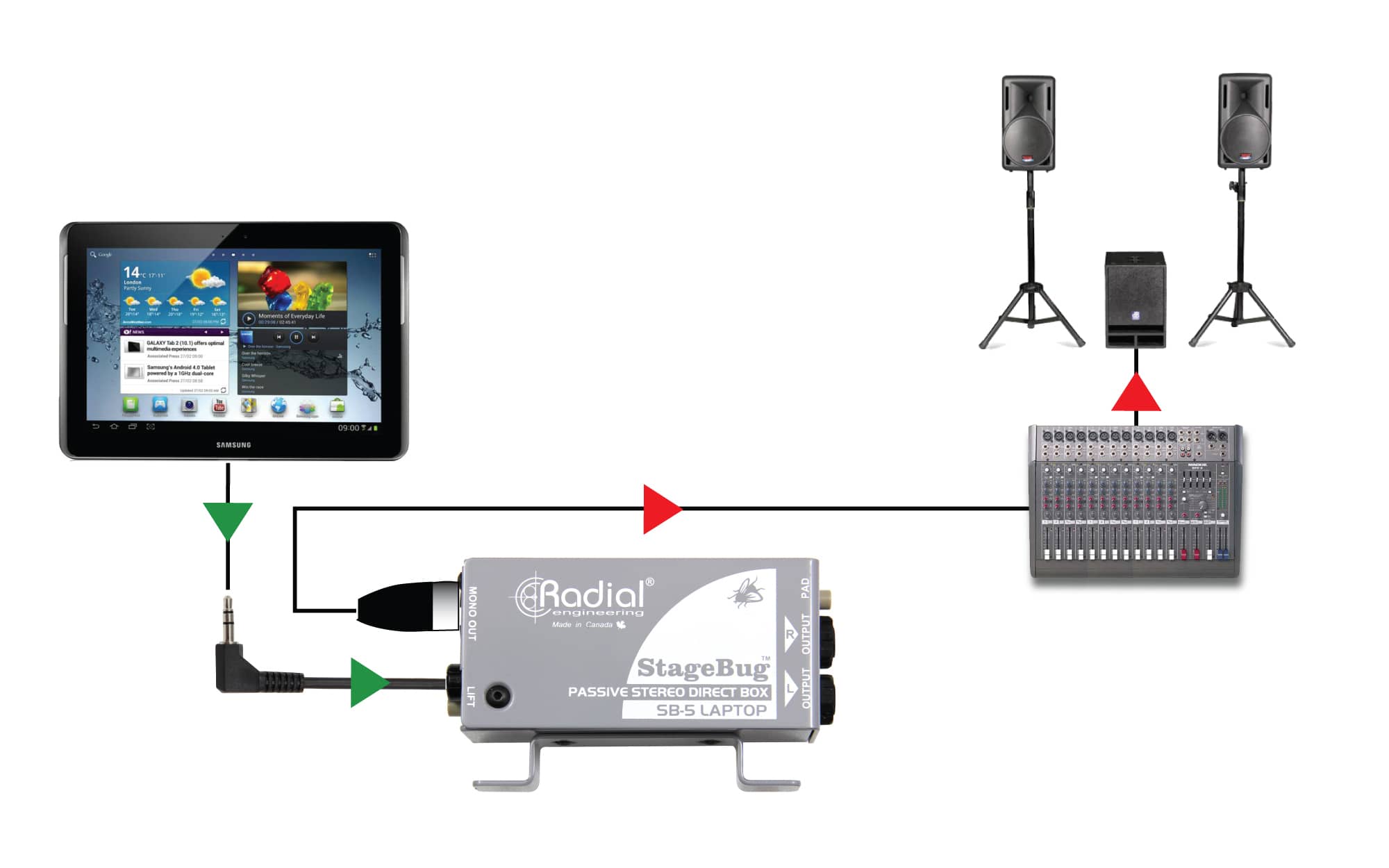 Using the SB-5 with a tablet
The SB-5 is your perfect direct box when extra portability is needed. Connect your iPad or Galaxy tablet to the SB-5 via the integral 3.5mm cable connection and sum to mono via the XLR output.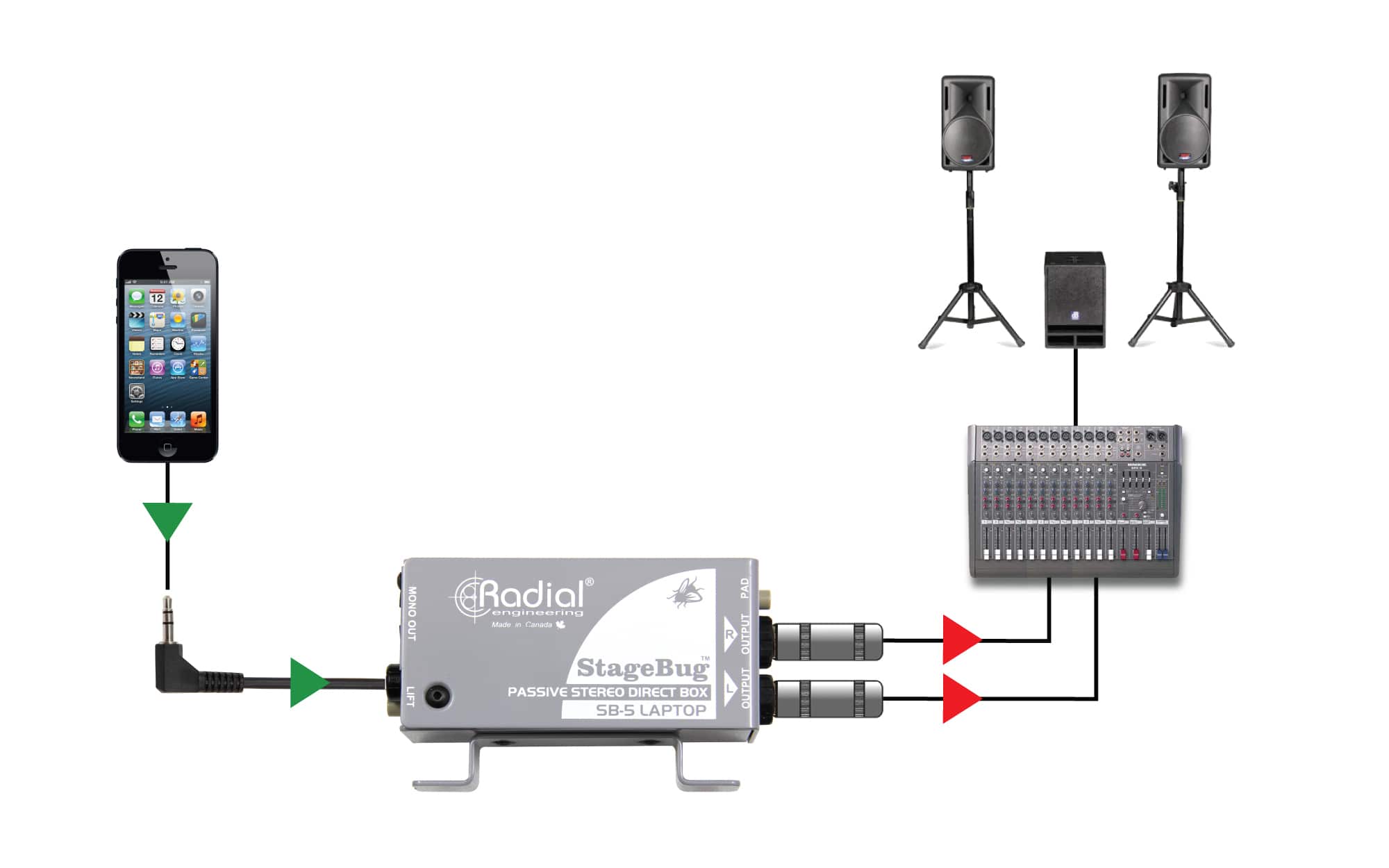 Using the SB-5 with an iPhone
Need to play backing tracks in stereo? The Stage Bug SB-5 makes it easy to connect from your portable music player. Connect from the headphone out to the SB-5 and send a balanced stereo signal to the PA.
Reviews
"The SB-5 is another one of Radial's "you didn't know you needed this until you needed it" boxes, and while I have seen one or two similar devices on the market, none of them have had this build quality, feature set or transparent sound."

"This is the kind of tool that just about any travelling audio guy should have, and it's equally useful for the church environment. In fact, even though they gave me this unit for the review, I'm going to order a few more to have around the church — I can see that many uses for it."
{{ postData.post_title }}
{{ postData.productSubTitle }}
Part no: {{ postData.partNo }}
Part no: View Product
{{ postData.post_excerpt }}
View Product