Auto-Switcher and USB interface
The Radial SW8-USB is a streamlined solution for employing redundant playback systems on stage, with dual USB inputs that allow you to connect directly to your primary and backup computers, providing eight channels of high quality audio and peace of mind during a live performance.

Photos
Switch between redundant playback systems
Two USB inputs eliminates the need for additional audio interfaces
Manual or seamless automatic switching
Line level or transformer-isolated mic level outputs
Synchronize both playback systems using MTC
The all-in-one backing track solution
The SW8-USB is the complete solution for performances that utilize redundant playback systems for backing tracks, combining two built-in high performance USB interfaces with an auto-switching feature that detects dropouts and effortlessly switches to the backup computer in an instant. Dual USB inputs with separate 24bit/192kHz converters allow two computers to be connected in tandem, so digital workstations on both machines can connect to the SW8-USB as an audio and MIDI interface. Start/stop synchronization is also possible between both computers through MTC, ensuring flawless switching between playback rigs with less equipment than ever.
SW8-USB

Applications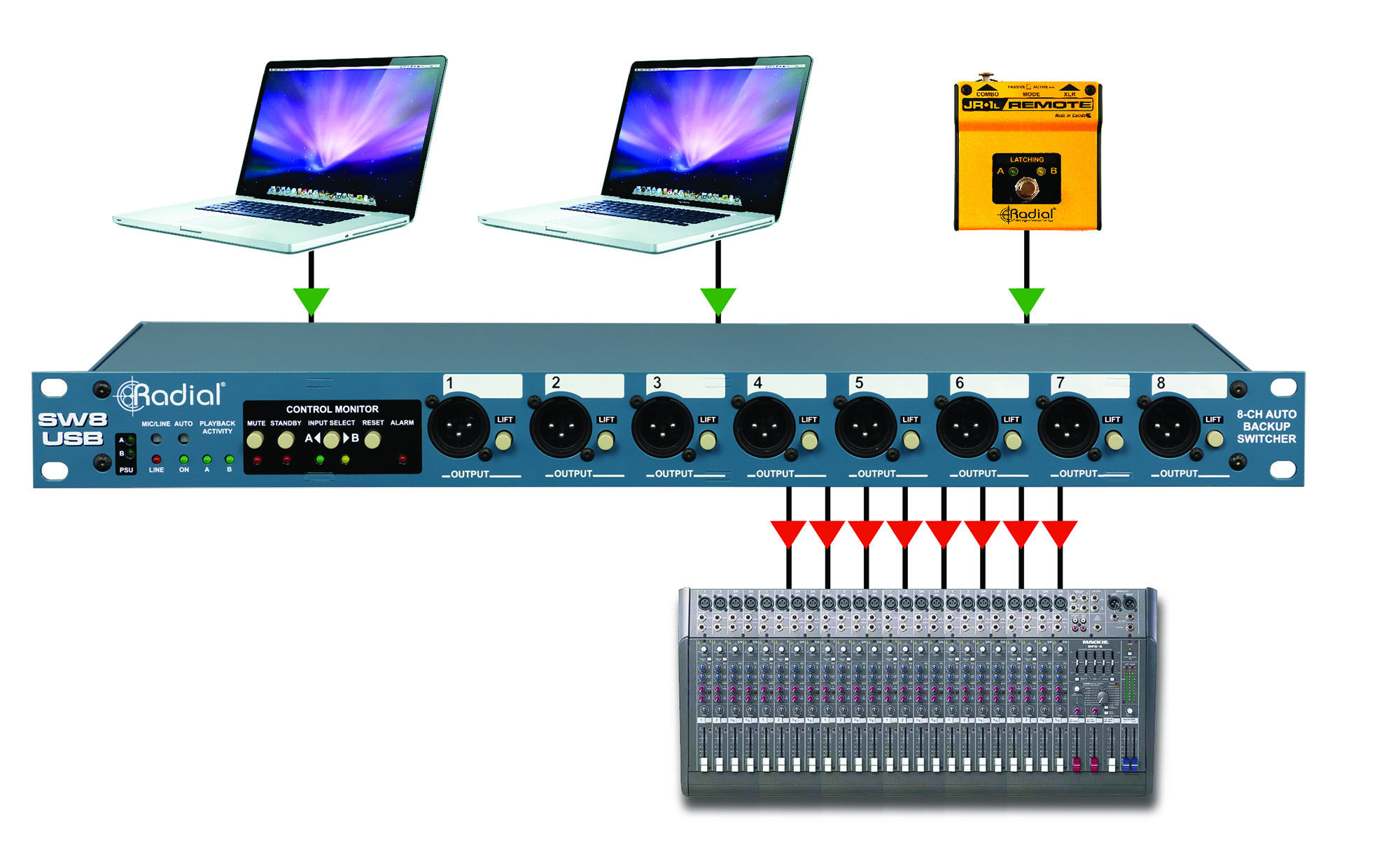 Connecting redundant playback computers
The SW8-USB connects directly to your primary and backup computers over USB, eliminating the need for bulky and expensive audio interfaces. Connect the balanced analog outputs to the PA system and engage the auto-switch mode to instantly switch to the backup system should an error occur. An optional JR-2 footswitch can be employed to manually switch between the inputs or put the SW8-USB into standby mode between songs.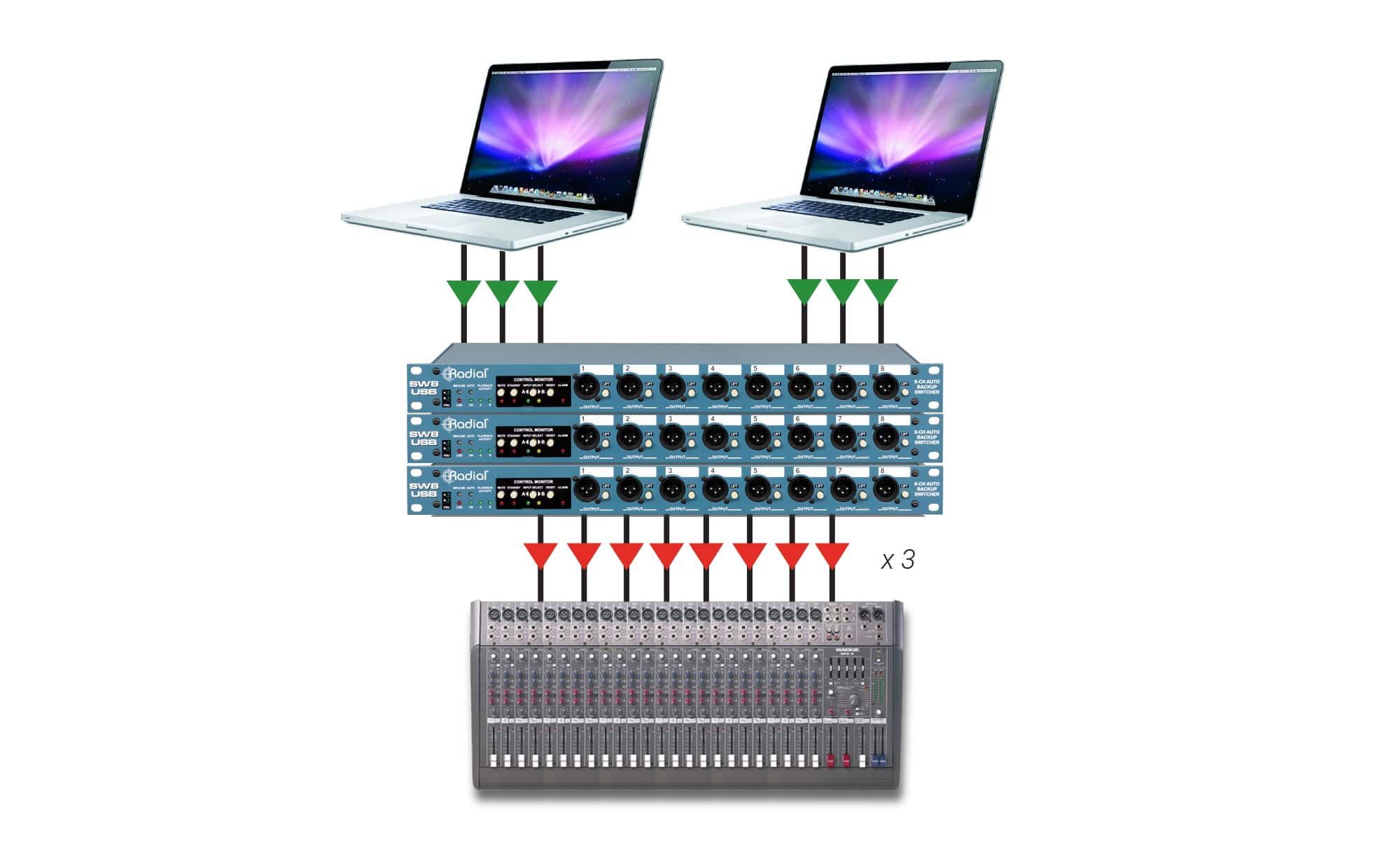 Link multiple devices for up to 24 channels of playback
Up to three SW8-USB units can be connected at the same time, providing 24 channels of redundant playback for larger setups. Connect each SW8-USB directly to your primary and backup computers, and link all three with TRS cables so they switch over simultaneously.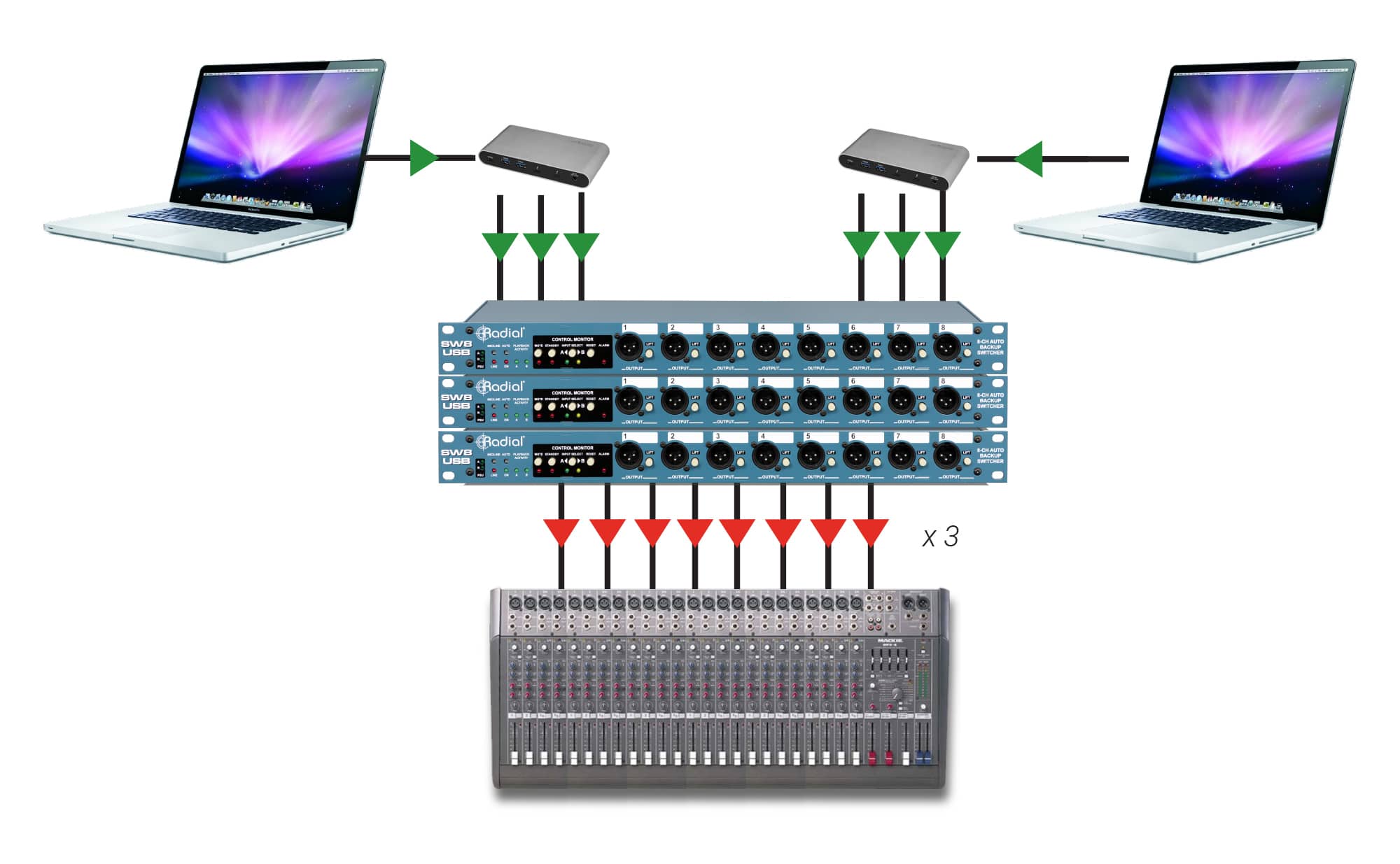 Link multiple SW8-USB through a Thunderbolt hub
SW8-USB units can be linked for up to 24 channels of playback tracks. To accomplish this with only a single connection to each computer, connect all three SW8-USB units to a Thunderbolt-equipped hub to provide a suitable transfer speed for all three units to operate simultaneously.
Videos
SW8 USB - Interface and Auto-Switcher
Artis

ts
Mike McKnight
Mariah Carey, Madonna, American Idol
"I have flown the SW8s all over the world on tour and they work perfectly night after night. It's a very well designed product - I can't imagine doing a live show without them."
{{ postData.post_title }}
{{ postData.productSubTitle }}
Part no: {{ postData.partNo }}
Part no: View Product
{{ postData.post_excerpt }}
View Product