Things may not necessarily look the same when music venues reopen and concert touring acts begin booking new shows (see The Flaming Lips' bubble concert, for example), but performing and enjoying music together is a tradition as old as civilization itself, and it's sure to be one of the primary ways we all celebrate a return to normal life.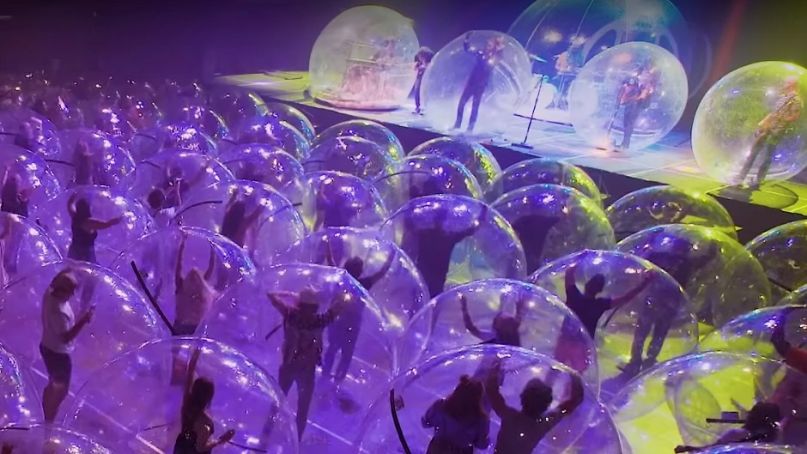 Whether you are a guitar player, keyboardist, singer, engineer, or stage technician, now is the perfect time to take stock of your gear and your setup as a whole. As you prepare to exit this extended hiatus, these three steps will ensure a smoother transition:
· Upgrade old equipment and critical components, or rebuild your rig entirely
· Invest in quality gear that will withstand years of use & abuse on the road
· Incorporate new tools to manage your signal on stage & enhance the performance
Examples of this might include adding a power conditioner to your rack to protect your valuable gear from damage due to voltage spikes, or upgrading your DI box to one specified by name on countless pro touring riders.
With the increasing complexity of stage setups, adding a signal manager & switcher for guitars, keyboards, or even backing tracks can prevent disruptions to the show and make life easier for techs and multi-instrumentalists.
Vocalists can also benefit from a signal switcher to help improve band communication during a set, especially since everyone is bound to be a bit rusty for the first few gigs. Whatever your application might be, when you are ready to begin performing on stage again, Radial is ready for you. 
Power Conditioners
One piece of gear that is often overlooked in many equipment racks is the power conditioner, yet this can be one of the most important parts of your setup. A high quality power conditioner protects your audio devices from harmful power surges that can fry sensitive components in an instant, potentially saving you thousands of dollars in repair and replacement costs.
Radial's Power-1 and Power-2 are rackmount power supplies & surge suppressors that have been created with audio professionals in mind, including a special emphasis on the ability to safeguard connected equipment against power irregularities. At the heart of each of these units is a Metal Oxide Varistor (MOV), which plays a crucial role in diverting power within microseconds of an overvoltage event. Unlike many surge protectors which rely on low-quality MOV's sourced overseas, the Radial Power series uses a USA-made MOV that offers superior thermal protection and reliability, along with a much longer lifespan than the alternatives.
Both the Power-1 and the Power-2 also feature front-panel USB charging ports, which can be incredibly handy when a smartphone or mobile device is running low on battery but still needs to be used as a part of the live performance. Additionally, each unit employs a high-rejection RF interference filter to keep unwanted noise such as high frequencies and AM radio signals out of the power line, preventing contamination of your audio signals.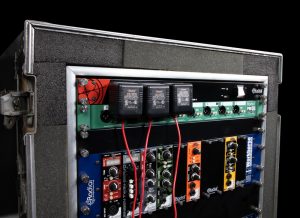 Front and rear-panel outlets are provided on both power conditioners (including wide spacing to accommodate wall-wart style power supplies), while the Power-2 provides increased functionality by including an LED light strip to illuminate other rackmount gear. This is accessed via a slide-out tray that adjusts the position of the light source for better visibility of gear placed lower in the equipment rack. The LED-based light burns cooler and lasts longer than incandescent bulbs, and it comes with an easily accessible dimmer control and the ability to select between multiple color options with the press of a button.
You've likely spent a considerable amount of money on the gear you use, so protecting your investment with a quality power conditioner will help provide insurance against that one critical moment when a power surge occurs, giving you peace of mind and making sure that you're always ready for the next gig.
Direct Boxes
A direct box is the link between your instrument and the PA system; it can help maintain and even enhance the tone you've worked hard to achieve. The Radial JDI and the J48 are industry-leading direct boxes with a reputation for audio signal quality and reliability, which makes them a common sight on stage with some of the biggest acts in concert touring.
The passive JDI features a premium Jensen transformer that ensures ultra-low distortion and noise, while maintaining a flat frequency response and minimal phase shift throughout the frequency spectrum. The J48 active direct box sets itself apart with an incredible amount of headroom that prevents clipping and square-wave distortion even with high output signal sources.
For a direct box with unique character and extra features like a built-in opto compressor, Radial's flagship HDI is equally at home in the recording studio as it is on the road. A unique Color control on the HDI allows you to blend between ultra-clean operation and amp-like distortion, giving you a range of tones to complement any instrument and playing style.
It may seem like we're biased (we definitely are), but investing in a great direct box will pay dividends on stage by protecting your instrument's tone when connecting to the PA system, and it will be just as helpful in the studio as part of your recording signal path.
Instrument Switchers
If you are a musician or stage tech that needs to deal with multiple guitar & amplifier changes during a show, it's worth looking into an instrument switcher to help streamline each changeover and create a seamless performance on stage. Radial's JX44 and JX42 guitar & amp switchers have recently been updated with new features to provide stress-free signal management and exceptional audio quality for any touring act.  
The JX42 V2 can accommodate up to four instruments or wireless receivers, with any combination active at the same time. Large backlit switches on the front panel choose which instruments are live, and any inputs that aren't selected automatically feed a dedicated tuner output. This allows techs to simply grab and tune an instrument without unplugging cables or disrupting the performance. Dual amplifier outputs can feed separate amps so you can switch between the two with ease, or you can create a redundant system with the ability to switch to the backup at a press of a button.
The JX44 V2 offers the same connectivity as the JX42, along with a number of features to tame even the most demanding and complex instrument setups. The JX44 includes four amplifier outputs along with the four instrument inputs, and both can be controlled remotely with optional JR-5 footswitches. A local stereo effects loop can also be connected and individually assigned to each amp output, making routing schemes such as wet/dry/wet amp setups a breeze. An SGI loop allows remote pedalboards to be connected as well from up to 300 feet away without additional noise or signal degradation, and a Radial direct output is built in for feeding acoustic instruments directly to the PA system.
Both the JX42 V2 and the JX44 V2 are equipped with gold-contact connectors throughout, along with premium Jensen transformers to provide the best possible tone without compromise. They also feature an internal switching power supply for ease of use with worldwide concert touring, and built-in MIDI functionality to allow all switching options to be accessed remotely using MIDI footswitches or controllers.
Another handy switcher for guitar players with multiple amplifiers is the Headbone VT, which is designed specifically to switch between two tube amp heads while feeding a single cabinet. This allows you to select between multiple amp tones on stage without lugging two cabs to the gig.
Keyboard Signal Management
Dealing with multiple keyboards and synths on stage can come with its own unique set of challenges, from incorporating a laptop for soft-synth playback, or connecting a shared effects loop. The Key-Largo and the KL-8 both address the specific needs of keyboard players while providing useful features for setups of any size.
The Key-Largo is a compact keyboard mixer, USB interface, and performance pedal that allows you to connect up to three analog synths simultaneously, along with a laptop, a MIDI controller, and your effects pedals. This puts you in charge of the mix between each of your instruments and allows you to send a stereo balanced output to the PA while also feeding a pair of monitors on stage. An effects loop and a stereo insert are shared across the inputs, so you can use a single effects unit or volume pedal for multiple synths, with footswitches that make it easy to control your effects in real time.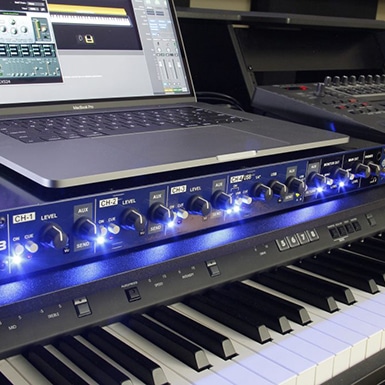 Built for pro touring keyboard rigs, the KL-8 is an expanded rackmount version of the Key-Largo. It allows you to connect up to four analog synths at once, and it includes a headphone output and cue monitoring section that gives players the ability to test sounds and adjust synth patches on the fly without feeding signals through to the audience. KL-8's can be linked together to accommodate Rick Wakeman-esque amounts of instruments on stage, and a second USB input is provided to allow for redundant soft-synth setups to prevent signal loss in case of a computer issue.  
Backing Track Switchers
The use of prerecorded tracks to supplement a live performance is becoming more and more common, and whether you are playing stereo tracks from a smartphone or 96 channels of playback from a dedicated hardware rack, a professional switcher is a must-have to ensure that the show goes off without a hitch.
For smaller gigs and fly-dates, the Backtrack provides a dependable and compact solution for quickly switching between two stereo sources without noise. This allows bands to connect two playback devices including smartphones, tablets, or laptops, where one acts as the primary device and the other acts as the backup. Should the primary device fail for any reason, the Backtrack can switch to the backup at the press of a button, so nobody misses a beat (including the audience).
When more than two channels of backing tracks are required, the SW8-USB is able to connect directly to the USB ports on two computers to create a multi-channel redundant playback system. The SW8-USB eliminates the need to purchase separate audio interfaces for each computer, as it includes on-board 24bit/192kHz digital audio converters. It can also switch to the backup computer automatically when a dropout is detected, taking as little as 3 milliseconds to do so. Up to three SW8-USB units can be used in tandem to create a 24-channel playback rig.
The SW8 auto switcher provides a solution for shows that utilize up to 96 or more channels of backing tracks, accommodating the largest touring productions with ease. Each SW8 features eight analog inputs and outputs, and multiple units can be linked together to expand the total channel count as needed.
Vocal Switchers
Vocalists can also benefit from evaluating their audio signal path before touring kicks off once again, as this might be the right time to incorporate a vocal mic switcher for improved communication on stage. These types of switchers can have many applications; from allowing a lead vocalist to seamlessly switch between singing and giving notes to the monitor engineer or their bandmates, to feeding a single mic to two separate PA channels to optimize levels and EQ for vocalists who also play harmonica or another acoustic instrument.
The HotShot 48V offers hands-free switching for dynamic or condenser microphones on stage, with a time-delay microcontroller to ensure no pops or clicks are audible when switching a live microphone, even when connected to a 100,000 watt PA system. It can be used to route a musical director's microphone to two separate locations, or it can be used as a push-to-talk or push-to-mute footswitch. The single footswitch control and bright LEDs make it easy to operate on a dark stage, and it can be configured for both latching and momentary use to suit the artist's preference.
When using dynamic microphones only, the HotShot DM-1 is another widely-used switcher on tour. It operates passively with no need to connect it to a power supply, making it easy to deploy in virtually any venue. Bands can add several of these to their gear inventory to create a cost-efficient communication system that will work with their in-ear monitors and create a more professional stage setup.