Jacquire King in his new studio. Several Radial products made the cut and Radial's sister acoustics treatment company, Primacoustic, was selected to treat all the studio spaces.
Jacquire King's new studio 'LBT' offers the multi-award winning producer, what he calls 'creative elbow room' and immediate access to all the instruments he has collected over the years. Although you can still find Jacquire at Blackbird tracking larger session in Studio D, he surrendered his personal space there (Studio G) now that LBT is operational.
LBT is a 'top secret' acronym according to King and reflective of his vision for the studio. "I wanted a space that was truly personal to me and that in many ways you weren't hanging out in a commercial studio but rather in a home environment." On the more practical side he sees this as an investment in real property directly benefitting his future well-being.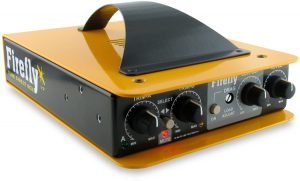 At this point in time his well-being would appear to be well sorted. King's career is now at the point where he is balancing work with some of the most well-known talent of the day and taking a more active approach in developing artists. Having had years of music put in front of him, King recognized he found he would look for ways to become involved in projects that spoke to him creatively. "It's a very mixed bag of situations and I don't really have a method. Every situation is different. In the last couple of years I've developed a young band that sought me out and I thought they had potential.. now they have a major label deal and have been touring and we write songs together. A great artist that I mixed a record for ten years back left the business after not finding sustainable success but started writing songs again a couple years ago and sent them to me, so we made a record this summer and now I'm managing and shopping it around." He's even gone into a small publishing partnership which has begun with the signing of an artist he is currently working with to develop material. "I'm a fan of music and a record maker first but my interests are growing and now I can say that I'm a manager, publisher, writer, educator, executive producer, mentor, software developer, board member, studio owner, and whatever else may interest me in the future. I just love the creative conversation and experience of bringing recorded music out into the world."

He describes LBT as a medium sized studio and he had his hand in the design from the ground up. A few key pieces of Radial gear made the cut. King points to the Radial Firefly Tube DI as a newer but key piece in his recording process. "It's become my go to direct path for bass guitar. I've even recently used it for direct recording of electric guitar with great success. The Firefly has a huge and rich tone with great articulation. I just love the way it sounds and for me I'm very picky about tube direct boxes… I don't like most of them and many times just prefer to use a passive transformer only DI. This is a different story for sure. I also love having the drag feature to change the impedance that the pickups are seeing for the tonal changes that it brings. Also having the two separate inputs for independent levels is an advantage plus the feature set of polarity, high pass, and ground lift are all necessary standards." Some of King's latest projects feature use of the Firefly including Picture This, Daughtry, Bastian Baker, Dierks Bentley, Ford Turrell, & Shania Twain.
To 500 series or not…? That is the question. King confirms he uses 500 series gear all of the time and, in terms of Radial, he has two EXTC's that get plenty of use at LBT. "I get a fair amount of use in tracking with them, for everything from drums to vocals. They are great at the mixing stage to get some of my many, many guitar pedals involved as outboard effects. Totally invaluable in the modern studio."
LBT's toolbox also includes the exceedingly practical BT-Pro Bluetooth DI. "It's used constantly in my studio to play back guests' music during meetings or in sessions. It's been an easy and reliable way to be setup for playback without the need or mess of a cable hanging around. It sounds great too."