Not everyone has 2500 square feet to work with when planning a studio build but if they did, they could take a suggestion or two from the design book of John Driskell Hopkins – 'Hop'. As a founding member of Zac Brown Band, Hop had a few essentials in mind when conjuring his dream space which included a recording space large enough to accommodate a 30-piece orchestra and a full-service bar and lounge.
Brighter Shade Studios' second incarnation has all that, and a story to tell, with the hallmarks of Hop's esteemed career including photos, mementos, awards and guitars peppering the spaces. The first incarnation of Hop's Brighter Shade studios is part of that story with a 22-year history of recording and producing in Atlanta.
Hop's motivation for the new studio was simply to spend more time with his family and friends. Working with studio designer Steven Durr, the result is a world-class, professional recording studio. The new facility also includes an oversized, flexible-use main recording space large enough to hold a 30-piece orchestra, a voice-over booth, machine and mixing room, lounge and full-service bar – made of Sapele wood (from Taylor Guitars) with customized song lyrics carved into the wood. The space also has the ability to provide a fully catered meal during an event or special occasion. And we haven't even begun to talk about gear.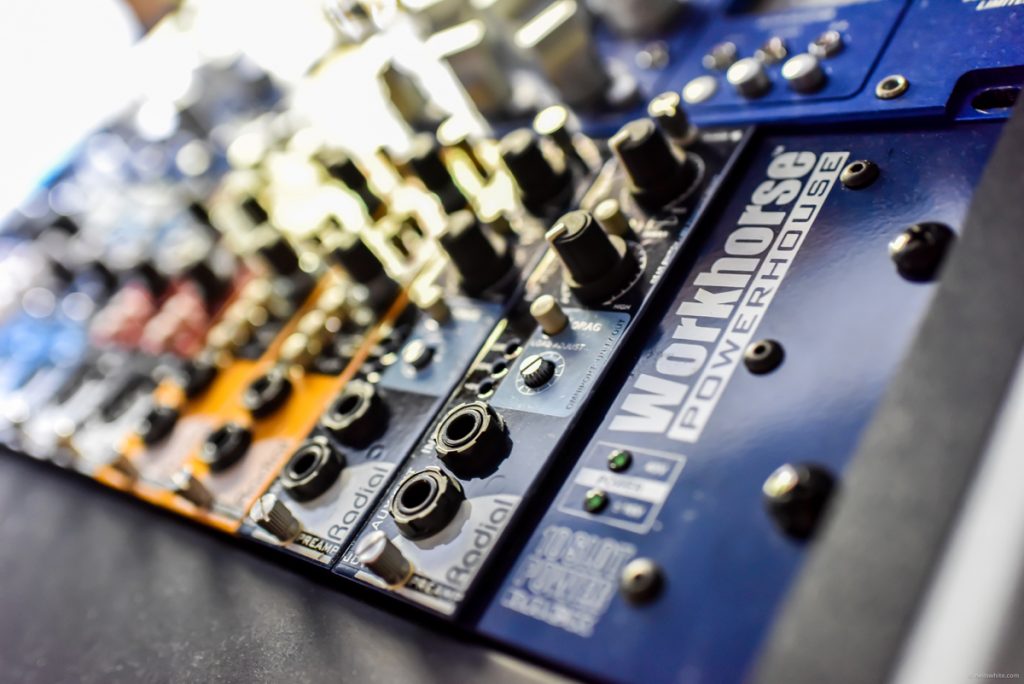 Key to Hop's workstation is a Radial Powerhouse 500 series chassis loaded with 10 Radial modules. It was a straightforward choice as Hop had experienced Radial 500 series preamps at Southern Ground in Nashville, Zac Brown's studio. According to Hop: "They were used during the recording of our most recent ZBB album, entitled, Welcome Home. The guys in Nashville couldn't say enough good things about the Powerhouse, the preamps and working with Radial in general. I was sold immediately."
The Powerhouse's ten slots are fully loaded with duplicate Jensen Twin-Servos, PowerPres, PowerTubes, JDV-Pres as well as EXTCs (reamping guitar effects interface.) Hop's 2017 Christmas album put the better part of the rack to work. "We used these all over the Christmas album, and I have really been enjoying how they sound on my room mics with the drum tracks we have been cutting for the new Americana records we are doing" Hop continued. The JDVs stand out in particular for him. "They are so very convenient. I love the interface and the way I can pop into these awesome pres right from the control room. They are super quiet and have been delivering warm, consistent sounds for acoustic guitar, bass and keyboards."
Hop is putting the gear to work these days on several songwriter projects including a new albums and songs from The John Driskell Hopkins Band, Alex Guthrie, Mike Rizzi, Katie Deal and more.
For more information on the Powerhouse, Jensen Twin-Servos, Power Pres, Power Tubes, JDV Pres and EXTCs
PHOTOS CREDIT: Neil S. White