April 27th, 2016
During the recording of their most recent album, Astoria, Marianas Trench front-man Josh Ramsay took the project through a handful of studios. The initial recording of the album was completed in his own studio 'The Umbrella Factory', then orchestral session were recorded at world-renowned 'The Warehouse', with the final work being completed at his new home-based studio 'The Benhouse'.
"I was inspired to change locations part way through recording. I live in a Gastown [historic heart of Vancouver] 3 floor penthouse. I converted it into a full studio to finish the rest of the album, so I could work day and night. The studio is named after my dog – Bennie and the Jets."
Of course the luxury of working from a home based studio is offset by its own set of challenges- primarily the fact that neighbors do exist and might not be as enthused about the recording process as those involved in it. The pragmatic Ramsay came up with a plan which is not surprising given he spent most of his formative years at the infamous Little Mountain Sound studio which his father co-built and managed for several years.
"To record amps in the Benhouse I considered using isolating speaker cabinets at first but they sound boxy and odd to me. So then came the idea of some sort of DI based recording. But this worried me because I didn't want to sacrifice any sonic qualities just for the sake of a new location." Ramsay called on three well respected producers and engineers to do an A B comparison of some product solutions. "This was done for 3 days in my studio. The listening team was myself, Dave 'Rave' Ogilvie (who did all of the old Nine Inch Nails stuff, Marilyn Manson, and mixes 90 percent of my work, including [Carly Rae Jepsen's] 'Call me Maybe'), Zach Blackstone from The Warehouse Studios, and Scott Ternan of the now defunct Mushroom Studios."
"We used a 68 Marshal Plexi, a 70's Roland Jazz Chorus, and a 60s Vox AC30 as amps to test. These were all played through the Palmer DI, The Redbox, The Mesa boogie CabClone, and The Radial Headload. I used my original '63 Strat, '67 Trini Lopez, '66 non-reverse Firebird, '58 Jazzmaster, and '83 heritage Korina Flying Vs for guitars. We went from the amps to the different DI boxes into the Neve, then barely hitting a distressor or Fatso Jr, then into Protools."
"The Palmer and Redbox are both good pieces of gear, but are more intended for a character specific sound, and not made with the purpose of replacing a speaker cabinet all together, so they performed as expected. Good, but not for this idea."
Ramsay was impressed with the cabinet simulation capabilities of the Cabclone and the Headload and because each product has its own version of EQ settings and gain stages, found they both compensated for what is lost without the natural effect from speaker cones. In the end it came down to classic Radial build quality and the Headload's built in Phazer. Ramsay continues: "Where the Cabclone lacks, is durability and enough options for professional level application. The Headload sounds fantastic and also is clearly made to last and made with all applications in mind. The addition of a 360 phase sweep is brilliant. The problem with DIs is always that the sound gets there faster than the sound from a speaker, so phasing always occurs when you try to use both. Adding a sweepable phase means that you can easily run both and fine tune for the part or the situation. The other downside to the Mesa, is that while it does sound great, it is clearly not ready to handle the wear and tear of going on the road. I have been using Radial gear in my live rig for years, and have never seen it go down."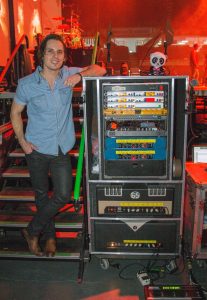 "After we had tried every option, even the most skeptical of us agreed that we could record world-class guitar sounds without the need of a microphone or a speaker cabinet."
The band recently secured a second Headload (with available rack ears) for their upcoming tour. "It's a great addition to have an option of running a certain percentage of the sound to a speaker cabinet. You could feed the front of house from the DI and then adjust your stage volume to whatever you want it to be, without affecting the DI signal. Matt [Webb] (lead guitarist and backing vocals) and I have decided to drop speaker cabinets from our live touring rig also, and just tour with heads from now on."
Read more about the Headload here.