Vancouver, BC – Radial Engineering Ltd. is pleased to announce the Tonebone Classic V9 is now shipping.
The Classic V9 is a 'next generation' version of the original Classic that is both smaller and easier to power, yet retains the incomparable dynamics and huge tonal range of the original. According to Radial Product Specialist Mike Bauer: "There is no question about it…ask any serious guitarist who has played a Tonebone and he will tell you that the original Tonebone Classic is likely the best tube distortion pedal ever made. It is responsive like a real guitar amplifier, boasts an incredibly powerful post distortion EQ and is both quiet and pop free. During its lifespan, it has received accolades from players as diverse as Eric Johnson, Steve Lukather and a host of others.  But no matter how good it is…today, players are faced with crowded stages, the realities of air travel and the high cost of luggage. This is forcing them to reduce the size of their pedalboards and standardize the powering systems. The original Classic requires a 15V supply for the tube.  As a result, pedals like the Classic that require special power and have a large footprint have been phased out. This compromise of course is completely adverse to great tone. So guitarists have been asking Radial to come up with a solution that would deliver great tone like the original, be more compact and employ standard 9V powering.  The Tonebone Classic V9 is the result of these requests."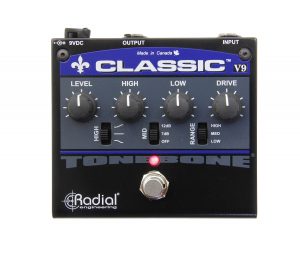 The design begins with a 3-position GAIN switch that allows the player to focus the distortion range so that it responds more accurately to their picking, dexterity and musical style. This is further refined with the fully adjustable DRIVE control. The signal then passes through the equalizer. This post distortion EQ lets you truly carve out the tone so that it best matches the amplifier. The result is a much more amp-like feel with a greater degree of responsiveness.  The tone can be further tuned with a 3-position MID BOOST that is used to fatten up the tone of single coil pickups for sounds reminiscent of Jeff Beck, or to enhance solos for more sustain. A TOP END switch rounds out the feature set to allow the player to compensate for overly bright amps like early Marshall® amps, or enhance harmonics when working with more distorted tones.
Measuring only 4″ x 2″ x 4.25″ and powered by any standard 9V supply, the Classic V9 delivers the tonal shaping control of the original, yet is much more compact. Like all Radial products, the Classic V9 is proudly made in Canada from 14-gauge steel for added durability.
Click here for more information on the Classic V9.
The Classic V9 MAP: $169.99 USD.