Born in Muscle Shoals, Alabama, John Paul White has been immersed in musical history from day one. When asked about his hometown he is quick to say he should be working at the Chamber of Commerce since he 'talks up' his home town so much. Muscle Shoals doesn't need much talking up to people who love music due it's rich musical history. It was here that hundreds of legendary albums were recorded by "The Swampers" (The Muscle Shoals Rhythm Section). From The Rolling Stones to Aretha Franklin, Muscle Shoals was one of the most desired places to record in the 1970s. There's even a full verse written about them in Lynyrd Skynyrd's Sweet Home Alabama.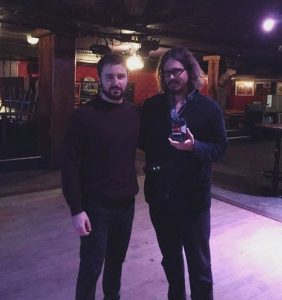 A true Southern gentlemen, White was open to talking to us recently when April Lebedoff—Radial's Marketing Coordinator—and I delivered some new gear to him while he was doing sound-check at The Biltmore Cabaret in Vancouver BC for his Jan 16 show. Previously in the duo The Civil Wars, White has won two Grammy's, has had two #1 albums, and worked on the Double-Platinum song Safe and Sound with Taylor Swift.
Since The Civil Wars' sudden breakup in 2014, White has returned to his hometown of Muscle Shoals, where he is contributing to the area's musical history through his record label and studio, Single Lock Records.
White formed Single Lock Records with Ben Tanner (Alabama Shakes) and Will Trapp in 2014. They have since released a series of local artist's albums and in 2016 recorded John Paul White's second solo album, Beulah. In the process of building a new studio, Single Lock Records contacted Radial about ordering some DI's and we were invited to hand-deliver a Radial J48™ directly to White on their tour-stop in Vancouver.
White, his band and their tour manager, Maggie Mitchell, were incredibly welcoming when we popped in. After chatting a bit, White wanted to test drive the J48 we delivered and wired it to his acoustic pedalboard right away. I passed around a few of Radial's newest "toys" as well. It was a friendly camaraderie between the band members and White, most of which were also featured musicians on his new album. White joked that he already had a Radial J48, but Ben Tanner of the Alabama Shakes wouldn't let it leave Single Lock Records studio, so he needed another one!
Later on during their show, it was clear that White channels the musical spirit of Muscle Shoals.  He opened the set a cappella and the room immediately went quiet as we listened to his strong southern voice. In his year's with The Civil Wars, White has mastered Americana style finger-picking that layers perfectly under his rich voice. The audience was presented with a range of tunes from somber lullabies to heavy southern rock. Put simply, John Paul White is an artist you need to look out for!
Written by Adam Janis.