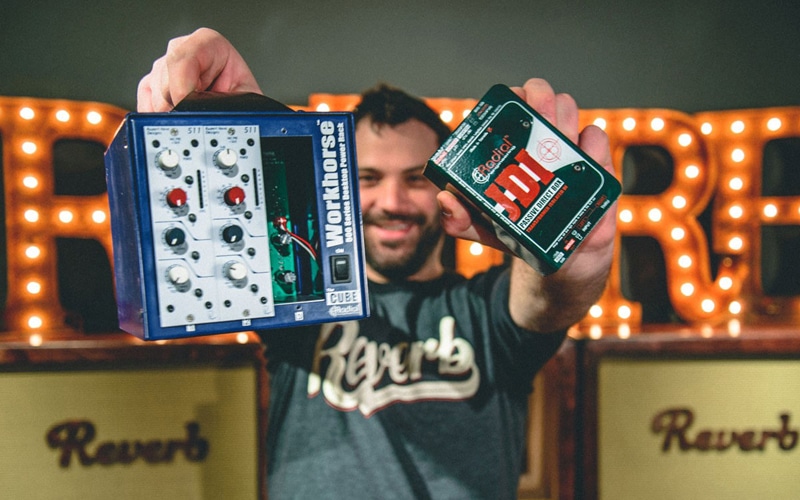 When it comes to describing sound, in particular that of a specific instrument, you might find yourself getting increasingly poetic to the point where the adjectives leave so much room for interpretation you will likely always find the only satisfying conclusion is to declare.."Well, I guess you just have to hear it for yourself."
So what do you do when you are a young ecommerce based company whose main objective is selling (and reselling) audio gear? If you're Reverb.com you start to prolifically produce video — and you make absolute certain you get the sound spot on.
The online 'Marketplace for Musicians, by Musicians' has been operating for four years now offering musicians and MI retailers a site where buying, selling and trading new and used gear happens for a fraction of the cost of other less specialized sites.
Spend a few minutes on the site and it becomes very clear that sellers are generally pretty astute at posting attractive and sometimes quite artful pictures of their gear. Of course looks do have something to do with a sales proposition but, as Jay Marino (Reverb.com's Director of Supplier Relations & Sales) explains, their content is what sets them apart as a community: "Reverb creates interactive content that provides historical, informative, and entertaining video with editorial angles on musical equipment, manufacturers and artists. Our sales pages are interwoven within our content.  Buyers can find items immediately if they are watching a product demo or company historical piece.  It gives a Reverb user instant access."
To produce these videos, the team invested in a new video production suite. As any video producer will readily tell you, an integral part of a good video is the audio. Fortunately for Jay and his crew, they had plenty of access to all kinds of audio gear so assembling the best tools for their production suite was easy: "Our video production suite is setup so we can create great video demos of any musical instrument from drums to mandolins. We have made sure to pay specific attention to the audio signal path so as to ensure each instrument can be shown in the best possible light. And for instruments, Radial direct boxes play a significant role in capturing the true sound of the instrument."
For instruments, the JDI is Reverb's top choice: "The Radial JDI's are the best. In our opinion, when we are trying to highlight "what" an instrument sounds like the Radial JDI's pure signal path gives us the truest results."
As Reverb produces content both in the studio and sometimes in the field, a robust 500 series power rack was required to house the various 500 series preamps and modules. The Reverb team chose the Radial Workhorse Cube for the task. Jay Marino adds: "The Workhorse Cubes are built solid and are dependable. With 500 milliamps of available current, we do not have to worry about power shortages. We have an audio rig installed plus a mobile clone rig for our off-site shoots, and the Radial Cubes have haven't let us down."