Radial Engineering Ltd. is pleased to announce the 4-Play™, a unique direct box designed for artists who employ multiple instruments on stage.
The 4-Play begins with a standard ¼" input for acoustic guitar, mandolin, fiddle or bass. In fact, it works great on just about any instrument. A mute footswitch lets you silence the switcher when connecting or disconnecting the instrument. The signal is then routed to a selector footswitch that sequentially activates up to four outputs allowing each instrument to have its own dedicated channel on the PA. You simply mute the 4-Play, connect the desired instrument and then use the footswitch to select the output. High visibility LED indicators provide clear visual feedback to let you know which output is active.
Radial Tech Team associate Mike Bauer explains: "When you are on a busy stage, switching instruments can pose several challenges. When sharing the same direct box, switching between an acoustic guitar and mandolin requires both the FOH engineer and monitor engineer to mute the active mixer channel in order to avoid damaging plug-in transients and painful pops for the audience. You then need to alter the EQ and adjust the level to adapt it for each instrument. Alternatively, when using separate DI boxes, you end up with a bunch of wires connected to each instrument which often get tangled. Ask any stage tech and they will tell you that the preferred approach is to use a single cable and manually switch between instruments. Then, because the artist can mute the instrument on stage, you avoid having to flag down the FOH and monitor engineers between each changeover. Since each instrument is now connected to a dedicated channel, the signal level, EQ and effects can be predetermined and optimized without having to make radical changes every time an instrument is changed. With so many auxiliary musicians onstage these days, there has never been a more appropriate time for this type of solution."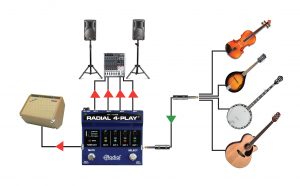 The 4-Play features four balanced XLR outputs, each of which is equipped with a ground lift switch to help eliminate hum and buzz caused by ground loops. All of the connectors are made from glass-filled nylon for exceptional durability and isolation and feature nickel-silver contacts that will not tarnish over time. Two 'set & forget' switches allow the user to increase the range of the selector footswitch to 2, 3 or 4 outputs. There is also a dedicated tuner out that can be assigned to be always on, or function in tandem with the mute switch for quick on-the-fly adjustments.
Built Radial tough, the 4-Play is made from heavy 14-gauge steel for added rigidity and greater rejection of stray magnetic fields. It employs a standard Boss-style 9V power supply (not included) and is equipped with a cable lock to prevent accidental disconnection.
MAP for the 4-Play: $279.99 USD
For more on the Radial 4-Play