Variable Load Active DI with Piezo Optimized Input
The PZ-DI is a high-performance specialized active direct box designed to accommodate acoustic and orchestral instruments, with a selectable input impedance that can accommodate magnetic pickups or piezo transducers, and a variable low-cut filter.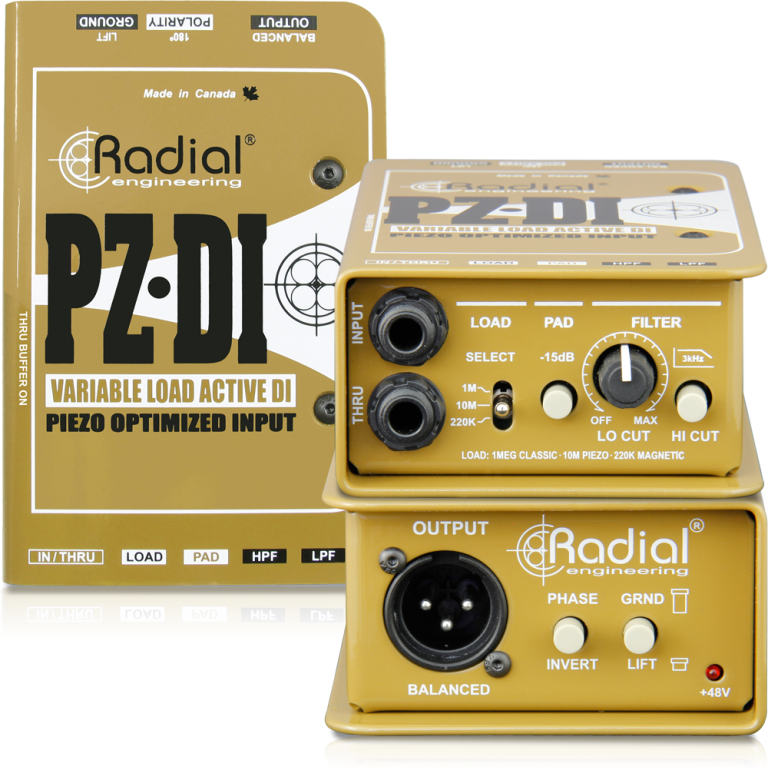 Photos
Optimized for orchestral instruments on a live stage
Adjustable load for piezo and magnetic pickups
Variable low-cut filter to control low frequency resonance
Powered by 48V phantom, no batteries required
Piezo problem solver
The PZ-DI has a variable load selector switch that allows you to set the input impedance of the direct box, so you can optimize the performance with your instrument's pickups. The 1 meg ohm position delivers the classic impedance found on most active DI boxes, while the 220k ohm setting warms up the tone of magnetic pickups to provide the feel and tone as if your instrument were connected directly to an amplifier. The third setting is an ultra-high 10 meg ohm impedance that is specifically designed for piezo transducers, helping compensate for the harsh or squawky tone that can occur when a piezo is connected to a lower impedance input.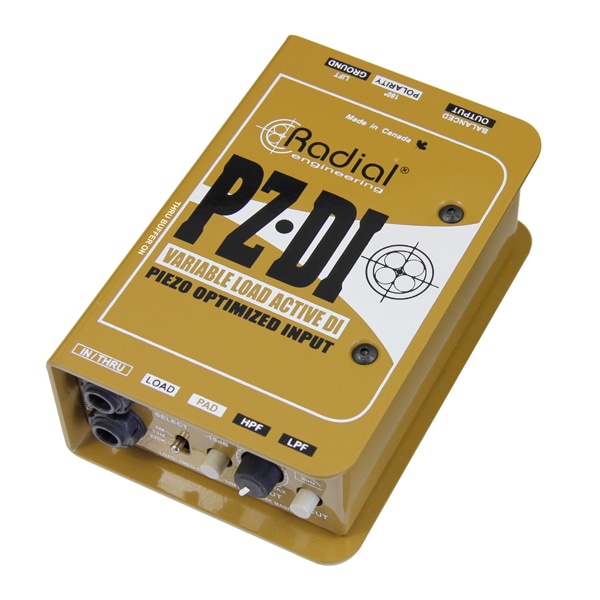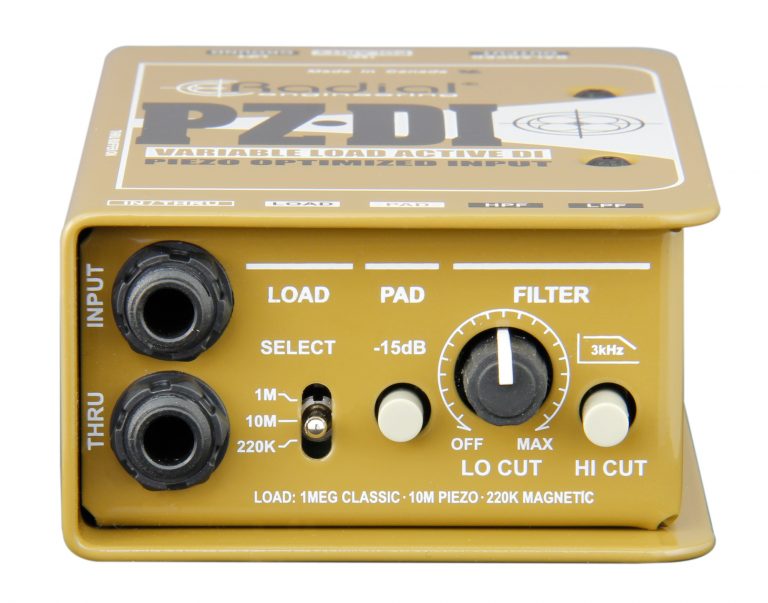 Variable filter to suit any instrument
To remove unwanted resonance on stage and prevent feedback, the PZ-DI is equipped with a fully-variable low-cut filter that gently rolls off low frequencies. The roll-off point of this filter can be raised or lowered to match the frequency response of your instrument, with a lower point for acoustic bass and a higher setting for violin or banjo. A switchable high-cut filter is also included, which is useful on instruments such as acoustic guitars that incorporate a battery-powered preamp, softening any harshness or high frequency edge for a smoother tone.
PZ-DI

Applications
Using the PZ-DI with a piezo
Piezo pickups often sound harsh and unnatural. The PZ-DI solves the problem with a 10 meg-ohm input impedance that extends the frequency response and smoothes out the peaky edges. Adjust the low-cut filter to size the instrument and reduce unwanted resonance.
Using the PZ-DI with active acoustics
The convenience of a built-in pickup and battery powered preamp makes it easy to plug-in and play. But with less than ideal electronics, these instruments end to sound brittle and unnatural. The PZ-DI helps with a low-pass filter that gently smoothes the top end plus a variable low-cut filter to eliminate resonance.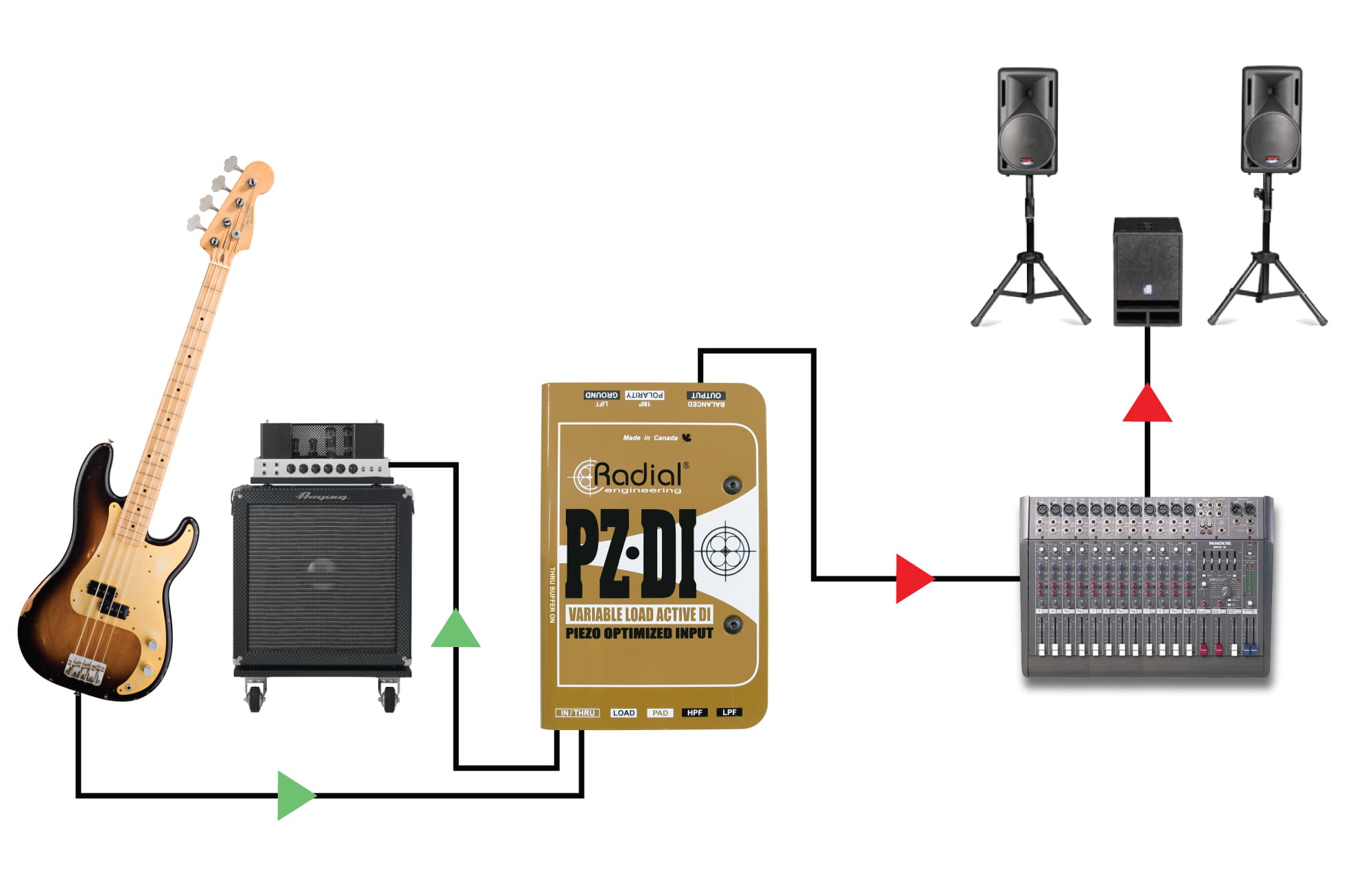 Using the PZ-DI with a magnetic pickup
Optimize the tone of the bass by setting the load to 220k-ohm. This produces a warmer tone and natural feel that is particularly useful when recording or when preparing to Reamp. When touring with low-output vintage instruments, set the impedance to 1 meg-ohm to reduce the load.
Artis

ts
Ron Carter
Miles Davis Quintet, Tony Williams Lifetime, V.S.O.P., Classical Jazz Quartet, New York Jazz Quartet
"Whether I am playing live or recording in the studio, the Radial PZ-DI makes my bass sound as fresh as a daisy!"
Brad Madix
FOH - Rush, Shakira, Marilyn Manson, Def Leppard
"With the PZ-DI, we were able to integrate multiple piezoelectric devices seamlessly and with glorious results. Radial has once again proven they are a cut above the rest."
Tim O'Brien
Mark Knopfler, Alison Krauss, Steve Earl, Garth Brooks, Dwight Yoakam
"I use the PZ-DI for guitar or banjo and while it has no EQ, it's very friendly to those instruments. The guitar pickup is a K and K and it works best using the PZ-DI flat, although sometimes it helps to dial the low end down a bit. For the banjo, I tend to push the high end roll off button, but basically that box is just clean and fat and the sound guys have lots of good round signal to tweak."
{{ postData.post_title }}
{{ postData.productSubTitle }}
Part no: {{ postData.partNo }}
Part no: View Product
{{ postData.post_excerpt }}
View Product