Acoustic Instrument Preamp
The PZ-Pre is a powerful acoustic instrument preamplifier with a powerful EQ and feedback control section and loads of connectivity options giving you complete control over your rig.
Photos
Two channels to switch or blend instruments
Notch & resonance filters eliminate feedback
Pre & Post Radial DI outputs for PA and monitors
Power booster and mute for more control on stage
Powerful Control in a Box
The Radial PZ-Pre™ is a powerful acoustic instrument preamplifier. The magic lies in the combination of high performance 100% discrete class-A PZB piezo boosters, an ultra-quiet preamp circuit that will adapt to any pickup system and a host of connectivity options that will put you in total control. The PZ-Pre is equipped with two inputs for quick instrument changes on stage, or, for blending two pickups together. Powerful semi-parametric EQ and feedback eliminating controls allow the user to fine-tune their sound while eliminating troublesome frequencies. Offering both pre and post EQ direct box outputs, the PZ-Pre can be used send a dry signal to the house and performer tailored sound to monitors.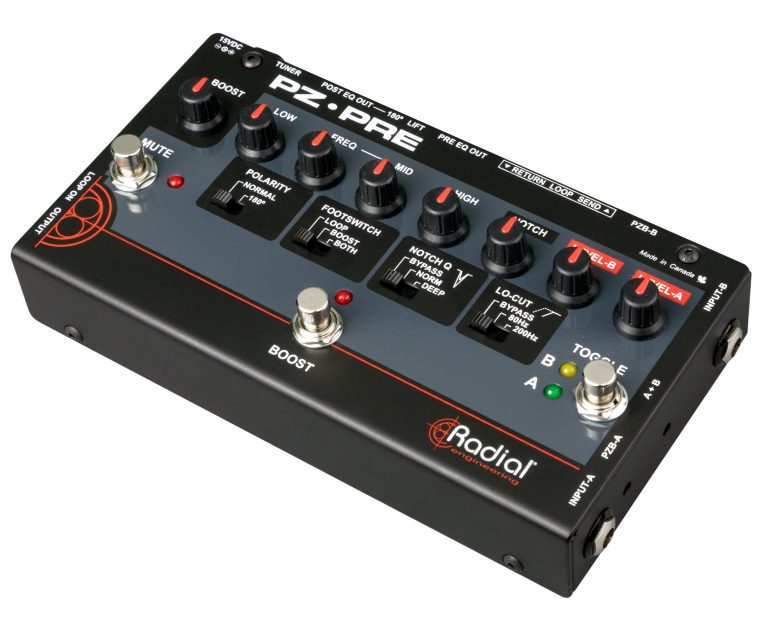 PZ-Pre

Applications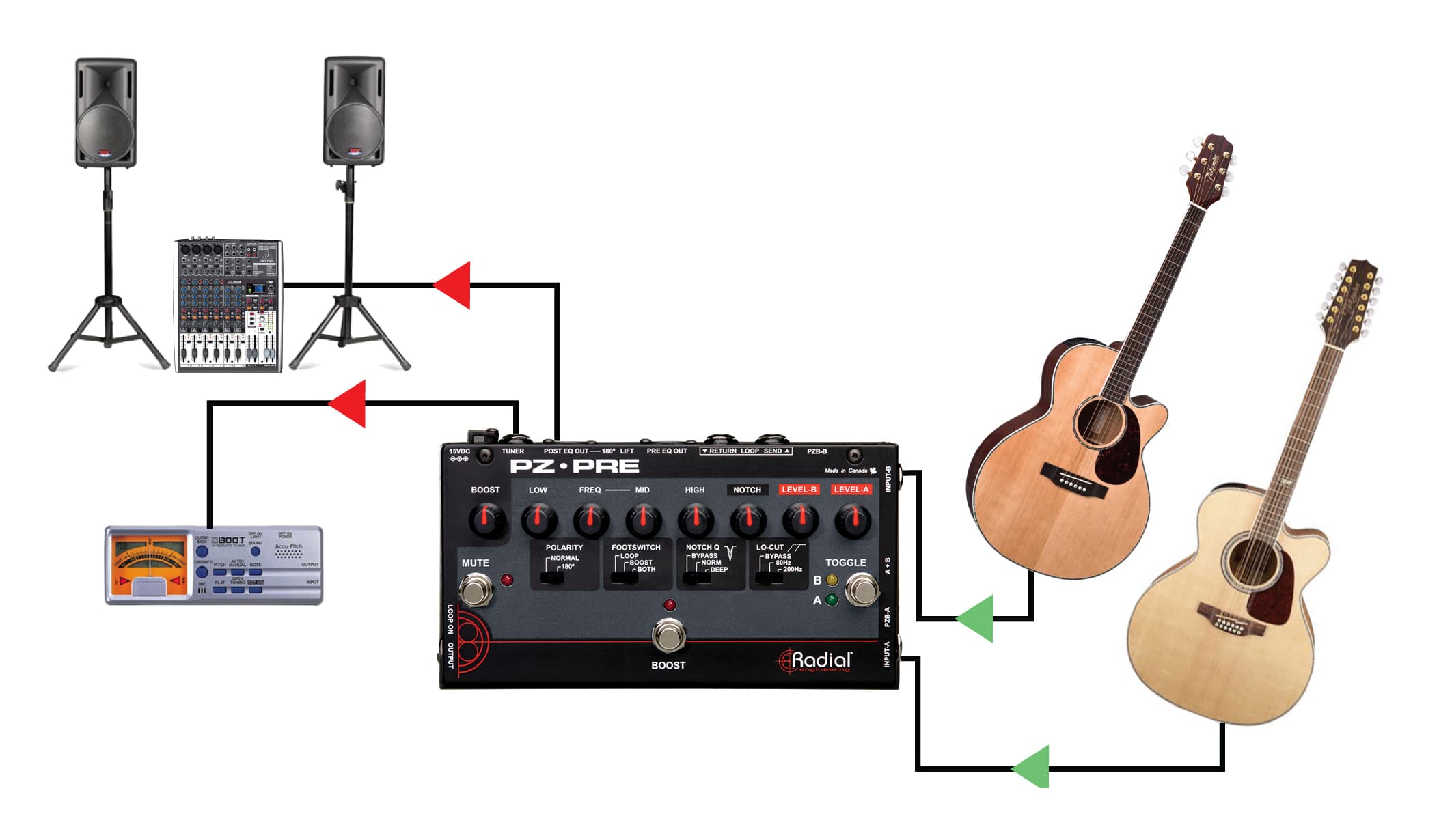 Using two acoustic guitars on stage
The PZ-Pre is the perfect stage partner for switching between two acoustics. You can have one for backup, alternate tuning or switch from 6-string to 12-string with ease.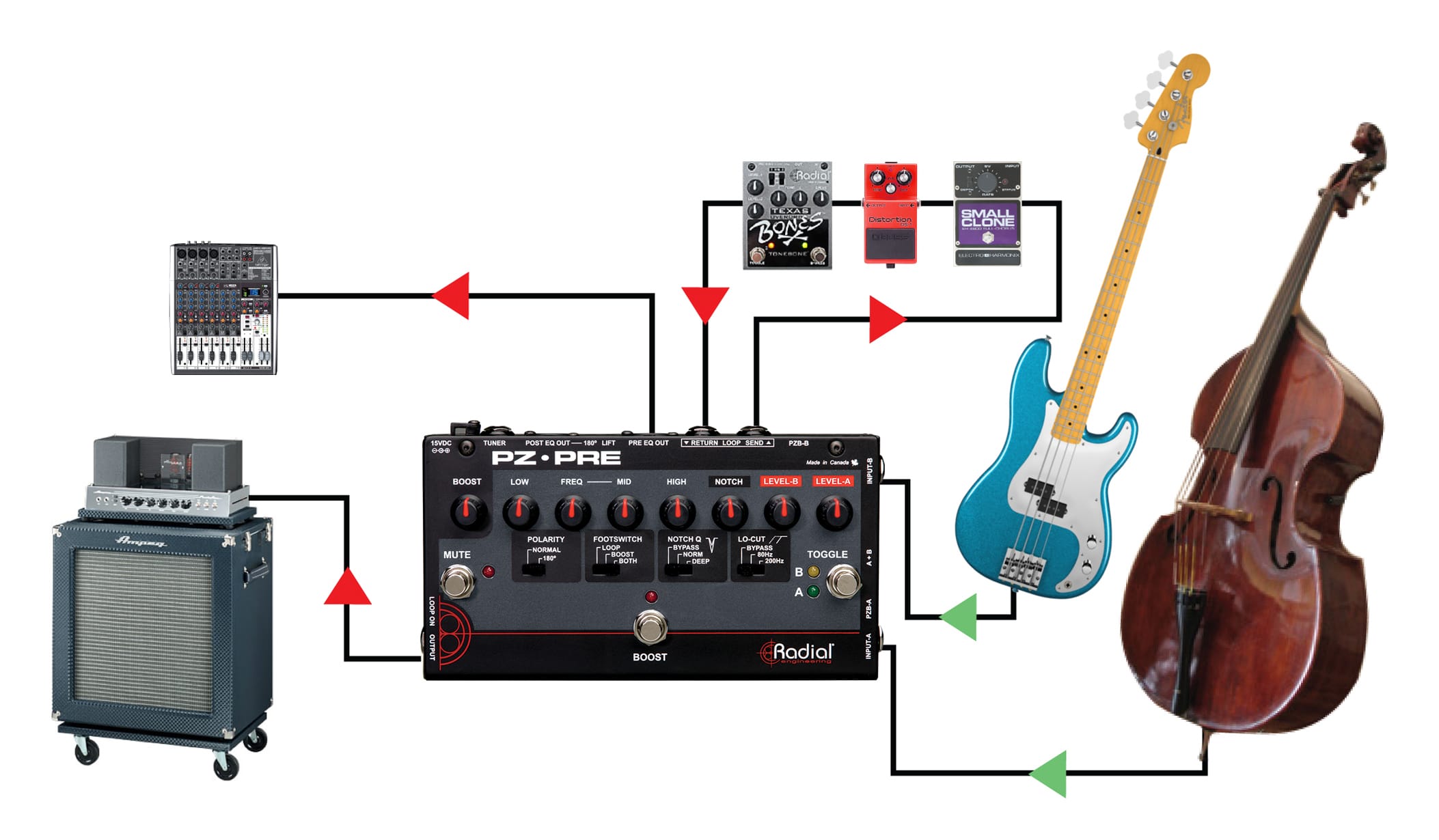 Using upright and electric acoustic
Switch between contrabass and electric or acoustic bass with a simple foot stomp! The PZ-Pre's input is easily optimized to work with finicky piezo pickups for a deeper, more natural tone.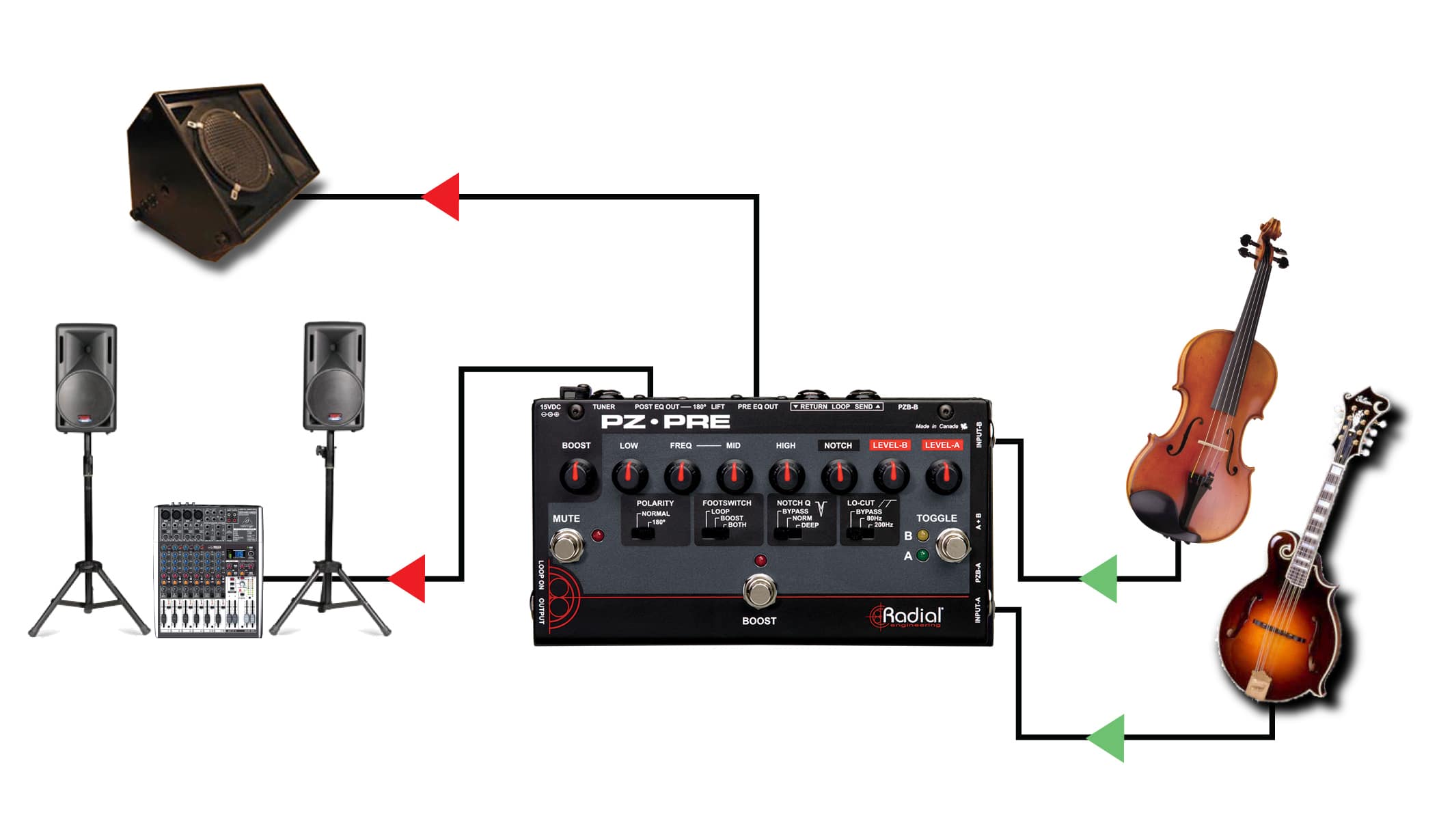 Using the PZ-Pre on violin and mandolin
Using the PZ-Pre with a piezo transducer will give you more gain before feedback than a microphone. You will be surprised at how good a piezo can sound when connected to a PZ-Pre!
Videos
JayLeonardJ reviews the Acoustic Series

Joe West Demonstrates Radial's PZ-Pre

Stereo Imaging Acoustic Guitar with Ryley Walker | Reverb Guitar Tricks

Radial Pzpre and Pzdeluxe | Review | Guitar Interactive Magazine
Reviews

"It appears to have been designed by someone who has intimate knowledge of the problems faced by acoustic guitarists who rely on active or passive piezo-based pickup systems in their instruments... I can't think of any situation that I have come across on stage with my guitars that wouldn't have been dealt with by either the PZ-Deluxe or the PZ-Pre."
"The most essential piece of Radial gear we carry is the Tonebone PZ-Pre acoustic guitar preamp."

"The PZ-Pre's three-band tone control and notch filter, along with the low-cut switch, gave just enough flexibility to be useful, yet was still simple and straightforward enough to dial in a sound without having to tweak too much. The voicing of the tone controls was musical, smooth and relatively quiet, without a lot of unwanted noise or phasing issues."
PZ-Pre

Resources
Part no:
R800 7085 00
{{ postData.post_title }}
{{ postData.productSubTitle }}
Part no: {{ postData.partNo }}
Part no: View Product
{{ postData.post_excerpt }}
View Product