Active ABY Amp Switcher
The Twin-City™ is an active amp selector that lets you connect any two guitar amps and switch between them or drive them both simultaneously without noise, loss of gain, or any degradation to your natural guitar tone.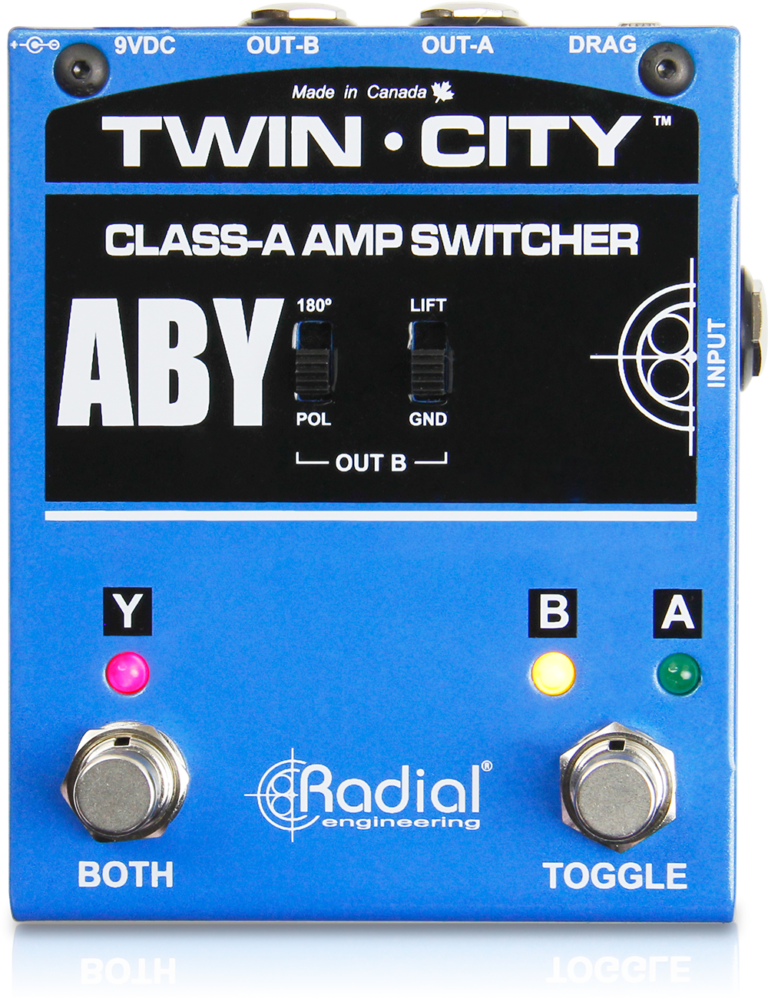 Photos
Active ABY amp switcher & Class-A buffer
Isolated output eliminates hum and buzz
180° polarity reverse to phase-match amps
Drag Control load correction for natural tone
Active circuitry for noise-free switching
The Radial Twin-City uses a class-A input buffer to drive the amp outputs, which reduces susceptibility to noise and allows for completely silent switching on stage. To eliminate hum and buzz from ground loops, the Twin-City is equipped with an isolation transformer on output-B, along with a ground lift switch and 180⁰ polarity reverse switch that ensures both amplifiers play back in phase with each other. At the input, Drag Control load correction allows you to recreate the natural load on the pickups as if you were connected directly to a tube amplifier, allowing the natural tone of your instrument to shine through.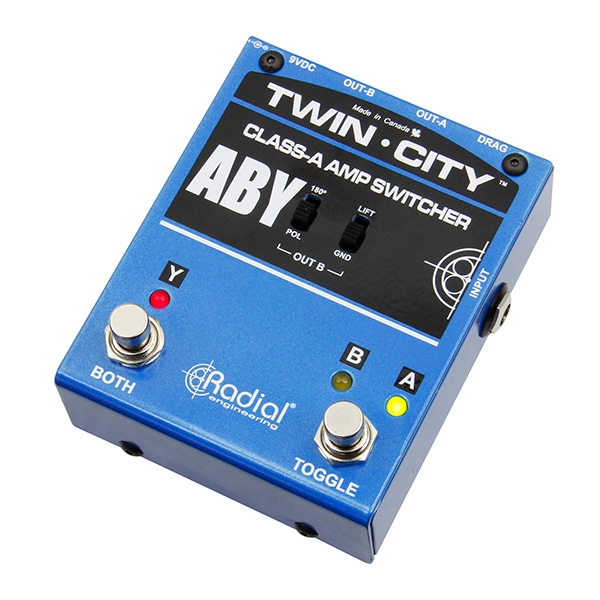 Twin-City

Applications
Using the Twin-City with Two Guitar Amps
Combining amps can often lead to horrendous buzz and hum. The Twin-City eliminates the problem with transformer isolation and a polarity reverse switch that sets both amps in phase.
Using the Twin-City as a Channel Switcher
Switching channels on vintage amps is now possible using the Twin-City. Connect the two outputs from the Twin-City to the two channels, make sure they are in phase by adjusting the 180° polarity reverse!
Using the Twin-City with Two Bass Amps
Why do guitarists have all the fun? The Twin-City works as well on bass as it does on guitar. Simply select between your two favorite amps to deliver the ultimate tone for each and every song.
Videos
Tech Corner- All About ABY Switchers
Reviews

"The ABY Switcher performed its functions admirably even when switching between very different types of amps, without the popping, humming, level leaps, and other gremlins that frequently plague the dual-amp user."
{{ postData.post_title }}
{{ postData.productSubTitle }}
Part no: {{ postData.partNo }}
Part no: View Product
{{ postData.post_excerpt }}
View Product