You could say that Nuevo Flamenco artist Russ Hewitt has one of those storied successful arranged marriages… to his career that is. As a student of classical guitar at UNT, the Texas born Hewitt shifted focus and committed to a new style of music that would allow him to keep his schedule full and his bills paid. His commitment to Nuevo Flamenco has certainly paid off, not only because of his success but he also found a passion for a style of music of which he is now considered a modern virtuoso.
"When I was in school a friend of mine gave me a Ottmar Liebert CD. It was enjoyable to listen to and I would have it playing in the background a lot. After I graduated, I found it hard to stay booked outside of some weddings and museums as a classical guitarist. However, when I would go out at night, I would see the same guy booked 6 nights a week playing the Nuevo Flamenco style of Ottmar. I began performing with and studied under this local guy for three years. That was when I discovered bands like Gipsy Kings, Jesse Cook and the CD 'Friday Night in San Francisco' by Al Di Meola, John McLaughlin and Paco de Lucía."
Hewitt had also maintained a presence in a rock band at that time but found his career in Nuevo Flamenco had more to offer:  "It was the best of both worlds because we were playing listener friendly songs but with hardcore shred solos. Not only did it fit the style, the audience really seemed to enjoy it.  This was late 90's early 2000's and I wasn't even doing solos in my rock band, so this was a great way to keep up my chops.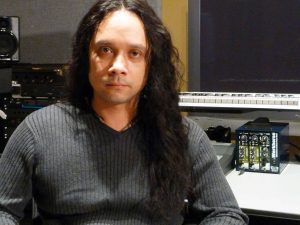 When Hewitt is recording, he works in his own home studio. To aid in controlling the sound in the space, he installed some Primacoustic acoustic panels and then got down to outfitting the studio with some recording gear. "My goal was to have the ability to do any work that comes my way. I asked every studio guy I know what they would do if they were starting a studio now and their answers surprised me. There is definitely a trend away from the mega studios and a lot of them would now prefer a smaller set up. It appears that the technology and price points have never been better for studio equipment and a lot of engineers would have only choice pieces of hardware because the software is so advanced now. I didn't want to have the losing battle of always trying to get the latest piece of equipment, just the best that's available right now. So my engineer friends took a look at the Radial 500 series PreComps (preamp and compressor channel strip) and told me that is all I would ever need to get the sound I was looking for." Hewitt also chose a Radial Cube chassis to house the modules. "The portability of the 500 series allows me to take them into any studio situation, because my sound is dialed in, regardless of the set up I'm walking into."
"I'd asked everybody I know who has Radial products what they thought about them and they all gave rave reviews. The Tonebone PZ-Pre has long been a vital part of my live sound, so that gave me confidence that I made the right choice in getting the 500 series for my studio sound."
Most recently, Hewitt has been nominated for the "Best Jazz Single" award at the 2018 Roundglass Music Awards for his song "Samba Sao Paulo".