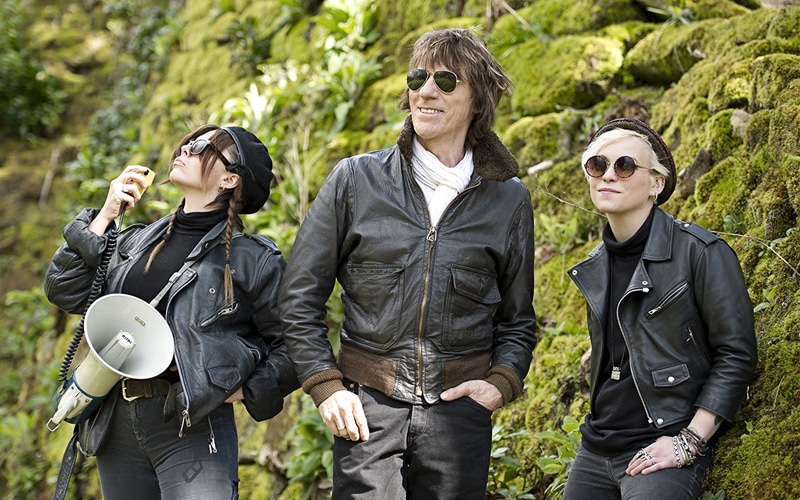 Jeff Beck is one of the most famous and decorated guitarists of all time. He's been inducted into the Rock and Roll Hall of Fame twice: as a member of the Yardbirds in 1992 and as a solo artist in 2009. He is often referred to as the "guitarist's guitarist", and has made the cover of Rolling Stone three times.
In 2015 he celebrated 50 years since being chosen by Jimmy Page to succeed Eric Clapton in The Yardbirds, and began preparing his follow up album from 2010's "Emotion & Commotion".
Upon meeting up-and-coming London guitarist, Carmen Vandenburg, he was invited to her band BONES show in early 2016 and was so impressed he decided to collaborate with her and vocalist Rosie Bones. It was Carmen's and Jeff's shared appreciation for the blues that led him to collaborate with the BONES. In a short time the new album, Loud Hailer, was written and recorded in Jeff's attic home studio. Once released, the band rehearsed and has been touring ever since, including 2016 summer dates with Buddy Guy.
Radial's Jim Rhodes (Artist Relations) and Peter Janis (CEO) recently caught up with a couple of the backline techs working on Jeff Beck's tour. Both David "Fozzy" Fosbinder and Jeremy Nielsen are seasoned professionals in the industry, but were looking for a few problem-solving devices. They were dealing with issues regarding sending multiple guitar signals in various directions be it multiple amps or mixing consoles. The wanted something that would work with their unique setup, but it had to be quiet, simple, and not affect their tone. We were happy to send them a few boxes in hopes they would suit their needs.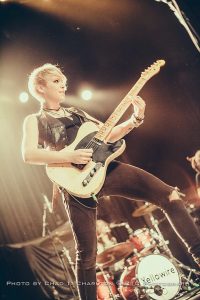 Apparently their needs were served! In a recent interview with Guitar Player Magazine, Carmen writes the following about her touring rig:
I had Fender® Twin Reverb and Magnatone® High Fidelity amps, and, ironically, I used Radial's Bones™ (Twin-City ABY) Switcher to change between them during the set. For drive, I used Radial's Texas™ Dual Mode Overdrive and London™ Distortion. I use a Boss® chorus ensemble pedal when my sound needs to be a little bit more like a keyboard, and a volume pedal for songs such as "Cause We've Ended As Lovers."
With her bulletproof Tonebone boxes, Carmen is able to ride shotgun with one of the most legendary guitarists to ever play the instrument. Prior to meeting Jeff Beck, Carmen graduated with "honours" in a Bachelor of Arts music degree, from the famed Academy of Music (ACM) in London. Even though she's only 25 years old, Carmen has already worked with Roger Taylor, Dave Stewart, Kate Nash, Roger Mayer and Guy Chambers.
For more information about the band, tour dates and more, go to http://www.jeffbeck.com/
For more information about Carmen Vandenberg, check out http://www.carmenvandenberg.co.uk/