Radial's Artist Relations guy, Jim Rhodes, recently caught up with the guys in the Kim Mitchell Band and shares a little about his friend and iconic Canadian musician Kim.
Kim Mitchell has been a household name in the Canadian rock music scene for 4 decades. He made his start as the guitarist and lead vocalist of the band Max Webster, who had great success touring in the late 70's and early 80's with Rush. Max Webster released 5 studio albums, a few "Greatest Hits" and 1 live album; they had a string of hits from 1977 until Kim left the band in 1981.
After his departure, Kim began his solo career with session work and a succession of  albums that now span 4 decades. He has 7 gold and platinum albums, numerous Juno awards and in 2004 was awarded the National Achievement Award by SOCAN. Over the years, Kim has also appeared on numerous projects including albums by the Barenaked Ladies, Tom Cochrane and has toured with acts such as Aerosmith, Van Halen and Def Leppard.
In 2004 Kim entered the radio broadcasting industry, becoming an afternoon drive time DJ host on Toronto classic rock radio station Q107 (CILQ-FM). For 12 years he managed to balance his Q107 DJ duties with the life of a touring musician until the summer of 2015 when a "real" change occurred.
Unlike many rock stars, Kim is renowned for living a quiet, healthy lifestyle and could be referred to as a "poster boy for health and good habits". Suddenly, in January 2016, Kim suffered a heart attack that required emergency surgery.
Kim is back out doing live shows with his band after a long recovery. He has been performing sold-out shows across the country to his loyal and devoted fan base.
Working as Kim's guitar tech
In the 90s I was fortunate to have worked with Kim for 4 years as his guitar tech.
Over the years Kim has used various assortments of tube amps, standard 4 x 12 cabinets, and a few devices on his pedalboard, but Kim has always kept it simple. There were instances where his setup would vary slightly—at one time it was scaled down to 2 original Rockman® devices running directly into an H&H® Mosfet power amp, driving 2 cabinets on stage and mic'd in stereo— but his rig has always been warm and punchy. As with most great players: a majority of the tone and sound comes from his playing. As for guitars, his personalized custom super-strat named "Blue" has been Kim's main guitar since the mid 1980s. Kim still uses Blue today and  it can be seen in the video below.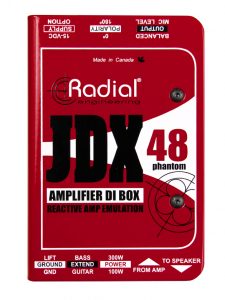 Being a fellow Canadian, it's no surprise he has been a longtime Radial supporter. Mitchell himself is grateful for the JDX™ Guitar Amp DI Box: "Today, most of our gigs are 'fly-ins' so we travel light. With the Radial JDX, amp head and guitar I feel great knowing that my tone out front is consistent night after night. Best of all, with the JDX I no longer need an amp mic on stage, so bleed from other instruments is no longer a problem." Kim's band also uses numerous JDI™ and ProDI™ direct boxes for keyboards and basses.
A new product is born
Kim's keyboard player, Ray Coburn (Alice Cooper, Cory Hart, Honeymoon Suite), turned to Radial when he couldn't find the right DI for his keyboard set up. After some  back and forth with Radial about assessing his live sound issue, the engineers at Radial developed a whole new product that will be released very soon. It's  a 4 channel stereo DI, midi interface and USB device called the Key Largo™.
Along with Ray Coburn on keyboards is Peter Fredette on bass, keyboard and vocals and Dave Langguth on drums.
Check out the video below to get a taste of Kim Mitchell's music. He's an easygoing guy: no ego, no posse, no hassles… Just a killer player and a great person to work with.
For more information about the Kim Mitchell Band.
For more on the Radial JDX48.