Radial Engineering Ltd. is pleased to announce the Tonebone BigShot ABY rev 2, an updated version of the company's popular guitar amp switcher.
According to Radial's Jay Porter: "There is something absolutely magical about playing guitar and switching between two amps. This lets you perform with so much more control over your tone than when using a single amp. Better yet, when both amps are on at the same time, it creates a wall of sound that immerses you into the music and elevates your creativity."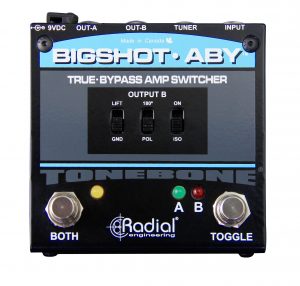 "But using two amps is fraught with challenges: The first is that the most demanding guitarist does not want any circuitry between his guitar and his amps. This means that for the purist, active ABY switching is out of the question – thus the need for a true-bypass switcher. But switching or combining two amps using a passive ABY can often lead to tremendous hum and buzz. The BigShot ABY is unique in that it is a true-bypass switcher that incorporates an isolation transformer which may be switched into the circuit to eliminate noise when needed."
"Another concern with passive switchers is that they do not typically have any form of LED indicator to let you know which amp is active.This means that when you get on stage, you have to test your system before you play. This not only looks unprofessional, it can lead to serious problems on stage when switching between amps in the middle of a song should the artist not properly stomp on the footswitch. The new BigShot ABY solves the problem with super-bright LEDs that illuminate the instant you connect a 9VDC power supply or multi-pedal power-brick."
Designed for the purist, this compact true-bypass ABY switcher is completely passive meaning that there are no tone altering buffers in between the guitar and the amplifier. With the BigShot ABY you get the pure tone from your guitar plugged direct into your amp! To add versatility, the BigShot ABY is also equipped with a separate tuner out. This 'always on' output feeds your tuner for constant monitoring while keeping it out of the signal chain. Should you experience hum and buzz problems due to ground loops, the BigShot ABY comes to the rescue with a built-in isolation transformer and ground lift switch. Once engaged, you can toggle the polarity of the second amplifier to ensure both amps play in absolute phase.
In use, the BigShot ABY is both simple to use and efficient on stage. When powered by an external 9V supply or pedalboard power brick, full-size super-bright LEDs spring to life to provide instant on-stage amplifier status readout. When power is unavailable, the passive audio signal path still works, unaffected. The compact yet ultra-rugged design makes the BigShot ABY ideal for pedalboards where space is at a premium.
Made Radial-tough in Canada from 14-gauge steel, the BigShot ABY is supported with a 3-year transferable warranty.
The Tonebone BigShot ABY rev 2 is now shipping. MAP: $89.99
For more information on the BigShot ABY