Radial Engineering Ltd. is pleased to announce the latest pedal to its Tonebone range, the Switchbone V2™. The most powerful ABY+C amp selector ever devised!
Back in 2001, when we developed the original Switchbone, we had no idea that it would become a classic that would be adopted by so many legendary artists including Allan Holdsworth, Derek Trucks, Marc Ribot, G.E. Smith, Audley Freed and Luther Dickinson just to name a few. We have even seen pictures of the Switchbone on Eric Clapton's pedalboard… now how cool is that? But no matter how well it has been received, there comes a time when an update is needed. After 15 years, the Switchbone V2 represents the culmination of experience and feedback that we believe will deliver a greater degree of control and musical enjoyment for the most demanding guitarist.
Faithful to the original is Radial's award-winning class-A buffering circuit. This same circuit is employed in the Radial JD7 Injector™ that is used by many of the most tone-conscious players including John Petrucci, Carlos Santana and Steve Vai. Unlike typical ICs that require tremendous amounts of negative feedback to control run-away, the Switchbone minimizes the use of negative feedback which in turn, reduces the tone-altering artifacts that are otherwise produced and despised by many. This is augmented with Drag™ Control load correction that allows the guitarist to replicate the sound and feel as if connected directly to an amp. This combination allows for longer cable runs without noise. The buffer has been further updated with a Baseline™ control that enables the guitarist to push the front end of the amp for extra bite. This is particularly useful for guitarists who play with older vintage amps as it allows them to better tailor the response to match their playing style.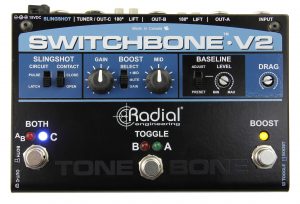 The Switchbone V2's switching may be arranged to suit various stage setups. As a traditional ABY, the centrally located footswitch lets you select between A and B outputs. The third C output is available to feed a tuner or third amplifier. The left footswitch can be set to act as either a 'both' switch for ABY 2-amp + tuner operation or to activate output C for ABC 3-amp setups. Outputs B and C are transformer isolated to prevent hum and buzz caused by ground loops. This is augmented with ground lift switches to further aid in noise reduction. The switching circuit employs photocells that 'ramp-up' and 'ramp-down' the signal in a very controlled fashion. This eliminates the typical popping that occurs when selecting between amps. To ensure all of the amps play in absolute phase, a 180º polarity reverse switch may be engaged on outputs B and C. The right hand footswitch may be assigned as a clean boost, clean with mid-range, or as a mute for silent on-stage tuning. Two rotary controls are used: the first lets you set the boost level with up to +18dB of gain for soloing. The second lets you accentuate the mid-range by +12dB to add sustain.
For more advanced setups, the Switchbone is equipped with Slingshot™ – a unique ¼" remote control contact closure output that can be used to activate effects, switch speaker cabinets using the Cabbone™, switch between two heads using the Headbone™, or even re-route effects pedals using the TwinLine™. The Slingshot can be 'launched' into action using the AB select footswitch or the boost footswitch and may be set for latching or pulse mode to adapt to various switching systems.
The new Tonebone Switchbone V2 delivers a natural signal transfer without the distortion or artifact that is commonly found with chip based switchers. It eliminates switching noise even when used with high gain amps and attenuates the hum that is common with true bypass devices. To top it off, it incorporates a spectacular power booster for soloing and opens the door to remote capabilities for enhancing the performance.
The MAP for the Tonebone Switchbone V2: $259.99 USD
For more information on the Switchbone V2, click here.