Radial Engineering Ltd. is pleased to announce the LX-3™ passive line splitter is now shipping.
The LX-3 is designed to send one audio signal to as many as three destinations at once. Completely passive with no need for power, you simply plug in and the LX-3 goes to work delivering your audio wherever it needs to go.
The heart of the LX-3 is a premium Jensen™ transformer, which provides two isolated outputs to eliminate hum and buzz from ground loops, along with a third direct output. All three XLR outputs feature ground lift switches for additional suppression of noise and an input pad allows you to connect super high line output levels without oversaturating the audio transformer. The input of the LX-3 features an XLR/TRS combo jack, which allows you to connect balanced or unbalanced cables. The LX-3 will balance the signal at the isolated outputs, preventing interference and signal degradation over long cable runs.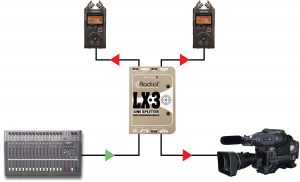 Like all Radial products the LX-3 is built rugged to handle years of abuse on the road with heavy-duty 14-gauge steel construction. A book-end design creates a protective housing around the connectors and switches to prevent damage even in a harsh concert touring environment and an internal I-beam frame makes it almost impossible to torque the circuit board and damage solder joints. The LX-3 can be mounted in a Radial J-Rak™ allowing up to eight units to be rack-mounted together or combined with other compatible Radial DI boxes for a streamlined and mess-free setup. Typical applications include splitting the signal in the studio to send to multiple effects, feeding a console output to a number of recording devices, or even splitting a signal on a live stage to multiple monitors or headphone mixers.
The Radial LX-3 delivers pristine audio and ultra-quiet performance that allows you to confidently and professionally split your signal to any destination.
For more on the LX3
Street: $259.99 USD