Introducing "Tales From The Rhodes": a weekly update from Artist Relations specialist, Jim Rhodes, on how various artists are incorporating Radial devices into their setup.
Jim here in artist relations at Radial.
We are fortunate to work with so many different artists from all over the world.
One thing is for sure, they all share a common connection to Radial: they need to maintain their sound and artistry with gear that works! In addition to the singers and performers on the front lines, many of them are the backbone and the engine behind the marquee artists.
Such is the case with drummer, engineer, producer and songwriter, Steven "Wolf" Wolf. Steven Wolf is one of the world's most in-demand studio musicians. His discography includes numerous #1, Gold, Platinum, and Grammy Award winning records – a list longer than one's arm. Wolf is a virtuoso drummer and world-class programmer, with a musical vocabulary spanning every musical genre. Wolf's distinctive skill-set and versatility make him the "go-to" rhythmic solution for a long list of the world's top recording artists and producers. Wolf has worked with too many artist to list, but a snapshot includes, Alicia Keys, Annie Lennox, Aretha Franklin, Beyonce, Britney Spears, Daryl Hall, Holly Cole, Katy Perry, Kelly Clarkson, Miley Cyrus, Oz Noy, Pink, Steve Salas and so many others.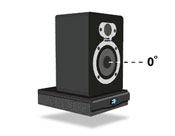 I caught up with Wolf recently to chat about his Primacoustic Recoil Stabilizers from Radial. Wolf uses a pair of our Horizontal-Fire RX7 recoils in his studio to support his Mackie HR824 MK1 monitors. Wolf was told by other producers and musicians how good the Primacoustic recoils are, but he said "Once I bought a pair and placed them under my monitors, I was so blown away at how amazing my sessions sounded I had to contact Radial and let them know that I absolutely love them. They are game changers".
You can catch up with what Wolfie is up to at http://www.wolfedelic.com