The following is written by Tom Fine from TapeOp Magazine. See the Review Here
Radial Engineering, of Port Coquitlam, BC, Canada, has built its business by designing clever solutions for stage and studio, including an extensive line of direct boxes. The BT-Pro V2 is their second-generation box that receives a Bluetooth wireless signal from a phone, tablet, or laptop (or any other compliant device) then converts it to analog stereo audio, available through balanced XLR or unbalanced TRS minijacks. The device includes level control, which provides an appropriate output signal for mic or line inputs. As the level is variable, the BT-Pro V2 can connect directly to a power amp or powered monitors/PA speakers. Power is provided via USBC with the included adaptor brick, or the unit can run on 48V phantom power through one or both XLR connections.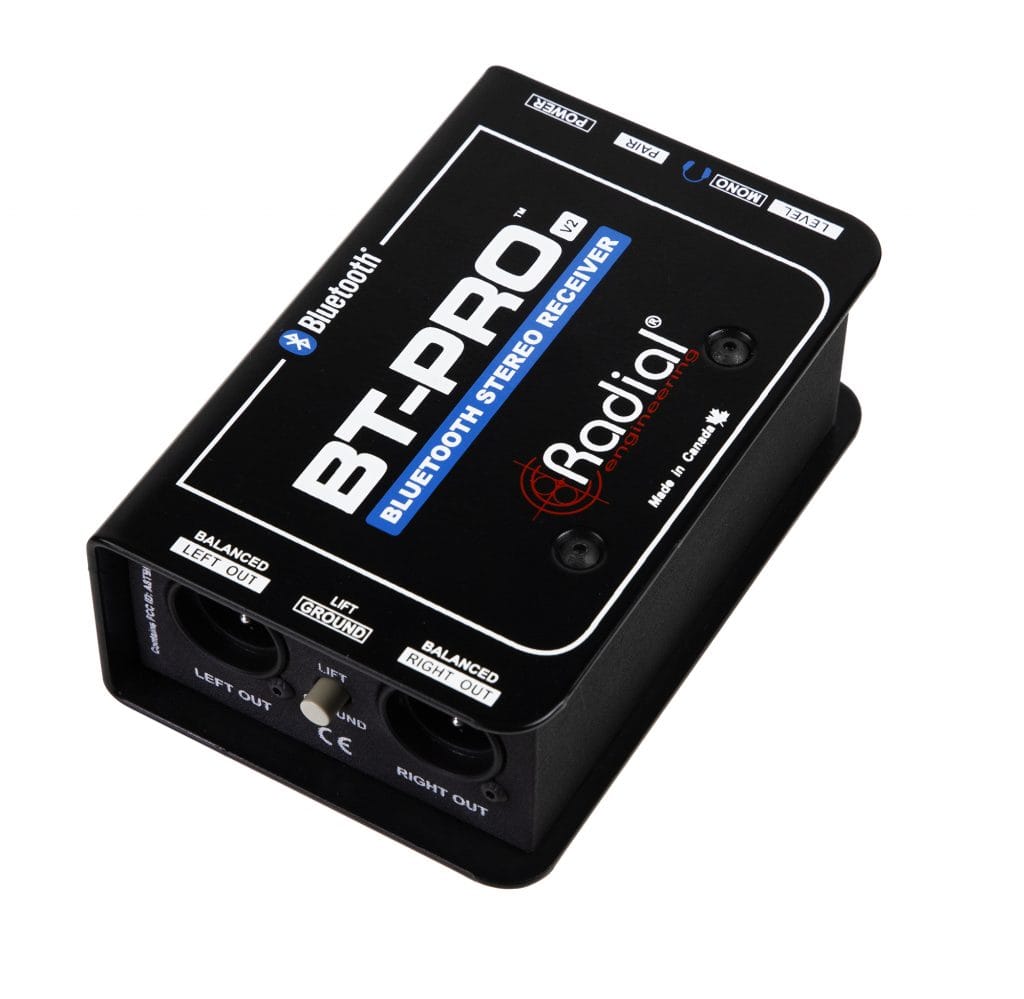 Built like other Radial Engineering direct boxes, the BT-Pro V2 is strong enough to survive life on the road or in a DJ's gig bag. The outer 14 gauge steel shell is lined with an injection molded plastic insert, allowing for unimpeded transmission of wireless signals while increasing signal range. The sound quality and interface options make it equally useful on stage, studio, or at home. Version 2 of the BT-Pro [Tape Op #119] adds a phantom power option with a more advanced Bluetooth interface and an extended range. This version also allows for multiple BT-Pro V2s to be used in a single location/installation.
Here are a few potential uses: 1. A DJ builds a "break setlist" on their phone. Rather than put on the live version of "Radar Love," their phone streams a curated, gig-appropriate set to the PA system while they take a break at the bar. 2. A band avails themselves to any of the many synthesizer apps on their iPads. They produce a backing track and accompany it live on guitar and vocals. Rather than mess with dongles and mini headphone jacks, they can stream the backing track directly into the pro-grade PA system via the BT-Pro V2. 3. In the studio, a client brings some audio captured via a recording app on their iPhone. Rather than go through the trouble of emailing it to the engineer who must retrieve it, spend time converting it into the right file format, and then import into an on-going session, the client simply plays it from the iPhone via Bluetooth streaming, right into a track set up in the DAW. The engineer is happy not to have to mess with iPhone audio and a fragile Lightning-to-headphone dongle. 4. I want to listen to streaming radio (or Spotify/Qobuz/Tidal) over the main music system in the living room, but I don't want to tether my phone to the preamp. Stream it to the BT-Pro V2, and continue reading news or email on the phone.
Suffice to say, there are many other uses for this clever device. The ability to power the BT-Pro V2 via phantom power makes for an easy addition to a front-of-house rig, and a streaming audio playlist can replace the old cassette tape of pre-concert music. Or the BT-Pro V2 can be used as part of the live rig. In fact, each box has a unique Bluetooth ID code, so multiple units can be used – perhaps a band has pre-recorded audio on a laptop for live performance, and another band member is playing an iPad synth.
I used the BT-Pro V2 as a front-end to the Bryston 4B3 power amplifier I reviewed in issue #137, streaming hours of Qobuz and Spotify to my big B&W 808 speakers from both my recent-vintage iPad and iPhone7S. In all cases, the Apple devices had no trouble pairing with the BT-Pro V2 and audio quality was good. Radial states that most material will be down-sampled to 16 bit/44.1 kHz (CD resolution), so some of the Qobuz high-resolution material was down-converted on its way to Bluetooth. It still sounded fine.