Stereo Bluetooth Direct Box
The BT-Pro V2 is a Bluetooth-enabled direct box that connects wirelessly to smartphones, tablets, and other mobile devices and provides a pair of balanced analog audio outputs to feed a PA system. Each BT-Pro V2 has a unique identifier, allowing multiple units to be used within the same building. The latest model of the BT-Pro can also be powered via 48V phantom from a mixing console.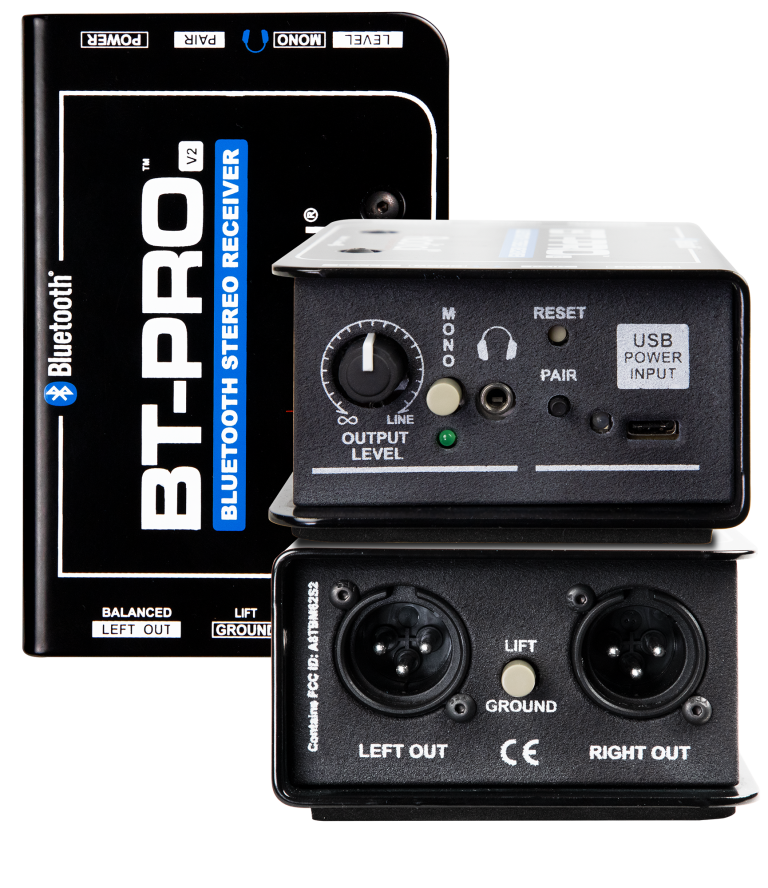 Photos
Wirelessly connect smartphones and tablets to a mixer
Bluetooth reception of up to 30 meters (100ft)
Dual balanced XLR outputs feed the PA system
Powered via external supply or 48V phantom power
Unique device ID allows multiple BT-Pro's in a single location
Wireless connection, professional audio
The BT-Pro V2 makes it easy to quickly connect to any smartphone, tablet, or mobile device for high quality audio playback through a sound system. It wirelessly pairs over Bluetooth, eliminating the need to search for adaptor cables and providing you with the freedom to move around while staying connected. Superior audio quality is provided using the Bluetooth 5.0 protocol, allowing the BT-Pro to be used for playback even in critical listening environments. While the BT-Pro V2 is designed to last with a 14 gauge steel outer shell and high durability connectors and controls, it also has an enhanced reception range thanks to the plastic injection-molded insert, which allows wireless signals to pass through unimpeded. Balanced XLR outputs are provided for connection to pro audio equipment, with a level control to allow for easy volume adjustments, a headphone output for testing purposes, and a mono switch to reduce channel requirements when needed.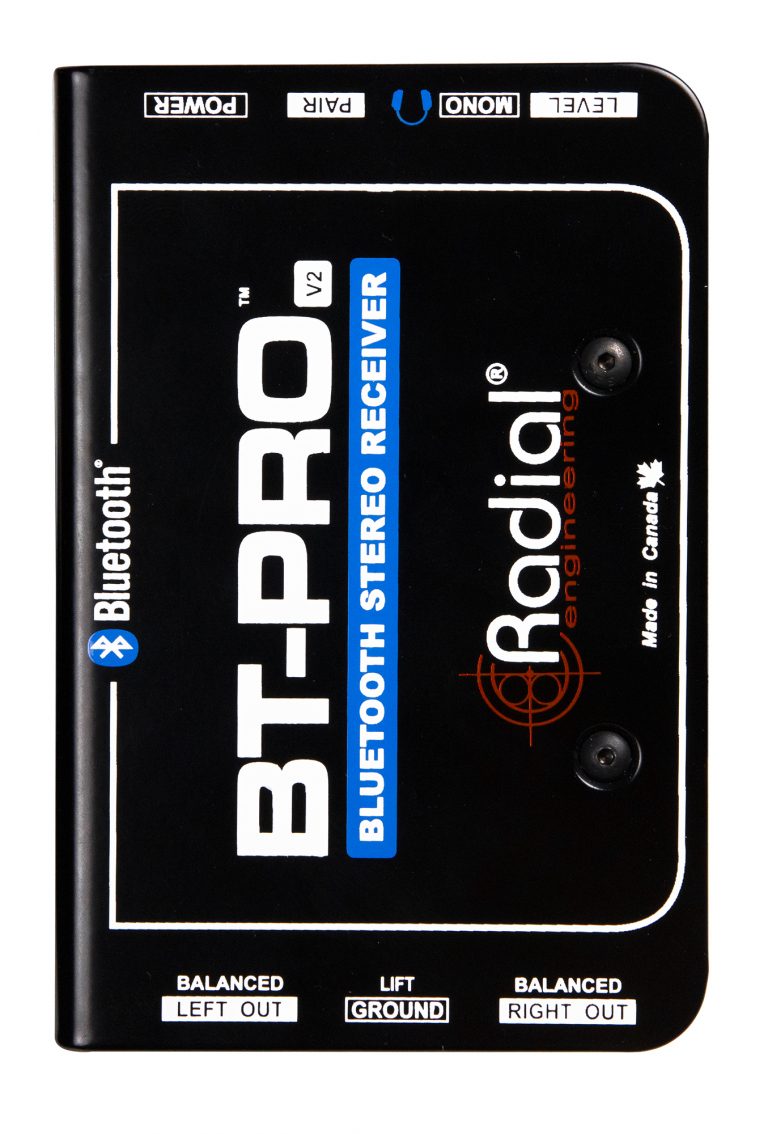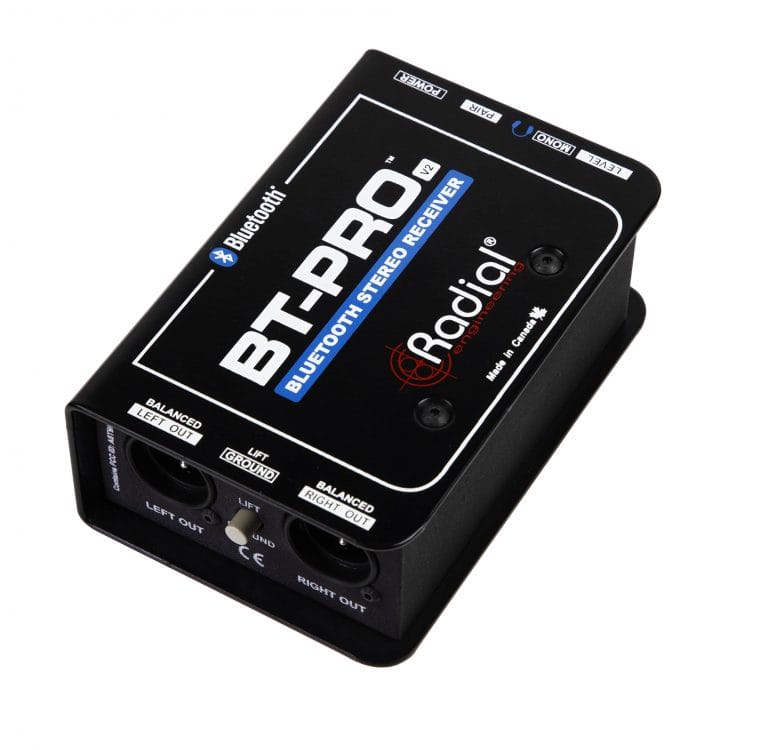 48V operation & unique device identifiers
For ease of use in live sound applications, the BT-Pro can be powered via 48V phantom from the PA console. This provides the ability to use the included external power supply as a redundant backup, or to eliminate it from the setup altogether. Under 48V phantom power, the BT-Pro provides mic-level signals at the XLR outputs, but when the external power supply is used it is capable of generating line-level signals that can be connected to the line inputs of a PA console and avoid using additional mic-level channels. Each individual BT-Pro V2 also has a unique Bluetooth identifier, allowing multiple units to be successfully used in close proximity to one another. This makes it easy for commercial multi-room facilities to employ a number of BT-Pro units without any confusion when trying to connect to a receiver in a specific part of the building.
BT-Pro V2

Applications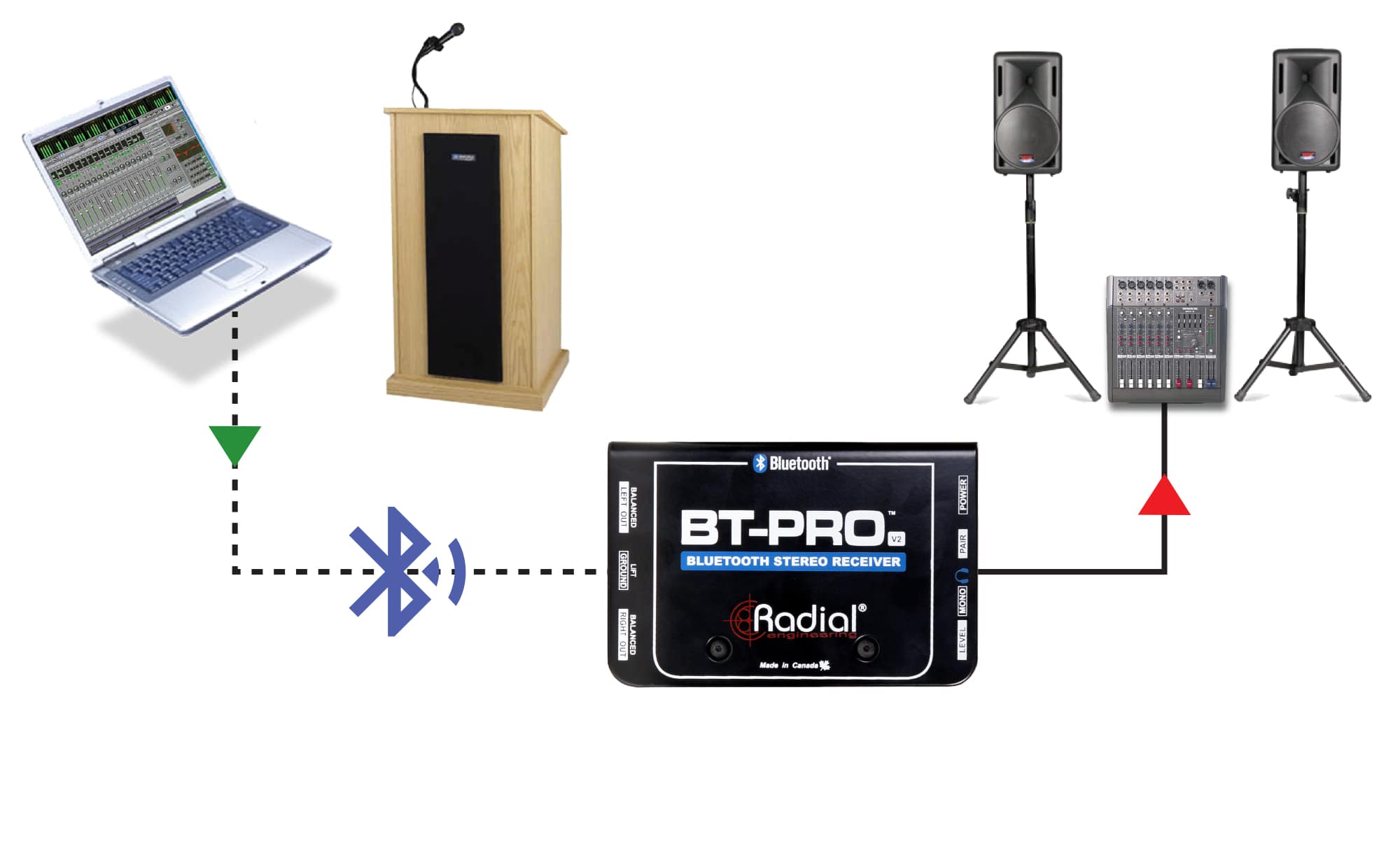 Using the BT-Pro V2 in a presentation
Standing at a podium, you can easily transmit the audio from your laptop presentation to the BT-Pro to play background music, audio clips or to mate with video. Simply connect directly to the PA speakers for amazing audio!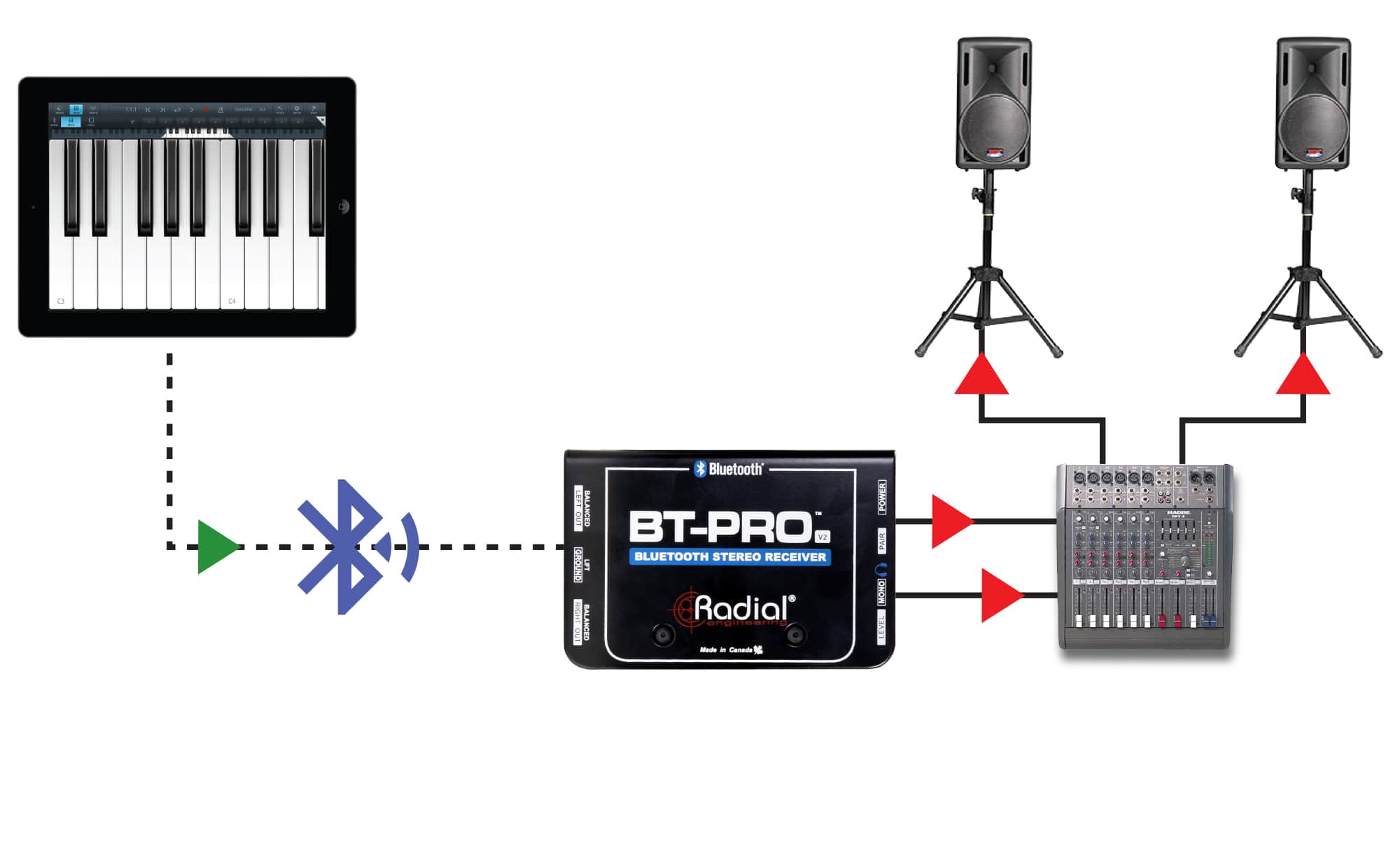 Using the BT-Pro V2 with tablet for performance
Use the BT-Pro V2 on stage to transmit performance or audio files from a laptop or tablet! Simply pair-up the BT-Pro V2 to your computer to freely move around the stage without wires.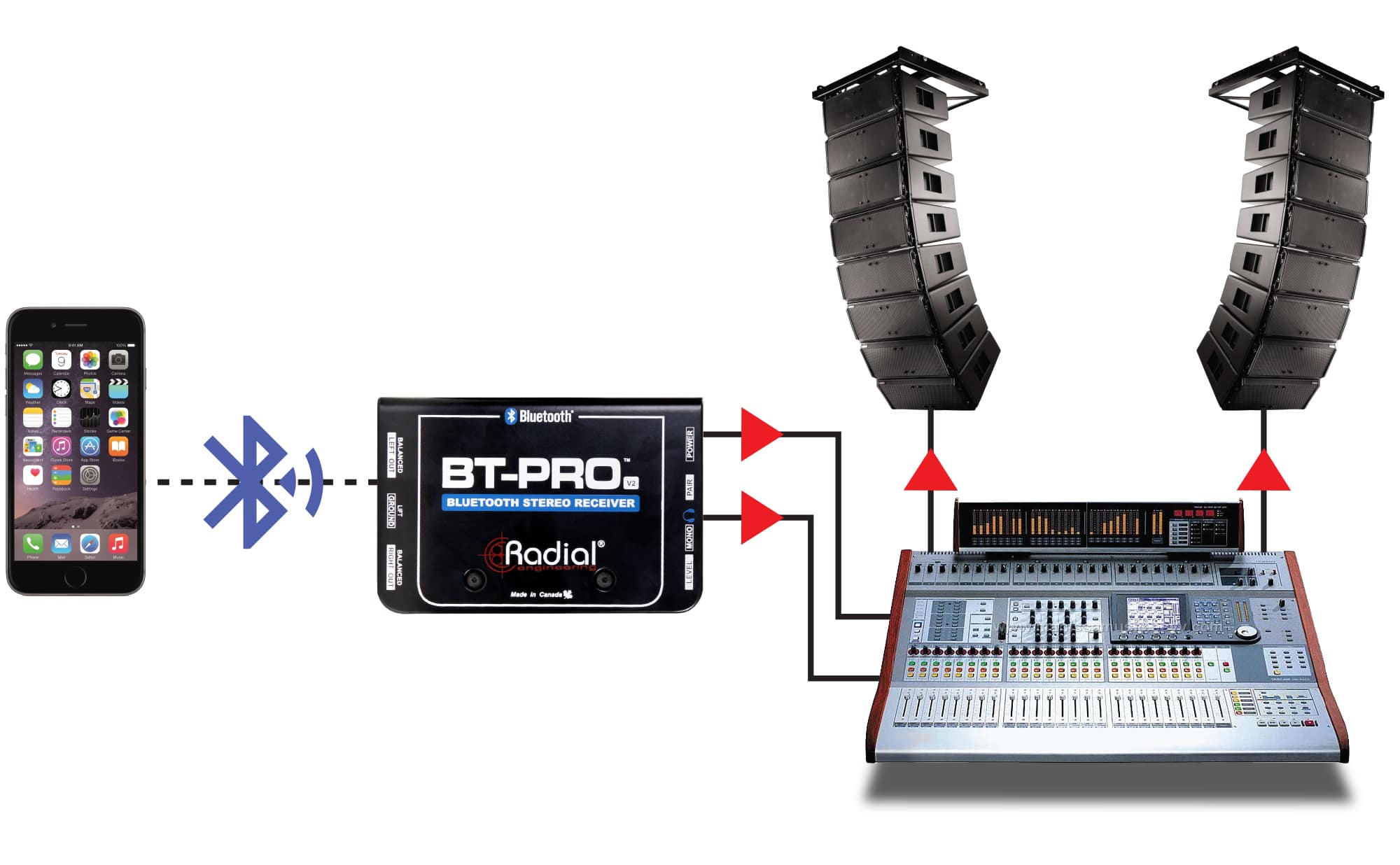 Wireless connection, professional audio
The BT-Pro V2 makes it easy to quickly connect your iPhone® to the PA without having to search through drawers looking for wires. The innovative antenna lets you sit the BT-Pro anywhere without interference.
Connecting multiple BT-Pro in one location
Each BT-Pro V2 has a unique identifier that shows up as a six digit numerical code in the Available Bluetooth Devices list on your mobile device (ex. BT-Pro-100001). Simply mark down this number in the room where the BT-Pro is installed to ensure that every time someone tries to wirelessly connect they will select the appropriate receiver.
Reviews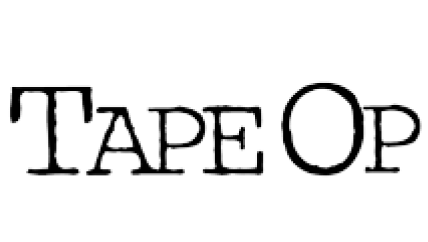 "The sound quality and interface options make it equally useful on stage, studio, or at home."
{{ postData.post_title }}
{{ postData.productSubTitle }}
Part no: {{ postData.partNo }}
Part no: View Product
{{ postData.post_excerpt }}
View Product