Radial is pleased to announce that the Tonebone Texas-Pro™, a powerful overdrive combined with a clean booster circuit, is now shipping.
The Texas-Pro provides plenty of power and versatility in a compact pedalboard-friendly enclosure. Beginning with Radial's unique Class-A buffering circuit, the Texas-Pro retains the natural feel and responsiveness of the guitar, while also allowing it to drive multiple pedals and longer cable runs with ease. The Overdrive section is capable of a wide range of tonal variations, with individual controls for Drive, output Level, and Tone, so you can dial in the settings that best match your guitar and amp. A three-position Range switch allows you to select the style of overdrive, from warm vintage tones, to a modern rock style or aggressive over-the-top saturation.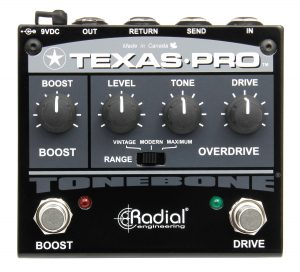 The overdrive is complemented by a separate Boost circuit capable of adding +22dB of clean gain, allowing you to push the front end of your amp harder or let your solos cut through. A built-in effects loop allows you to connect a series of pedals via the Send and Return jacks when you engage the Boost circuit. This allows you to simultaneously activate the booster and a delay or chorus pedal, giving you a more streamlined and professional transition for soloing.
The Texas-Pro is built in Canada with heavy-duty 14-gauge steel construction to handle years of abuse on the road. A compact 4¼"x4″x2⅛" chassis fits on any pedalboard and it is powered from a standard 9V supply like those found on many multi-pedal power bricks.
For more information on the Tonebone Texas-Pro, click here.
MAP: $169.99 USD