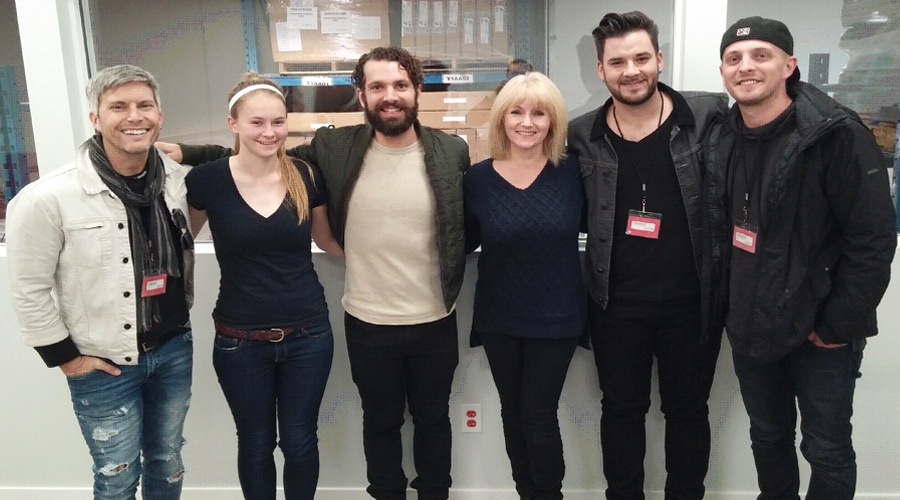 Radial has enjoyed a long and solid relationship with Florida Georgia Line band members Tyler Chiarelli (lead guitar), Dan Weller (keyboard, ganjo, guitar), and Tom Beaupre (bass). All use Radial and Tonebone gear on the road and we are very thankful for their support. Following a soldout show at Rogers Arena in Vancouver, BC on their recent "Dig Your Roots" tour, the guys had a day off and took time to drop by the Radial headquarters located in Port Coquitlam, BC, just 30 minutes from downtown Vancouver.
The guys were pretty thrilled to get a tour of Radial and spend time behind the scenes with the staff, checking out a bunch of gear they hadn't seen or tried. This includes a Workhorse™ chassis loaded with Radial 500 series modules. They also took the Hafler HA75™ tube headphone amp for a listen, cranked up a Mesa Boogie amp into a Headload™, punched up some bass lines thru the Bassbone OD™, ran some acoustic guitar thru the JDV MK5™, and even took time to try our some of the new Tonebone overdrive pedals; the Regency™, Classic V9™ and others that haven't yet been released!
While talking about the gear, Tyler mentioned "I've tried many load box type devices and the Headload is packed with features, range and warm tones. The Headload is a game changer". Dan Weller was very impressed with the—soon to be released—Key Largo™. 4 channel stereo input keyboard mixer, complete with USB input, ground lifts on the monitor and main XLR outputs, a sustain function, effects on and off and even midi in and out. Tom provided some solid bass lines thru the Bassbone OD and even found time to lay down some tasty acoustic chops thru the JDV MK5 into the Twin Servo™ mic pre that sounded warm, rich and full. All in all, having the guys drop by Radial was a real treat.
The guys helped bring smiles for many Radial employees that got to say hello to 3 members from one of the hottest bands in music today—just last night the group took home the award for Favorite Country Duo or Group of the year at the 2016 American Music Awards.
For more information about Florida Georgia Line go to http://floridageorgialine.com/
For more information about Radial go to radialeng.com