One of the things that Radial products have a reputation for is their reliability and rock-solid build quality. For gigging musicians and sound engineers, having gear that you can depend on night after night is a must, which is why you'll find our direct boxes and other problem-solvers on tour with some of the biggest acts in the music industry. "These things are built like a tank" is a common refrain we hear from our customers, and the durability and longevity of our devices is a particular point of pride here at Radial. We're always happy to discuss the many little things that all add up to make our D.I.'s the best in the business, from the components we use to the people who build them.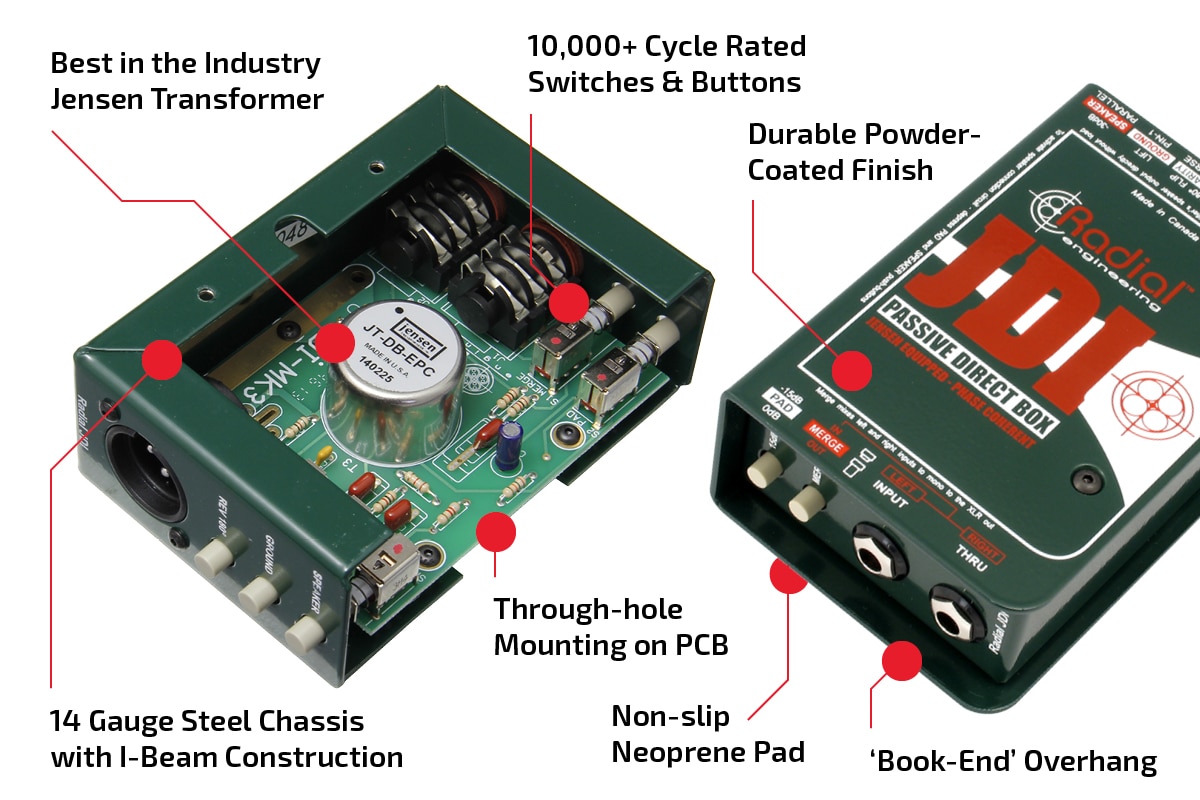 Judging a book by its cover
After taking one look at a Radial D.I. you'll immediately understand that it's built to handle whatever you can throw at it. All of our D.I. boxes feature a 14 gauge steel chassis with I-beam style construction that creates a housing so strong that you can drive a truck over it without damage. This prevents any possibility of applying torque to the device's circuit board, which can stress it and over time lead to component failure.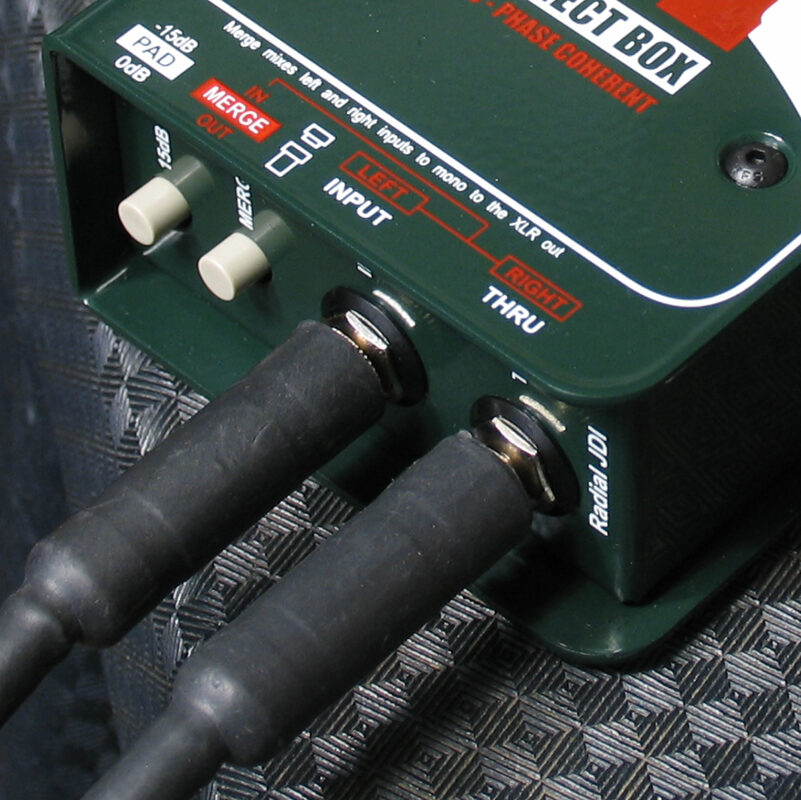 On top of this, we utilize a book-end design that even our competitors have begun to imitate. The extra metal overhang of the outer steel wrapper protects the connectors and switches from taking a direct hit from a falling mic stand or an errant footstep on stage. This is also useful for preventing impact against an XLR or 1/4″ jack that is plugged into the direct box, which would otherwise act like a pry-bar that can lift the connector from its traces on the circuit board and require replacement. The outer shell of a Radial D.I. is finished off with a durable powder-coat finish to keep the product looking great from one tour to the next, along with a non-slip neoprene pad on the base to keep the unit in place on stage and prevent scratches and scrapes.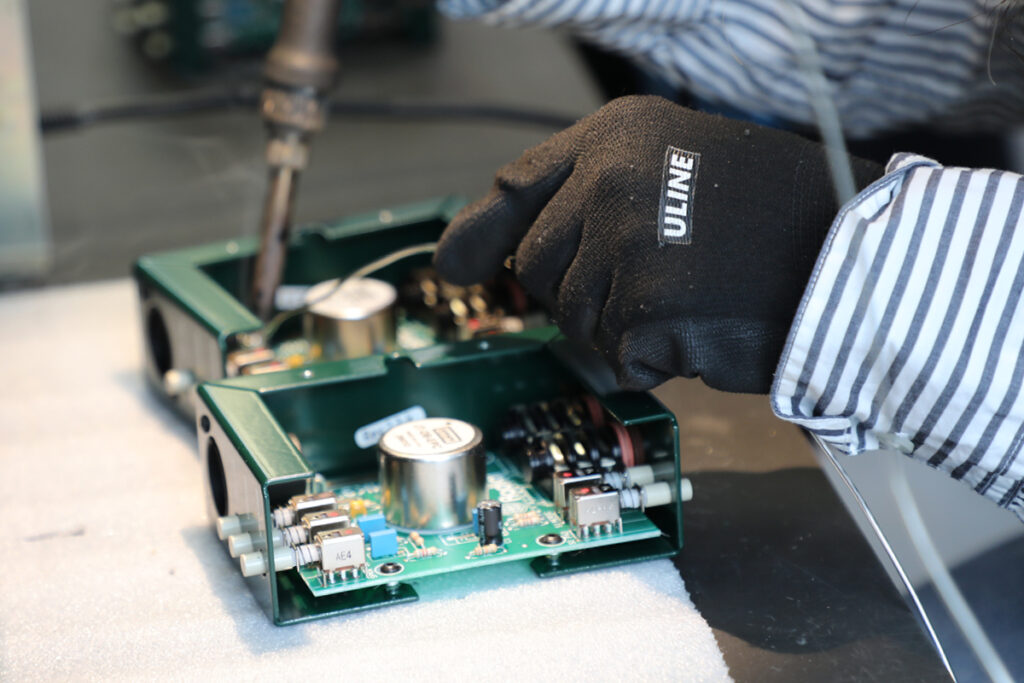 Strength from the inside out
The circuit board and the components on it will arguably make even more of a difference in the lifespan and dependability of a product than the outer chassis, and Radial devices don't skimp in this category either. All of the switches and buttons (like the ground lift and pad features found on nearly all of our direct boxes) are high-rated components designed to withstand up to 10,000+ cycles and still function, preventing failure down the road long after most audio gear sold today would be considered obsolete.
Through-hole mounting to the printed circuit board (PCB) is also widely employed for added durability even in the face of environmental stressors. This means that components such as transformers and blocking capacitors have their leads run right through the PCB, instead of 'surface-mount' connections that apply solder to a single connection on one side of the circuit board. Think of this as the difference between hanging a 40″ TV from the wall using thumbtacks or adhesive strips vs. drilling through the drywall into a wall stud. Component failure is equal to device failure, so doing whatever we can to strengthen each and every piece of a D.I. means it lasts longer, performs better, and is more reliable for our customers – musicians and engineers who need their gear to work night after night without fail.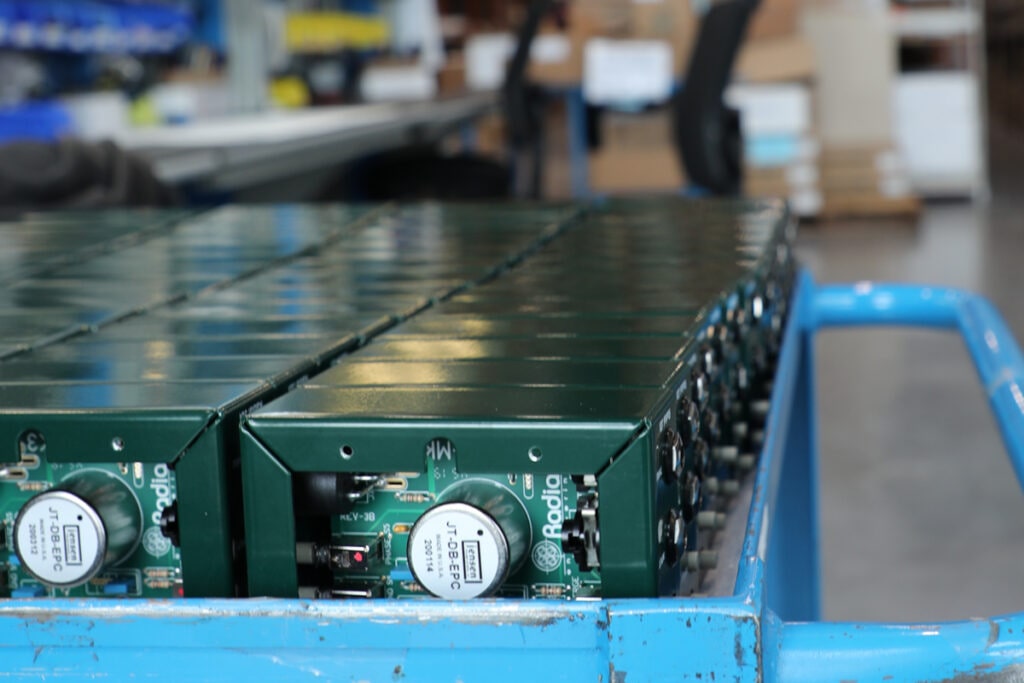 On the subject of important components, an audio transformer is the single most crucial part in a passive direct box. It is the engine that drives all the key features of the device, and the audio specs of the transformer will directly impact the overall frequency response, phase, and distortion characteristics of the D.I. To that point, our best passive direct boxes like the JDI feature premium Jensen transformers, widely regarded as the best in the industry and prized for their exceptional signal bandwidth and overall audio performance.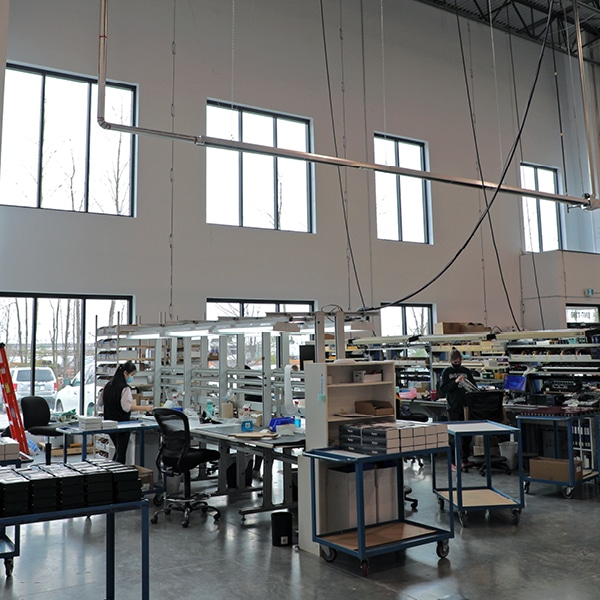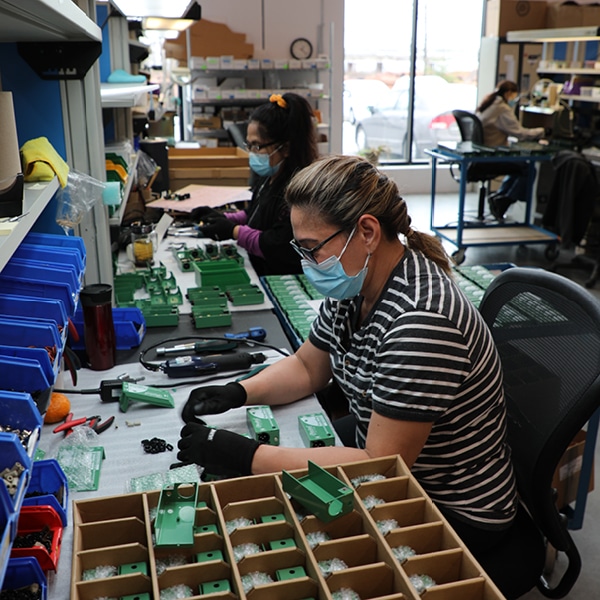 The team behind the product
An undeniable part of the success of our products comes from the people that make them – the team at our headquarters Port Coquitlam, British Columbia. From concept to prototype to finished product, every step along the way includes an in-house Radial team member who takes pride in what they do and believes in our goal of creating great products that benefit people who are involved in making music all around the world. Each and every Radial product is hand assembled right here in Canada, with stringent quality assurance practices and testing that includes precision audio analyzers as well as critical listening to ensure each D.I. meets the same high standard that we've set for ourselves.
Our products have a three year transferable warranty, but also include lifetime support from our dedicated tech team, customer service and repair departments. One testament to the reliability of our devices is the fact that despite building and shipping over 100,000 units every year, we still have just a single service technician who handles all product repairs in North America.
There isn't just one thing that makes a Radial direct box stand the test of time – it takes a number of choices at every step along the way. From the design of the chassis, to the components inside, and the team behind the product – building a D.I. that can handle the rigors of concert touring requires all of this to be aligned, with the goal of building the most reliable device possible.