With its introduction of the JCR in 2011, Radial introduced a "Radial-tough" version of Reamp® pioneer John Cuniberti's original design. Today, "Reamp®" is a trademark of Radial Engineering, and guitarists, engineers, and producers use Radial Reamp® boxes on a daily basis to create signature sounds and tracks in studios around the world.

Jacquire King
Engineer/Producer Jacquire King has been using Radial Reamp® boxes ever since he saw Cuniberti's original design in a San Francisco studio many years ago. "Radial Reamp® boxes allow me to utilize the sonic benefits of reamping with other instruments such as drums and vocals," says King. "For example, I use reamping on Tom Wait's vocals quite often."
King prefers a non-traditional approach to reamping. "I'll like to use reamping on drum tracks," says King. "I'll take an SVT or similar amp and face it in front of the drum kit, away from the drums in the way that you would imagine the kick drum is projecting sound into the room. Then, I'll focus the amp on the low end and Reamp® it. It works great. I use a lot of Radial Reamp® gear, including the JD7, SGIs, EXTC Stereo and the 500 series."
---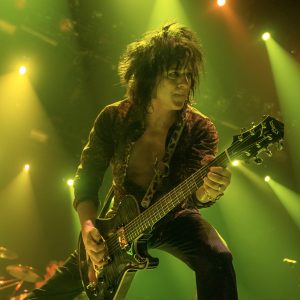 Steve Stevens
Guitarist Steve Stevens relies on reamping and Radial gear to produce his signature guitar sound, whether it's on tracks with Billy Idol, his own projects, or with the many singer/songwriter performers he works with.
"Reamping gives me and the producer total flexibility in a lot of cases to customize the sound as the track is built," says Stevens. "Because maybe the initial guitar sound wasn't quite the perfect thing. So you have that flexibility in the mix later with reamping."
Stevens is a long-time fan of Radial gear. "My Radial JD7 enables me to get multiple different guitar tracks, and a DI track during recording," says Stevens. "If I am going to set up an amp and a cabinet in my home studio, the JD7 gives me the flexibility to print multi guitar tracks. I've used Radial products for over 20 years. The stuff's awesome. It really is. The Radial JD7 is the centerpiece of my rig. That's where it starts for me."
---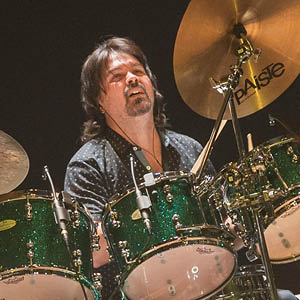 Shannon Forrest
Toto drummer Shannon Forrest, also a noted producer and engineer, relies on Radial Reamp® boxes to dial in tracks to fit his demanding standards. "On the mix side of things, if I'm producing and working on a track, reamping gives me the flexibility to go back and adjust the track later without burning out the player during the original track," says Forrest.
Forrest has found that reamping comes in particularly handy during mixing. "Once it's mix time, if I decide I need to saturate something a little more or just layer something in, I can use a Radial Reamp® box for that. It's a great tool that way. It gives me the capacity to work with an editor to comp guitar parts for those artists that maybe don't have ideal technical ability."
Click here for more information on Radial's range of reamping products.