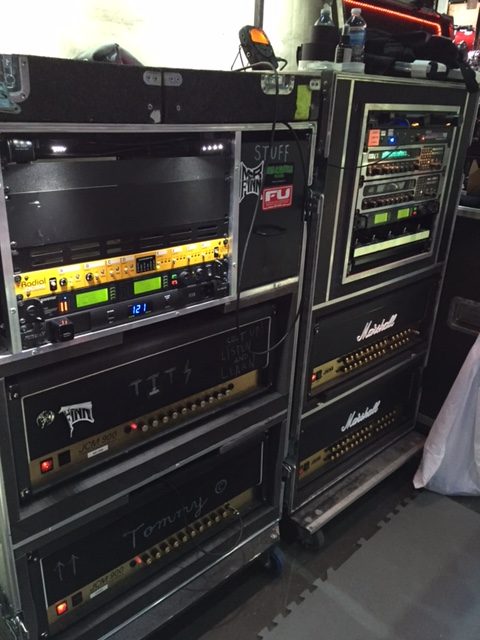 Jim Rhodes here, artist relations guy for Radial Engineering. I recently waded into legendary waters to catch up with Tommy Henriksen, the guitarist for none other than Alice Cooper. Tommy has also worked as a songwriter, arranger, producer and mixer for such artists as Lady Gaga, Kesha, Daughtry, The Canadian Tenors and many others. Tommy is also the rhythm guitarist for The Hollywood Vampires along with Cooper, Joe Perry and Johnny Depp.
At a stop on the current Alice Cooper tour, a local crew member was pushing Tommy's amp rack from behind and it tipped over, hitting the ground with a massive thud. The impact took out the tubes of one of the Marshall® JCM800 amps that Tommy uses and damaged an old "CA" Colbert Audio multi-switcher. Tommy called me and asked if he could purchase a Radial JX44 switcher right away, mentioning that other musician friends had recommended the JX44 to him. Within a few hours, I had it on stage with Tommy's long-time guitar tech, Brian Sateia.
Brian has worked with Tommy for 10 years, including tours with Default, Saliva and the Hollywood Vampires. After a repair to the fallen Marshall amp, Brian installed the JX44 into Tommy's rig, cranked it up and both Tommy and Brian thought the rig sounded better than ever. The sound was full with a warmer tone and plenty of punchy low end. Tommy is thrilled with the JX44.
What is a JX44 you ask? The Radial JX44 is a guitar signal manager that lets you drive up to 6 amps at once and switch between 4 instruments. Inputs A & B are equipped with Drag™ Control load correction that lets you 'dial in' the perfect load on the pickup for the most natural tone. Inputs B &C are equipped with a trim level that lets you quickly balance signal levels when using wireless systems or active guitars. With two effects loops, the first is a 'local' effects loop to interface drawer-filled pedals or multi-effects processors. The second is a long-haul balanced interface that provides a noise-free connection to-and-from distant pedalboards to distances of 100 meters when combined with a stand-alone Radial SGI-44™. The JX44 also contains both a built-in Radial direct box and X-Amp reamper for studio use. The 6 amplifier outs feature ground lift switches for dealing with amp hum and polarity reverse switches for battling phase issues. To remotely switch between amps or instruments, an optional Radial JR5 remote control can be used. Finally, should a problem ever occur, a front panel 'panic' button hardwires input-A to output-1 for direct-to-amp connection. This will even work if the JX44 power goes down. With a Radial JX44 in Tommy's rig, the show will go on!
For more information on Tommy Henriksen, visit www.tommyhenriksen.net
For more information on the Radial JX44, visit www.radialeng.com/jx44.php