I recently caught up with longtime Radial supporter, Brian Persall, Tour Manager and Front Of House for country artist Terri Clark. We discussed the background of how the new Radial 4-Play (multi-output DI box) came to be… From the early stages of Brian needing a solution—to him actually using the device—this is a process commonplace at Radial.
Back in September 2015, Brian was planning on mixing some upcoming solo shows with Terri. Having been a part of Terri's organization since August 2013, he was comfortable working with her band but didn't know what to expect from her solo performances. From the information he had on hand, there were multiple tuners and cables for 4 guitars and an input list that showed even more guitars were being added. To simplify the congestion of cables and multiple guitars, Brian began searching online for a device that would accommodate one input with multiple outputs that could be switched with one footswitch, allowing the musicians to only need one cable. His online searches didn't find anything suitable so he reached out to Radial's President and CEO, Peter Janis, who Brian had met while touring with another artist. To Brian's delight, Peter said he and the engineers at Radial were already working on a device that did what he was looking for.
Peter shared the concept and numerous emails with Brian and decided to create a device with built-in DIs and incorporate switching. In early 2016, Peter let me know that a prototype was ready for field testing so I contacted Brian and told him there was a working prototype available. We sent it to him while he was at rehearsals in Nashville.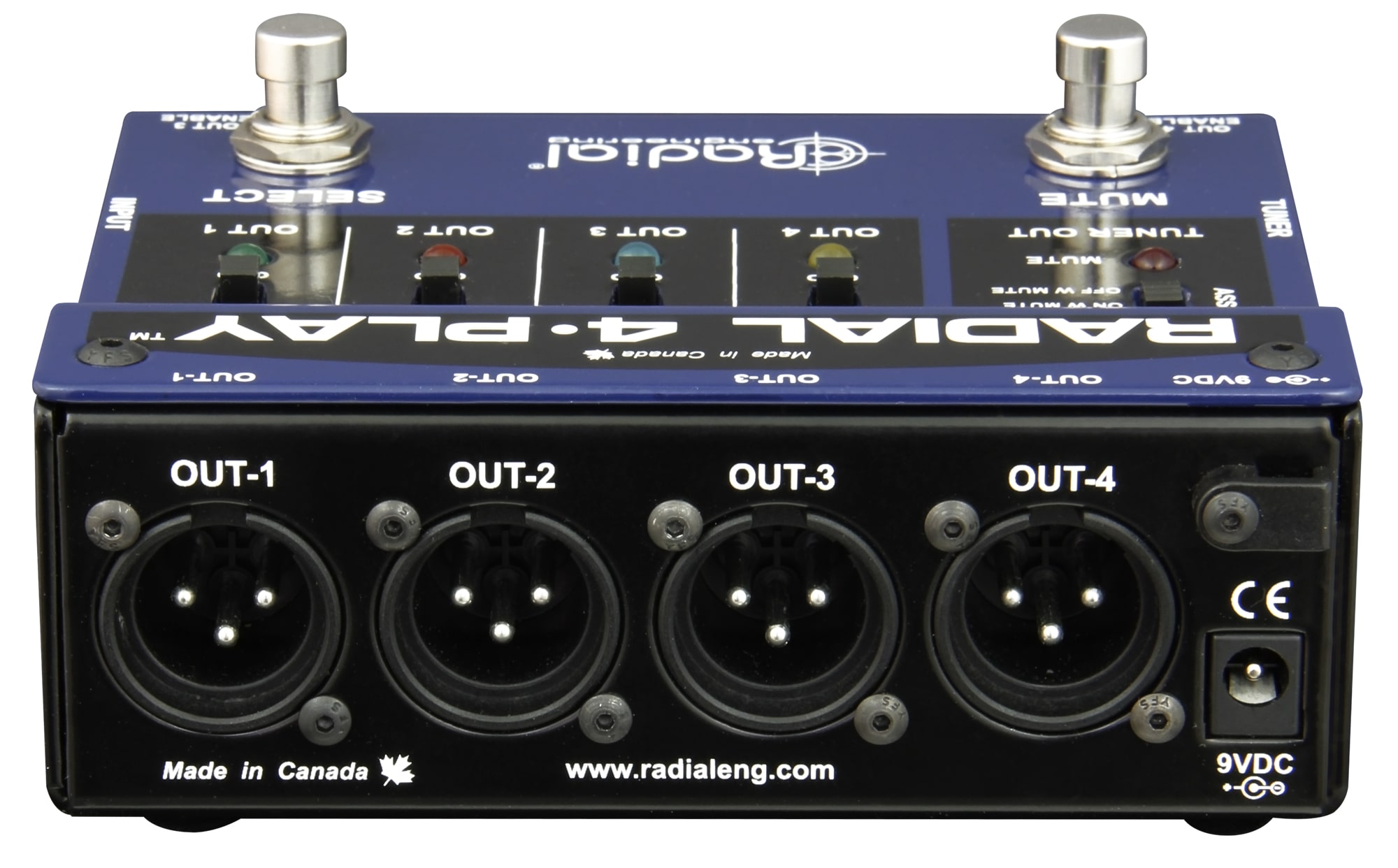 Once Brian received the unit, he realized it was exactly what they needed: One ¼" input and four XLR outputs, each with their own transformer so there was no need for separate DIs. Brian could see other areas where this could be used in the band's shows and they began using it with their fiddle player, Amberly Rosen, who plays two fiddles, acoustic guitar and mandolin. Amberly had quite the "mad scientist collection" of cables and tuners for her setup. Once they put the 4-Play inline, it simplified her set up and Amberly has used it in every show since.
The 4-Play is completed and ready to ship. It is a simple, compact device and has the typical build quality of Radial. It employs ground lift switches on all the XLR outputs, an additional tuner output and a mute switch. The Radial 4-Play takes a complicated instrument setup and makes it simple… It's a wonder this device did not exist before.
To learn more about the 4-Play.
To find out more about Terri Clark.