2-Channel Acoustic Instrumental Preamp
Take complete control over your tone, EQ settings, and effects with the PZ-Pro, a two channel instrument preamp, DI and switcher. Each channel features a separate equalizer strip complete with a filter section to reduce feedback on stage. The second channel of the PZ-Pro also features a microphone input to allow any dynamic or condenser microphone to be used, including clip-on instrument mics. Three footswitches provide the ability to toggle between each input channel, activate a built-in booster and an effects loop, or mute the signal for silent tuning on stage.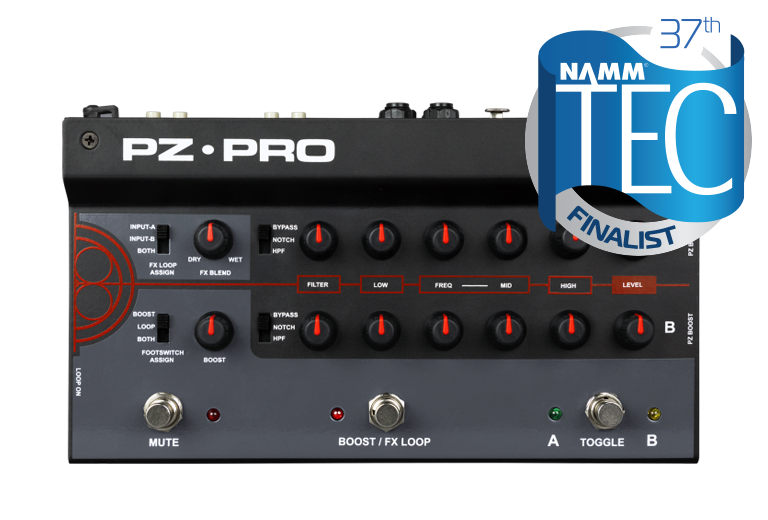 Photos
2 channel acoustic instrument preamp with separate EQs
Piezo input boosters available on both channels
XLR input with available phantom power on channel 2
Assignable FX loop with wet/dry control
Mission control for your acoustic setup
The PZ-Pro is designed for instrumentalists and performers who take a no-compromise approach when it comes to tone, both on stage and in the recording studio. Dual input channels allow you to switch between or blend together two sources, with full control over the sound of each input. Each channel has its own semi-parametric equalizer section and input level, along with individual filter controls to reduce feedback on stage. The second channel of the PZ-Pro also features a microphone input to allow any dynamic or condenser microphone to be used, including clip-on instrument mics or even vocal microphones. An FX Loop with a wet/dry knob provides the ability to blend in as much or as little pedal effects as desired, with a footswitch to bring them in and out of the signal chain at a moment's notice. Finally, once your tone is completely dialed-in, balanced XLR direct outs feed the PA system or a recording interface, with both Pre-EQ and Post-EQ outputs available.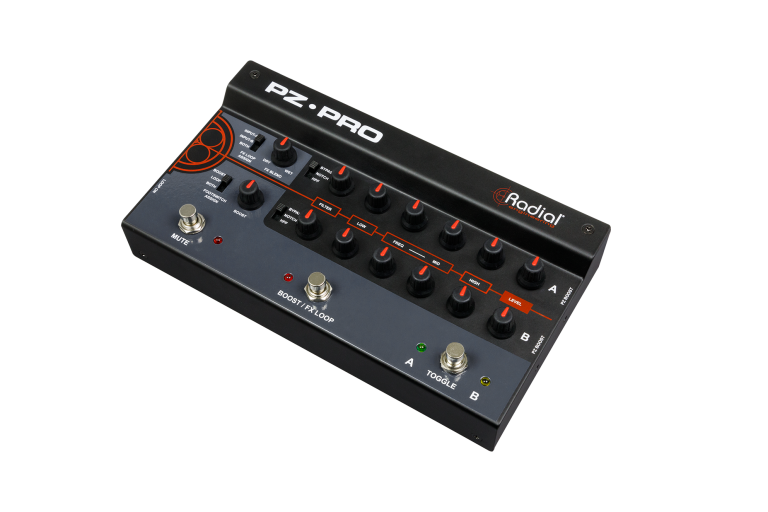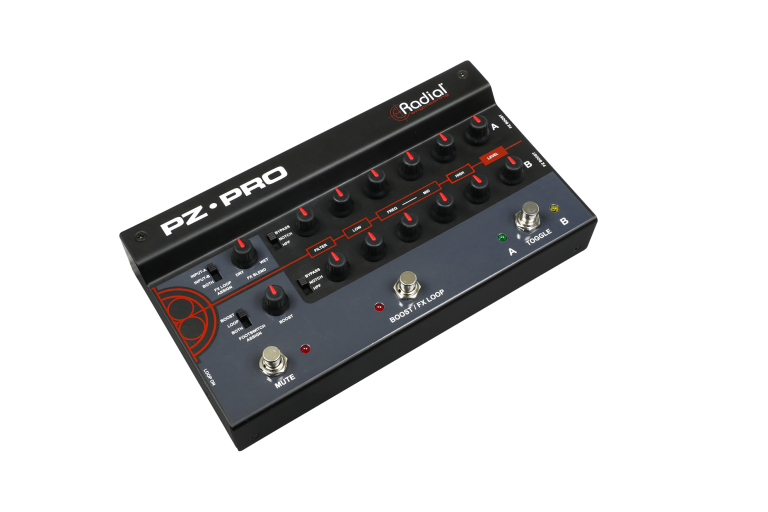 Adaptable for any application
The PZ-Pro is highly configurable, so you can adapt it to meet the needs of your performance, instead of changing your performance to fit the limitations of your gear. Connect magnetic pickups, instruments with on-board preamps, or piezo transducers, and optimize the sound of each with powerful EQ controls and a variable notch or high-pass filter. Blend an instrument mic with your pickups, switch between two instruments, or connect a vocal microphone and feed it through your guitar pedals. The FX loop can be assigned to channel A, B, or both at once, and you can activate it with a footswitch or assign it to be always on, saving footswitch control for the variable clean boost function. With the PZ-Pro, you get the durability and performance Radial is known for, along with all the features you need to put on an unforgettable show.
PZ-Pro

Applications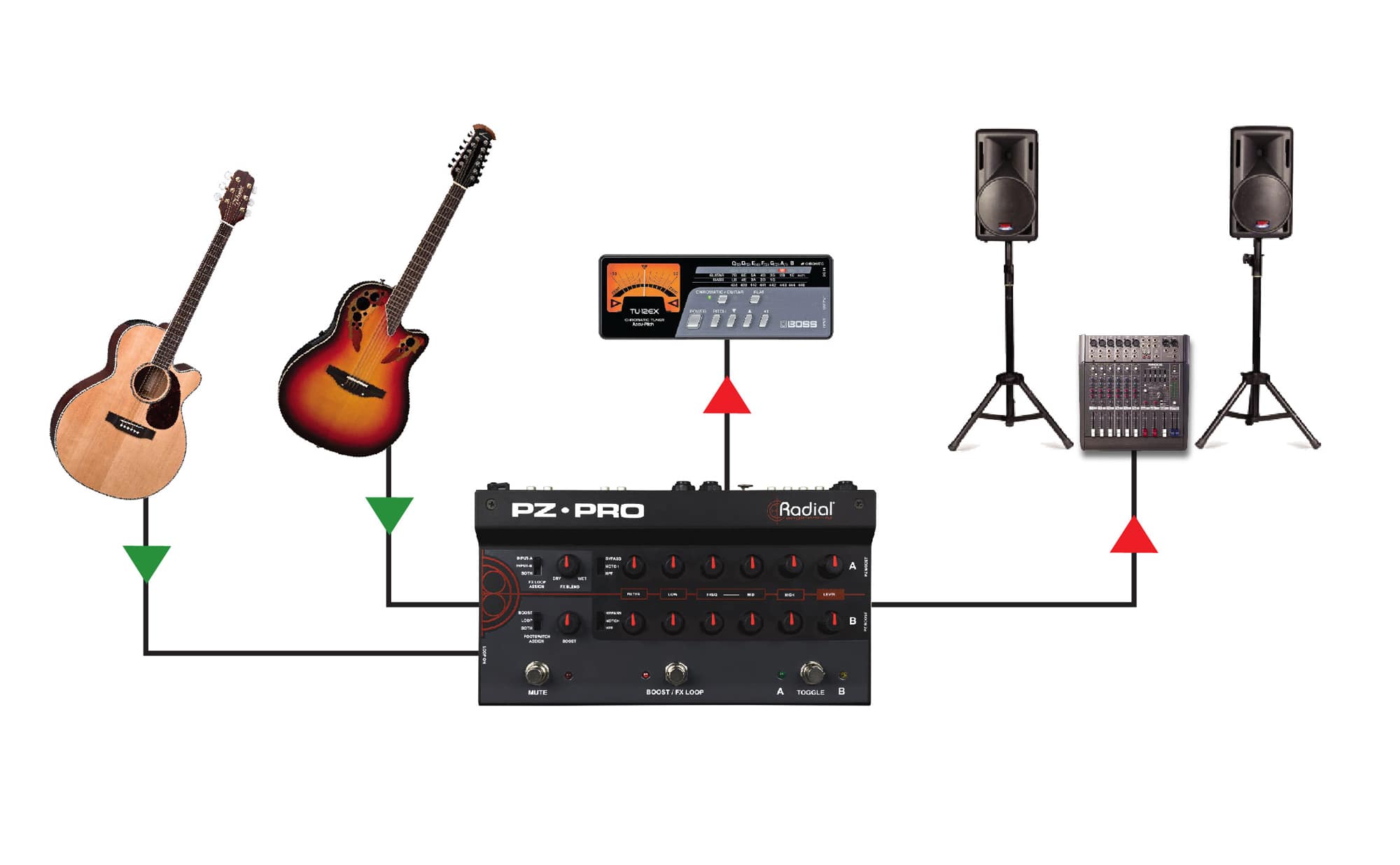 Switch between and EQ acoustic guitars on stage
The PZ-Pro gives you the ability to balance the levels between two instruments while adjusting individual EQ and filter settings to dial in the tone and reduce feedback on stage. Use the Mute footswitch for silent on-stage tuning.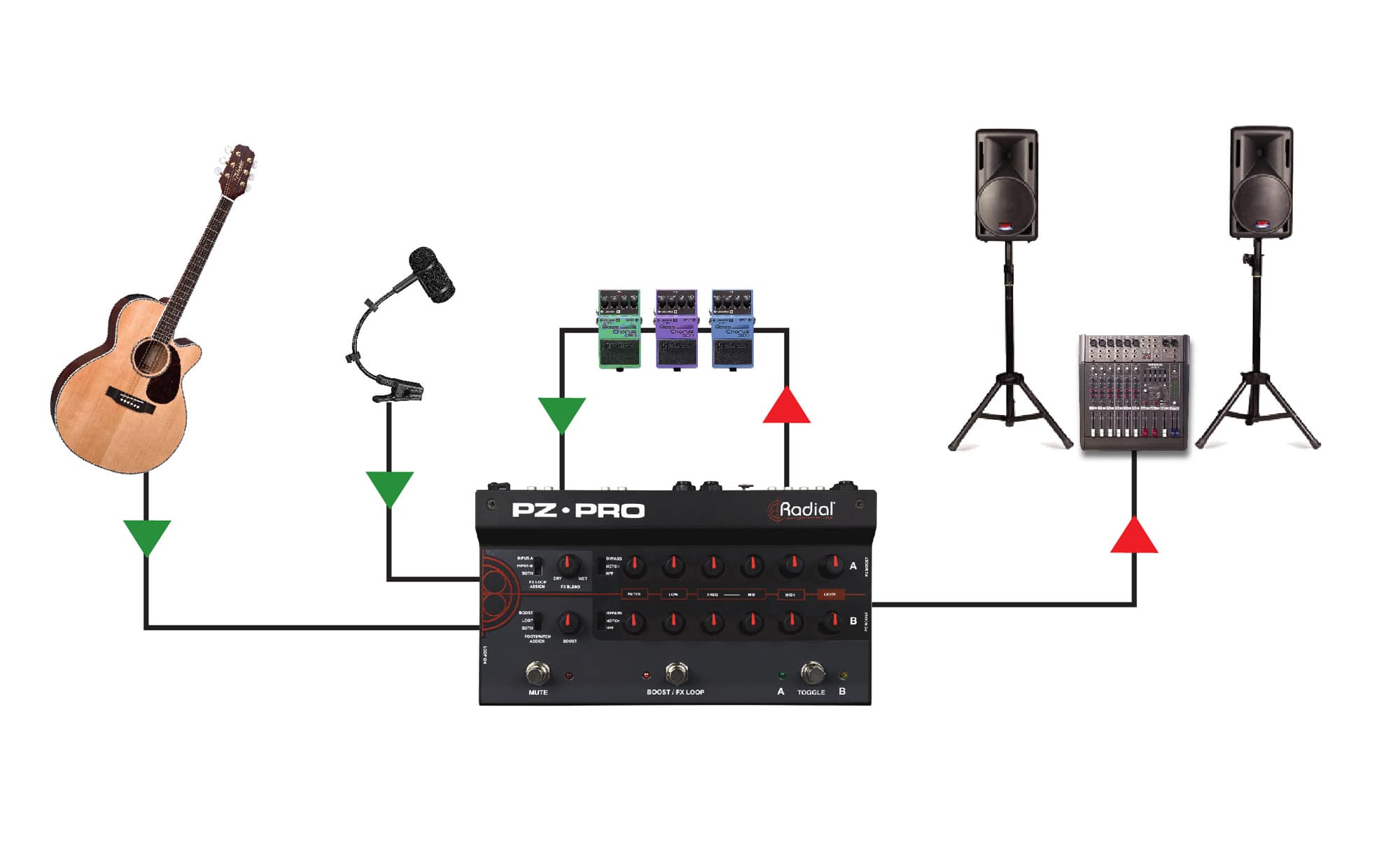 Combine pickups and a microphone on acoustic
The PZ-Pro features an XLR input with 48V phantom power for condenser microphones, so you can blend your instrument's pickups with a live mic for a more natural sound. Activate FX pedals or a built-in clean boost with the press of a footswitch.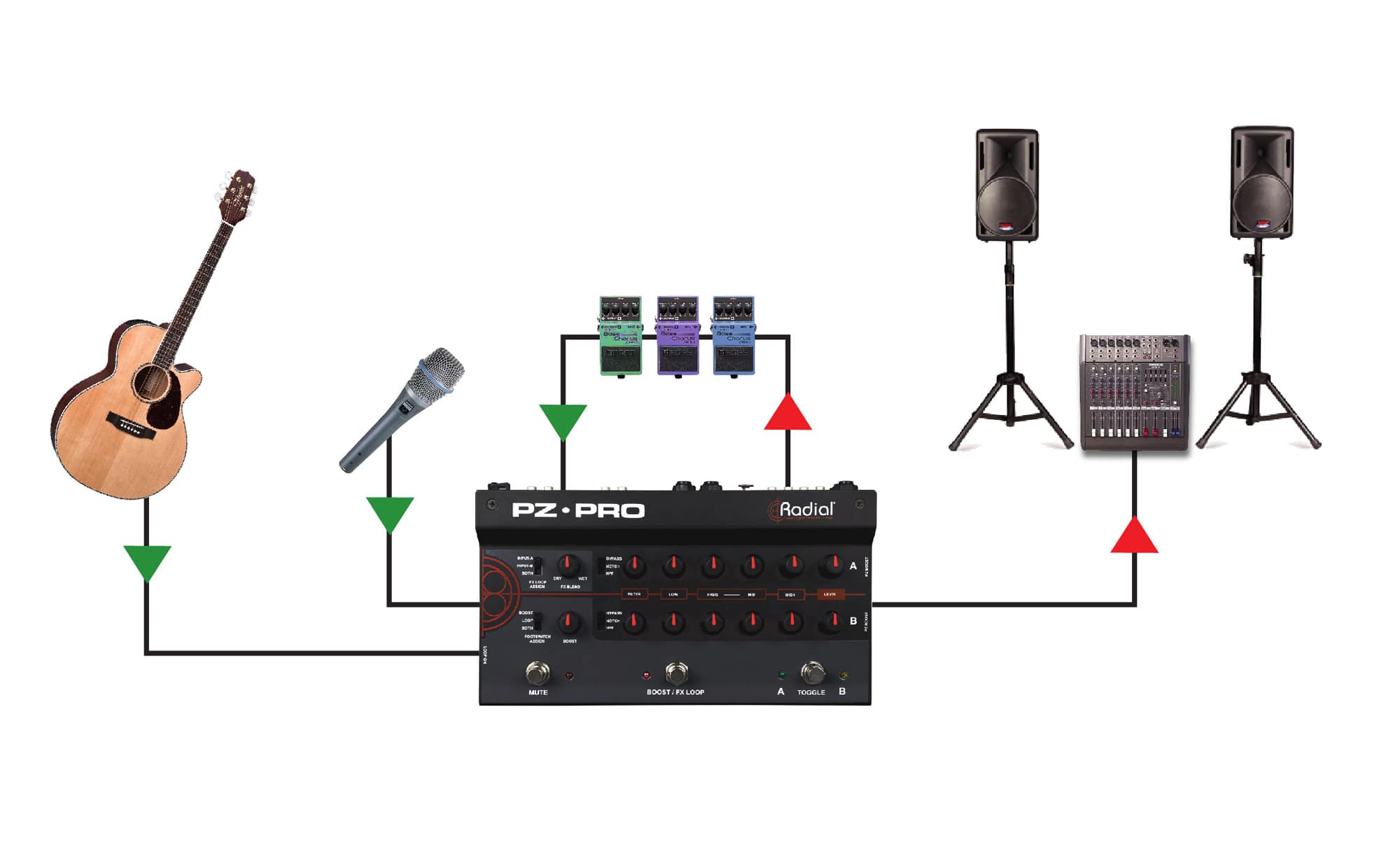 Blend a vocal mic with your instrument for solo performances
The microphone input isn't limited to instruments only: connect a vocal mic and create an all-in-one voice and instrument control station. Get creative and share your FX pedals on vocals for a unique sound.
A multi-instrumentalist's dream
Full EQ and filter controls on each channel allow you to combine any two instruments seamlessly on stage. Each channel is also equipped with a special PZB booster that can smooth out the sound of piezo-equipped instruments.
Achieve studio-quality bass tone on stage
A classic studio trick for acoustic bass is to combine a pickup and a bridge mic, while EQ'ing the mic for low-end and the pickup for attack and definition. The PZ-Pro allows you to achieve the same results on stage with exceptional results.
Videos
JayLeonardJ reviews the Acoustic Series

PZ-Pro With Grammy Winning Producer Joe West
Reviews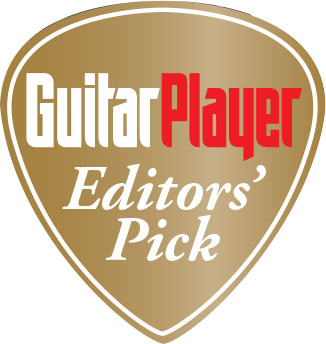 "If you've ever wondered how an elite artist gets a superior acoustic-electric sound, it often starts with a quality preamp. I encourage any acoustic player with multiple instruments or dual input sources to give the PZ-Pro an audition. Radial's new flagship preamp/direct box certainly raised the level of my gig and made me feel more like a pro, which makes it worthy of an Editors' Pick."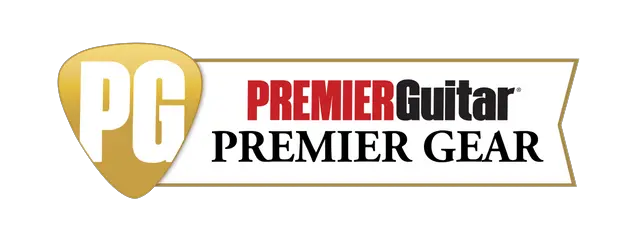 "Radial's latest iteration of their PZ-Pro is a dynamite workhorse that can make your acoustic instruments sound better and your rig more streamlined."
PZ-Pro

Resources
Part no:
R800 7089 00
{{ postData.post_title }}
{{ postData.productSubTitle }}
Part no: {{ postData.partNo }}
Part no: View Product
{{ postData.post_excerpt }}
View Product